The Department for Transport is running a consultation on options to deal with the problem of pavement parking in England, outside of London. Our Project Manager, Dene Stevens and Head of public affairs, Rachel White both explain why this is so important and how you can have your say.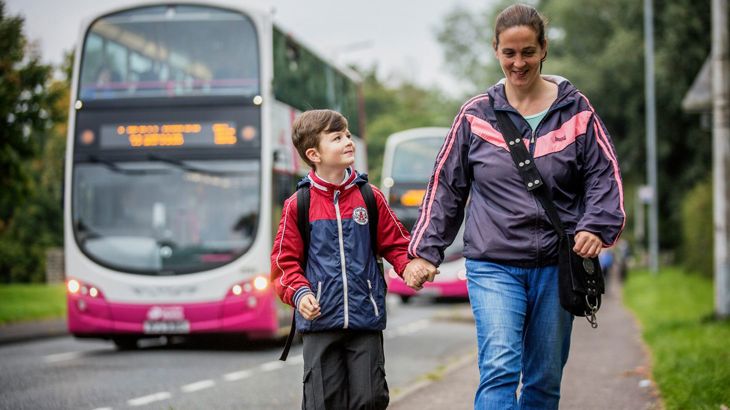 Clean, unobstructed pavements are good for everyone.
But they especially help people with sight loss or a mobility impairment including users of wheelchairs, and other mobility aids, as well as parents with children and push chairs.
Clear pavements make walking easier and more pleasant and accessible for everyone
Pavements free of parking retain a better surface, reducing everyone's risk of injury
Well-maintained, clean pavements help everyone make more social contact and enjoy healthy recreation
Level, clean, uncluttered pavements help improve people's pride in the places where they live
Good pavements give a better first impression to visitors to an area and to potential homebuyers.
When pavements are obstructed, people are forced out into the roads and into shared space with traffic, which can be dangerous.
  
Pavement parking is a major barrier for families on the school run
We recently commissioned YouGov to survey over a thousand UK parents of school-aged children about their experience of the school run.
Pavement parking is the second most common reason (after traffic congestion) that parents do not enjoy taking their child to school, cited by 32% of respondents.
However, in London, where pavement parking has been prohibited since 1974, it was cited by only 6% of the parents, showing the potential benefit of a ban on pavement parking.
  
About the consultation
The UK Government is currently running a consultation on pavement parking in England, outside of London.
They offer three options:
Simplification of Traffic Regulation Orders (TROs) for councils to ban pavement parking on certain streets
In addition to option 1, allow councils (rather than the police) to enforce against 'unnecessary obstruction of the pavement'
In addition to option 1 introduce an England-wide pavement parking prohibition, as has already existed in London since 1974.
  
What we think
Sustrans supports an England-wide ban (option 3) on pavement parking and we would like to encourage you to respond to the consultation and do the same.
Option 3 is straightforward, establishing a change and a clear rule that is easier for everyone to understand. It would bring immediate consistency across all of England.
Where necessary, councils could still exempt, sign and mark certain streets, and these would be the only places where pavement parking would be acceptable.
  
We need to stop pavements from becoming cluttered with cars
The other options (one and two) are likely to see very little change with pavement parking still existing in most of England if prohibiting it is the exception rather than the rule.
We think that on streets where space is limited and an exemption needs to be made, space should be allocated first for pedestrians and emergency vehicle access. Then any remaining space could be allocated for parking.
Where that significantly reduces the amount of parking space, permit systems should be considered, for example with blue badge holders having priority.
We should better maintain the quality of pavements for everyone who walks or uses mobility aids, and stop pavements from becoming cluttered with cars and other street furniture such as wheelie bins and road works signs.
  
Respond to the consultation now
Please respond to the Government's consultation and let them know that you also want pavements that are unobstructed by pavement parking and protected from the damage it causes.
You are welcome to use parts of our wording in your response.
The consultation closes on 22 November 2020.