Sustrans' Spaces for People programme is supporting local authorities right across Scotland to make temporary changes that make it safer for people to walk, wheel or cycle during the pandemic. Ali Macdonald from Public Health Scotland takes a look at how these temporary measures can help improve our health beyond the COVID-19 pandemic.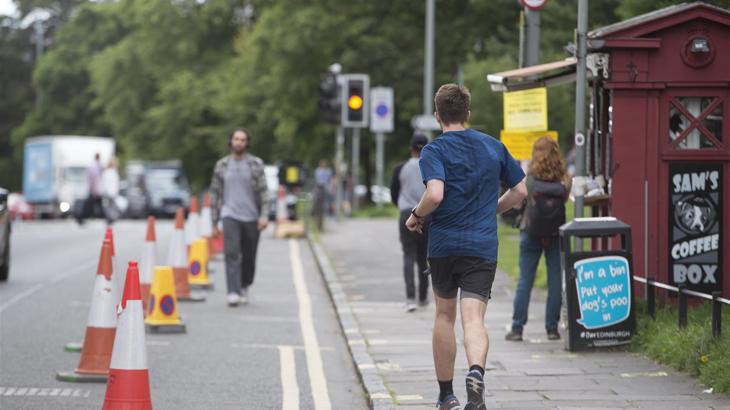 Spaces for People temporary measures make it safer for people to walk, cycle and wheel
Access to the outdoors and the ability to move safely around local areas have never been more important than throughout the COVID-19 pandemic.
The Spaces for People programme, backed by Scottish Government investment, has provided funding and support to local authorities to deliver temporary infrastructure in local areas which make physical distancing possible while walking, wheeling and cycling.
Public Health Scotland and partners have been considering the evidence about how patterns of transport use have changed during the pandemic and what this means for public health.
Together we are working with policymakers to support actions which enable safe and accessible active travel as we move through and beyond Covid-19.
  
Benefits to health and wellbeing
Giving more people the opportunity to walk, wheel or cycle regularly contributes to a Scotland where everybody thrives, as outlined in the Public Health Scotland strategic plan.  
Temporary interventions like widening footpaths, closing sections of road or putting in temporary cycle lanes allow physical distancing which is important in reducing the spread of Covid-19.
But far beyond that, there are a number of different ways that these short-term measures benefit our health, now and in the longer term.  
Being able to move around our local area safely and easily means we can get to work and school, meet our friends and shop for food, all of which are important for our wellbeing. Add in walking, wheeling and cycling and that also increases levels of physical activity.
The Public Health Scotland briefing points to research that shows regular physical activity can reduce the risk of developing obesity, cardiovascular diseases, type 2 diabetes and mental health problems.
And in times of increased isolation, regular exercise outdoors can help people feel more connected and is good for mental wellbeing.
Improving walking, wheeling and cycling infrastructure also help to connect communities and the increased footfall is good for the local economy.
  
Changes in road traffic
During lockdown, we saw the number of people walking and cycling increase, as reduced traffic and quieter streets gave more people the opportunity to experience the benefits of active travel on our physical and mental health.
But, as lockdown restrictions have eased, the number of cars on the road has risen and car journeys in September this year are now only 10% lower than in September 2019.
The same is not true for buses as use of public transport has remained much lower than it was this time last year.
This increase in car use and the reduction in people using public transport makes it even more important that we build on the initial uptake in walking, wheeling and cycling.
And we can do this by creating a safe local active travel infrastructure that will secure a lasting impact on our own health and the health of our communities.
  
Transport inequalities
Analysis of data looking at the impact that deprivation has on COVID-19 mortality suggests that those living in disadvantaged areas in Scotland are more than twice as likely to die from COVID-19 than those in our least disadvantaged areas.
The briefing shows they're also more likely to suffer from the negative health impacts of air and noise pollution from congested traffic and are at a higher risk of injury from traffic collisions even though they are less likely to own a car. 
As well as the inequalities that result from these negative impacts, there are also inequalities in our ability to access the right transport in the right place at the right time.
The reduction in the use of public transport is likely to have the greatest impact on those who don't have a car, including people on low incomes, older people, disabled people, people with health problems and younger people.
We need to make sure we create opportunities for everyone to socialise and to access work, healthcare and vital amenities.
By introducing measures that make it safer to walk, wheel or cycle, we are taking steps to reduce these transport inequalities and protect the most vulnerable in our society.
  
Reducing health impacts from road transport
We know that in our major cities, during lockdown, reduced traffic congestion levels on our streets had a positive impact on some aspects of traffic-related air pollution.
Interventions such as 20mph zones have been found to reduce the risk of injury and death for pedestrians and cyclists.
And with those in poorer communities at higher risk of injury from road collisions, we need to target efforts to reduce the health impacts that hit our most deprived areas the hardest.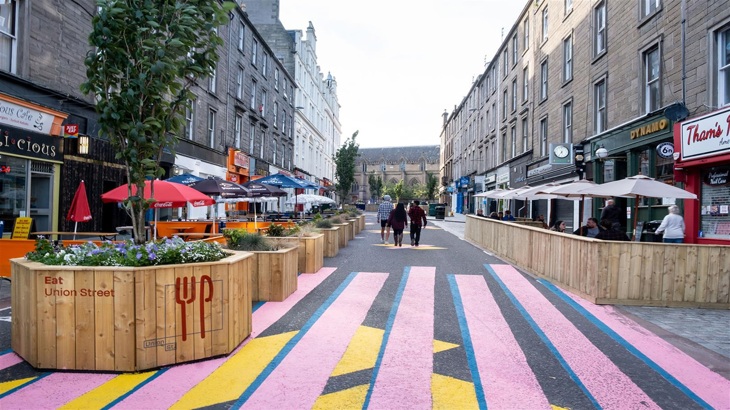 Union Street in Dundee was partly pedestrianised as part of Spaces for People street changes.
Summary
Temporary interventions through Spaces for People have the potential to create healthier communities across Scotland by protecting public health, improving safe access to local facilities and amenities, and enabling greater levels of active travel.
If we are to move towards a greener recovery and a fairer Scotland, we need to learn from and adapt measures that make it safer and easier to walk, cycle and wheel.
With thanks to our guest blogger Ali Macdonald, Organisational Lead for Healthy, Active Environments, Public Health Scotland.