As seen on our Space to move map, many local authorities are announcing new measures to make it safer for people to walk and cycle during the COVID-19 crisis. As they do, we are starting to hear the inevitable questions about the impact that pedestrianisation and removing car parking spaces will have on the local economy. Here, our Director for England South, James Cleeton, answers those important questions.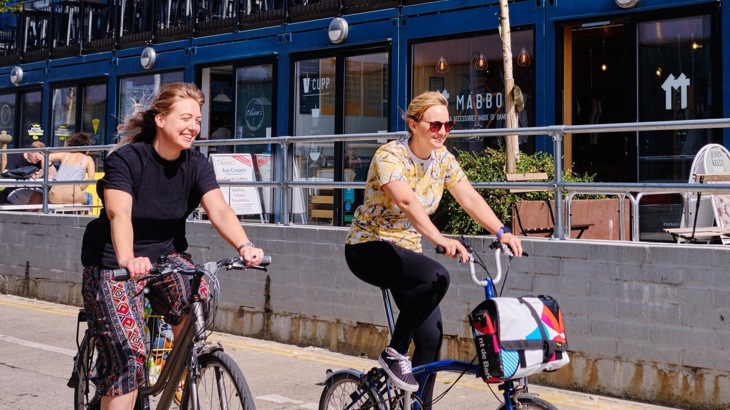 Walking and cycling have an essential role to play in bringing more people to our high streets.
In response to the UK Government's announcement of a £2 billion package of investment for active travel, cities and towns across the UK are set to see a flurry of long-awaited activity to make walking and cycling safer.
In the south of England, Bristol has announced a comprehensive package of transport improvements.
This includes bringing forward the pedestrianisation of the old city and closing a major road to cars.
And in Brighton conversations about a car-free city centre are ongoing, and a pop-up cycle lane has appeared on a dual carriageway into the city.
Prioritising walking and cycling
Of course at Sustrans, we are excited to see this sudden prioritisation of people walking and cycling for their everyday journeys.
But you only have to take a brief look at the comment sections of local press articles to see quite clearly that not everyone is convinced.
The Secretary of State Grant Shapps stated that "…making streets safe for walking and cycling is good for retailers, business and the economy."
But there are many who are less sure, as they question the economic benefits of reducing motor vehicles in our city and town centres.
So what does the evidence tell us about how investing in active travel impacts the local economy?
Let's start with that age-old myth: Closing streets to cars will harm the local economy
Evidence abounds showing that in fact pedestrianisation generally has a positive or neutral effect economically.
What if I were to tell you that shop vacancy rates are five times higher on streets with high levels of traffic?
Or that retail turnover in pedestrianised areas generally out-performs non-pedestrian areas?
Both of these statements are true.
In the south of England, Exeter provides us with an excellent example.
Between 2000 and 2010 motor vehicle traffic was removed from several streets in the city centre.
At the same time, there was increased investment in the public realm of existing shopping areas, during development of the Princesshay shopping centre.
Between 2002 and 2010 there was an increase in footfall of around 30% across these shopping areas.
And the retail rent increased from £220 per square foot in 2006 to £225 per square foot in 2008, compared with declining rents in other towns in the region.
And then there's the assumption that removing car parking spaces will harm the local economy
Again, it turns out that the opposite is in fact true.
For starters, retailers tend to significantly overestimate how many of their customers travel by car, and hence overestimate the number of parking spaces their customers require.
And by significantly overestimate, I mean by a factor of 100%.
Furthermore, evidence shows us that, per square meter, cycle parking delivers five times higher retail spend than the same area of car parking.
While those who arrive on a shopping street in a car may spend more in one go, more people can access the cycle parking space that would be taken up by just one car, so overall spend increases.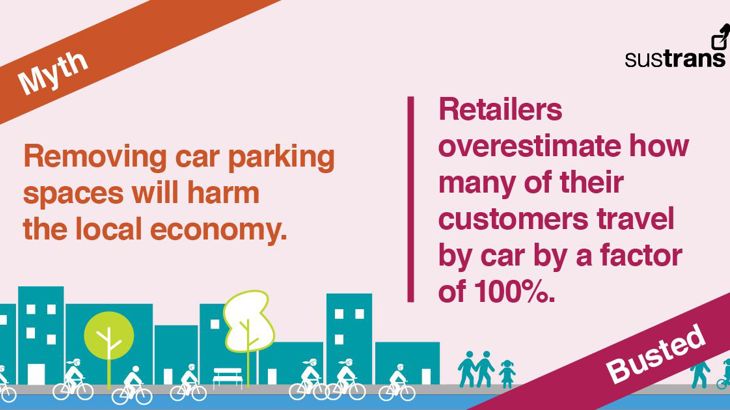 Finally, there is the misconception that cycling infrastructure is expensive
Well, with the advent of the pop-up cycle lane in cities across the world, we can see that cycling infrastructure does not have to be expensive.
But what about when we're talking about building the high-specification cycle lanes Sustrans advocates for, not just those that are created using cones or white paint on the road?
Here again, the evidence disproves the myth.
High-quality cycling schemes cost around £1.3 million per kilometre.
This compares to around £50 million per kilometre for road schemes.
So, improvements to cycling and walking infrastructure involve low capital outlay compared to other types of transport scheme improvement
And the maintenance costs of cycling or walking infrastructure are significantly lower too, making them much better value for money.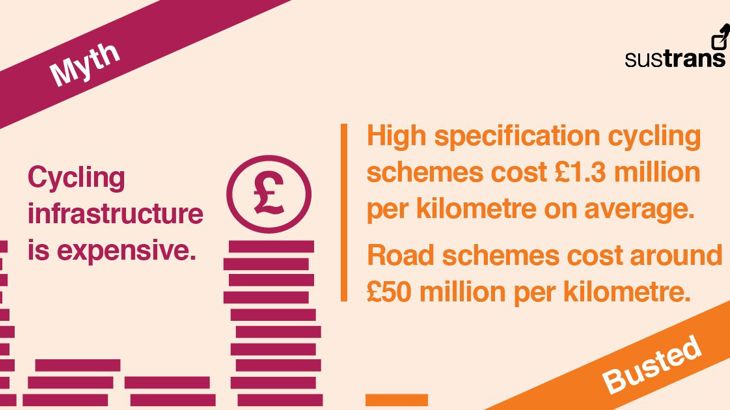 What does this all mean in the current situation?
Right now – during the COVID-19 pandemic ­- we want to ensure those who are unable to use public transport due to physical distancing requirements, don't all jump in their cars.
If they do, we will see a return of the congestion and toxic levels of air pollution our cities had been experiencing pre-lockdown.
At the same time, we want our local businesses to be able to recover from the impact of the national lockdown.
We want them not just to survive, but to thrive.
With all the evidence showing the positive impacts closing streets to cars - or removing car parking spaces - can have on local retailers, we should do everything we can to support our local authorities to be bold and make these changes.
Making it possible for more people to get to their local high streets as lockdown eases is not just a nice-to-have.
It will be key to our adaptation to, and economic recovery from, COVID-19.