Greater Manchester has announced £5million in emergency funding for temporary measures to allow more people walk and cycle while socially distancing. Chris Boardman, cycling and walking commissioner, explains how the scheme will work and why more travel by foot and bike will help build a stronger, more resilient city region in the longer term.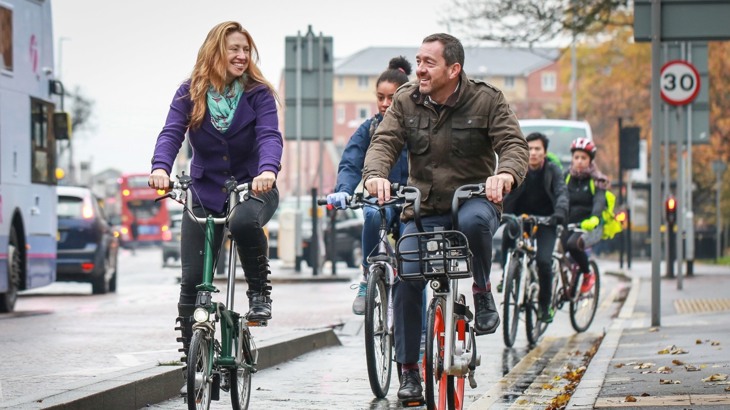 Last week Andy Burnham, Mayor of Greater Manchester, announced that council leaders across Greater Manchester have committed to creating enhanced spaces for pedestrians and people on bikes in the city-region.
This will help people socially distance for safe journeys and exercise during the coronavirus lockdown.
It could also be a step-change in the way people travel in the longer term.
Since coronavirus restrictions began there's been a dramatic fall in traffic volumes - about 60% across Greater Manchester.
With fewer cars on the roads, walking and cycling have played an increasingly important role.
Journeys by foot or bike now account for approximately 33% of all travel, with cycling up 42% compared to pre-Lockdown data.
As a result traffic congestion has almost been eliminated and there has been a significant drop in air pollution.
Cleaning up the city's air
Whatever peoples' motivation - these choices are contributing to cleaning up our city's air and causing less congestion on our roads, and that's something we must sustain for the immediate future.
Around a third of people in Greater Manchester don't have access to a car and could be interested in trying cycling or walking some or all of their journeys.
There's huge potential for positive behaviour change to benefit our health, environment and economy.
The average journey length in Greater Manchester is 5km, which is just a 20-minute bike ride.
What's more, we know people want these changes.
Greater Manchester's 2019 Bike Life report showed that almost three quarters (74%) of people support more space for cycling, walking and socialising on their high street.
Creating more spaces for people to cycle or walk
Under the 'Safe Streets Save Lives' campaign, local authorities are planning a range of quick, temporary, pop-up measures to help ease social distancing at specific locations.
For example areas outside shops, transport hubs or routes to hospitals in the districts.
Changes will be matched using £5m emergency funding from the Mayor's Challenge Fund for walking and cycling.
They could include footway extensions, one-way streets, removing through traffic on certain roads, adding extra cycle lanes and removing street 'clutter' like pedestrian guard rails at pinch points.
Council leaders will prioritise schemes that can be used as Coronavirus response measures and that we have already developed within the Mayor's Challenge Fund as part of Greater Manchester's planned 1,800 mile Bee Network.
Changes across Greater Manchester are already underway
For example in the next few weeks, Manchester City Council will use a temporary "experimental" traffic order to close part of Deansgate, the main shopping street.
The team plans to create an enhanced shared space so that people on foot or bike can socially distance more easily as they return to shops and offices in this thriving part of the city centre.
In the long term, this could lead to a permanent closure of the street.
In Tameside, there are plans for keyworker corridors into Ashton town centre, with areas temporarily coned off for cyclists and pedestrians, as well as extended footpaths to enable social distancing outside supermarkets.
Stockport is looking at increasing its quiet lanes for walking and cycling, extending bus lanes and reducing parking.
Trafford Council has identified several busy roads with narrow footways or obstacles, where they want to create new spaces for walking and cycling on roads.
As part of the emergency response we are also seeking to fast track the approval of side road zebra crossings.
The Mayor, Andy Burnham, has written to the Transport Secretary, Grant Shapps, asking him to enable local highway authorities to utilise these measures immediately.
How we are getting more bikes for people
As well as creating space for cycling and walking we are also helping more people access bikes.
During the Lockdown we have had many calls from keyworkers who couldn't get to work due to reduced timetables.
Many people want to try cycling, but don't have a bike.
Transport for Greater Manchester has a pool of 60 bikes that we loan out to businesses as a fleet for business travel.
During the Coronavirus emergency restrictions, these bikes are now prioritized for NHS workers to hire for free.
We've also been working with independent bike companies across the city region to boost the numbers of loan bikes available and distribute them to more people who need them.
There are now over 250 bikes for free loan to hospital workers across the major hospitals in Greater Manchester, with a further 200 on the way supported by GM Moving.
As demand grows, we hope to extend these schemes further to help more people travel to jobs across the city region.
Walking and cycling are essential for a greener, healthier future
By encouraging sustainable modes of transport, the Mayor wants to Build Back Better as part of his recovery plans.
This will support the city's ambition to be carbon neutral by 2038 and honour its commitment to become a walking and cycling city-region.
If we don't take steps to enable people to keep travelling actively, we risk a huge spike in car-use as measures are eased.
Not only is it the right thing to do to protect people now, but it's vital to meet our clean air goals and protect our NHS long term.
Thanks to Manchester Bike Hire, Nationwide Cycling Academy, Positive Cycles, Prestwich Cycle Factors, Cera Cycloan, Halfords and GM Moving.