Sustrans Cymru's National Programme Manager for the Active Travel Fund, Patrick Williams, is one of the many people to notice a shift in road usage during the lockdown period. Here, Patrick delves into his childhood memories of playing on the street, how public space was shared and how the car didn't always dominate our roads. Are there lessons we can learn from current lockdown conditions that could lead to people being given priority over the car?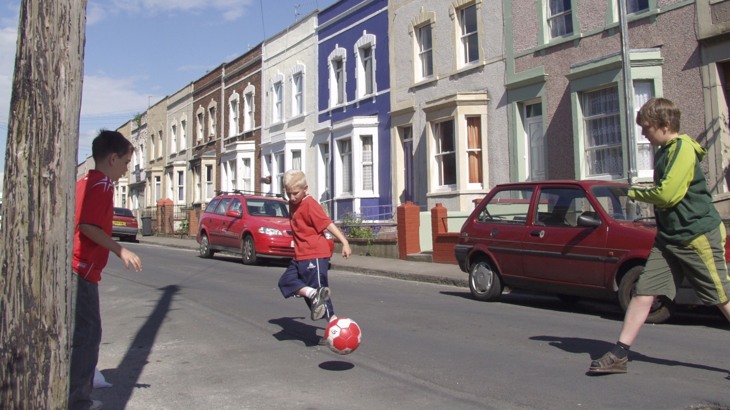 Funny thing time travel. In a pandemic filled late March 2020, I woke up to the news we had returned, in a transport sense, to 1957.
In almost every aspect it was still 2020, apart from one big difference, very few people drove anymore.
It wasn't quite the halcyon image I'd imagined of 1950's suburban life, but then I don't actually remember 1957.
I do however remember growing up in central Cardiff during the 70's and 80's and the freedom to play outside that children of my generation had.
Growing up playing on our streets
A year I remember well was 1977. The oil crisis was over, and vehicle numbers were once again on the increase. The country was in full celebration mode, busy preparing street parties to celebrate the Queen's Silver Jubilee. Very much as would have been happening with the recent 75th anniversary of VE Day.
To put things in context, in 1957 there were about 3.7 million registered private cars in the UK.
By 1977, this had risen to just over 13.2 million.
By the end of 2019 there were almost 30.5 million private cars register in the UK.
So by 1977, streets in comparison to their 1957 counterparts were considerably congested with more households having access to a car.
Even so, for the younger me and my pals, the street was still the go to place to play. The park was too far away and kids, according to our parents, should be out of the house as much as possible.
So the street it was; football, cycling, cricket or just hanging out. The space was ours. We were often found in the middle of the road and generally in full view of a parent who might keep an occasional eye on us from a doorway or the living room.
My memory is that the street was a social place that connected people in a way that is seldom seen in 21st century Wales.
Removing People
Over the years, there has been an approach to improving road safety by removing activity from the street, removing people.  This has not been the correct approach. More traffic and less people on our streets has increased the feeling of danger, vulnerability and insecurity.
Take for example the congestion typically experienced outside a school these days at pick-up time.
We recently measured car movements on a residential street outside a school in Newport.
On the same day, between 11am and 12pm, 7 cars past whereas between 3pm and 4pm, 94 cars past.
The reason so many children are driven to school is often couched in the narrative of "I'm too busy to walk".
But the reality is that with that volume of traffic, particularly in such a confined space, it creates an unpleasant and dangerous environment.
As a child it was normal for me to take myself across my neighbourhood to school and back. Today, parents no longer allow their children to travel unaccompanied and choose instead, to drive them.
Moving around in metal boxes is bad for our mental and physical health. Roads and traffic cut off communities, congestion strangles local economies, and vehicle emissions contribute to climate change globally, and poison the air locally.
And all of this hits disadvantaged communities hardest – those with least access to a car get the worst of the downsides.
The immediate pre lock down traffic jams in the Brecon Beacons were an illustration of the ability for many to use cars to access our remote beauty spots en-masse.
Cars however, remain inaccessible to many, and the trade-offs needed to enable our expectation and our perceived right, to drive to and park outside our houses, have had a profoundly negative social impact.
Today's society
In today's society, children are seldom seen playing on the street, fewer people know their neighbours and within the context of the current crisis, people are unable to just get out and have a breath of fresh air.
Although most urban areas will have a pavement for walking, this is often narrow and it's not unusual to find a car parked across it.
A key objective of the recent Welsh Government directive is to address the reality that pavements often, even without the need to socially distance, are unable to provide a safe space for pedestrians.
For cyclists it's a different set of challenges. The recent 2019 Bike Life report found that only 28% of us feel safe to cycle. This of course is without considering how the inaccessibility of our streets affects us differently by age and gender.
Back to 1957
We're currently seeing unprecedented changes in our travel behaviour.
With people largely unable to make regular car journeys and reluctant to make use of public transport, much of our regular trips are shorter and being made on foot or by bike.
We have also demonstrated that we are able to radically change our working habits, leading to questions about our need to travel large distances to and from work.
Whilst the circumstances driving this cultural shift is horrendous beyond belief, many are now asking how we can embed some of the positive changes that are happening.
The alternative once lockdown eases, could be a shift towards higher volumes of cars on the roads than previous to replace some of the journeys that would have otherwise been made by public transport. We can't let that happen.
Vulnerable people
My elderly parents - they wouldn't thank me for that description - still live in a central Cardiff terraced house. Chatting to them recently, I asked how they were managing to exercise.
Out of necessity, they said they'll go to the corner shop, but otherwise they no longer go out. They don't live close to a park or accessible green space.
The pavements on the streets in the neighbourhood are narrow and they're concerned about competing for space and social distancing from other walkers. Plus it's not very nice to walk around the streets.
Although I was aware that my parents sit within a demographic group made 'vulnerable' directly by the Covid-19 virus, I hadn't previously considered how this would also highlight the impacts and social inequalities of the environments we have created to live in.
The role of the car is changing
The reality of a locked down society adhering to strict social distancing rules has seen a drastic fall in commuting, the school run isn't happening and people only leave the house for essential journeys.
These factors have led to the car as a useful means of transport now being largely redundant.
Suddenly the street is again seen as a place for people movement rather than car trips.
Children once again cycle along a road previously occupied by fast moving cars. People feel confident and safe to cycle on the road due to fewer cars. More people are walking and realising the good that comes from being outdoors and exercising.
Inequality of space
However, the inequality of space allocation on our streets is highlighted by the increased numbers of people competing for the limited amount of pavement.
Reacting to this, local authorities across Wales are developing plans to re-allocate road space to create instant wide pavement, more space for cycling and giving people more space to socially distance in public areas.
But what will happen in the coming weeks and months as lock down restrictions are eased?
There is a suggestion that some may, initially at least, be reluctant to once again use public transport.
We cannot afford to again give the car total precedence over people, both on a health and environmental level.
Re-allocation of road space
We've seen cities across the world making space for social distancing by re-designing their streets for people.
A reallocation of road space is key to ensuring masses of people don't switch from public transport to private cars. Welsh Government's focus on re-allocating road space is therefore a warmly welcomed approach.
Those who previously travelled by public transport need safe and realistic alternatives to jumping in their cars. We need safe infrastructure and enough space to empower people to walk or cycle.
We have a once in several generation's opportunity, to create real behaviour change that will benefit our environment, communities, the air we breathe and our overall health.
Will we use this opportunity to learn something and put the foundations in place for a more equitable urban environment?