In these unprecedented times, we are seeing record numbers of people in need of food and grocery donations. And organisations are desperate to find low-cost, zero-emission ways of delivering these essential items quickly to those who need them. Our Senior Healthy Streets Officer, Lucy Atkinson, looks at the great work happening in London's Lewisham South, where e-cargo bikes are helping to deliver vital provisions to residents.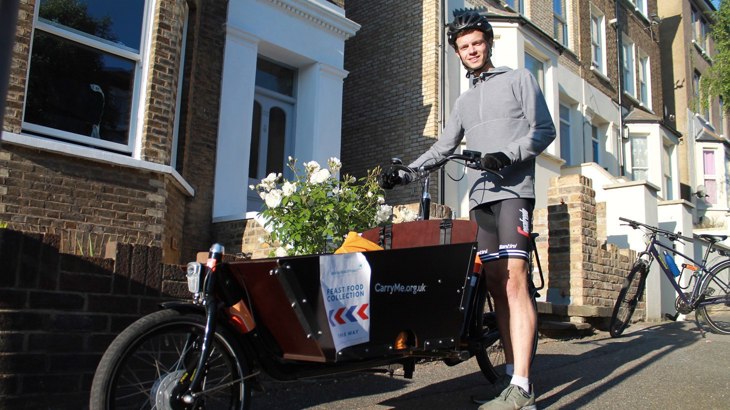 Dan volunteers to deliver groceries by e-cargo bike in London to vulnerable people during the Covid-19 pandemic.
It's a sunny Wednesday evening in Catford.
The streets are quiet, but inside King's Church's makeshift food redistribution centre a team of busy volunteers is working determinedly.
There are those cooking lasagne in the back, those packing food into containers and bags on long trestle tables, and those cross-checking deliveries armed with large lists and highlighters.
By the door sits the organisation's new e-cargo bike, joint-funded by TfL's Healthy Streets Officers programme and the London Borough of Lewisham.
It's being filled with paper bags of nutritious food: hot meals, healthy juices, fruit, snacks and cereals.
Foodbanks under pressure
Across London and the UK, emergency food aid charities are under pressure in a way they haven't seen in decades.
Southwark Foodbank – also a recipient of an e-cargo bike from the Healthy Streets programme – reports a 500% increase in referrals based on this time last year.
Likewise, the Trussell Trust, a food bank network operating across the UK, has reported that lockdown triggered its busiest ever period.
And food charities are only expecting these pressures to become more intense as social distancing measures stretch on:
"I anticipate the need to continue to grow," says Simon Allen, Project Director at King's Church.
"We are beginning to see people who have never needed food handouts or benefits in the past asking for help."
Before lockdown, many charities like King's Church served food on site, but now, unable to operate as normal, they must deliver.
I've come to the distribution centre in Catford to see how they are coping with today's rise in demand, and are planning for the future.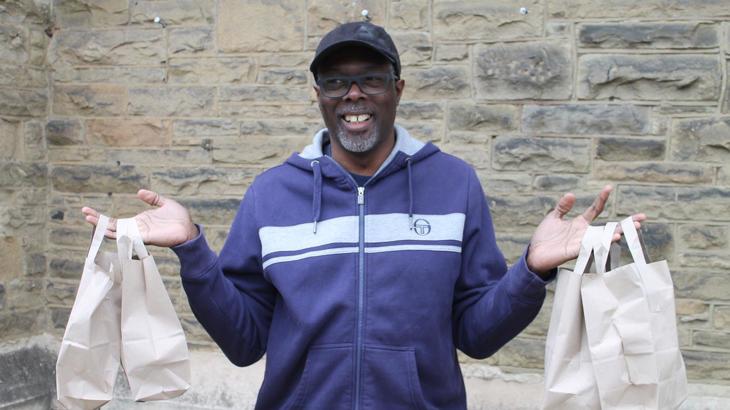 Organisations are now looking for low-cost, zero-emission ways to deliver vital food packages and medication to vulnerable people.
Green deliveries must be the new normal
Economic conditions from the crisis are set to hit a serious downturn, and many vulnerable users are being advised not to leave home.
And because of this, organisations that are providing essential food and medication across the country are now making delivery journeys that they never had to before.
But some are concerned about the number of new vehicle journeys this could create and are looking for new ways to keep their emissions low.
These forward-thinking Londoners are looking to reduce the number of vehicles on the road as the city emerges from lockdown.
Enter the e-cargo bike, providing a zero-carbon solution that can help keep our streets healthy.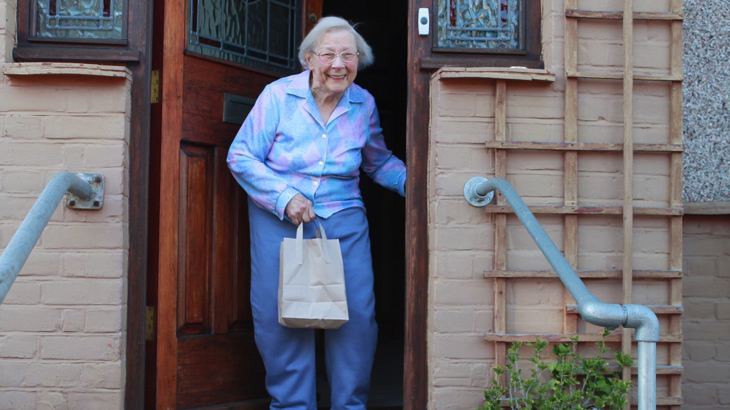 Meet 88-year-old Iris, who currently receives groceries delivered by cargo bike as part of the King's Church delivery service in Lewisham.
Providing a lifeline
At 5:30 pm, we set off for a round of deliveries.
Iris, 88, is the third neighbour that volunteers Amelia and Dan meet.
"I'm so thankful for these visits," says Iris, whose face lights up when she opens her door.
"I'm disabled, and I find it hard to get around now."
She is shielding, so the service helps her to stay connected to the Catford community, where she's lived since she was born.
Iris says she's impressed by the e-cargo bike.
"I used to cycle to Bow Road to my teaching job every day, but I've never seen a bike like that. It's amazing what people can do these days."
As for the volunteers?
"It's a good way to get outside and feel like we're making an impact," says Amelia, as we cycle away.
"And riding a cargo bike is really fun as well."
Healthy Streets
TfL's Healthy Streets Officers programme is making a difference in London by supporting work like this.
The projects funded through this programme are delivered by Sustrans.
Visiting King's Church, I'm immensely proud to be part of something that enables people to swap vital journeys from vehicle to bike.
And what's not to love?
Not only is the bike more carbon-efficient, it also has technical advantages that make it perfect for deliveries, says Project Director Simon.
"It spares people carrying the weight; it's efficient in that you can park easily outside all the properties and it's environmentally much better than another car on the road."
The costs of running the bikes are also much lower than a vehicle, helping many community groups spend more on keeping people fed.
Food for thought? Absolutely.