This month we are launching the next set of Bike Life reports across 14 cities, towns and urban regions spanning the length and breadth of the UK. And next month will see the release of the first-ever Bike Life city region to report from outside of the UK: the Dublin Metropolitan area.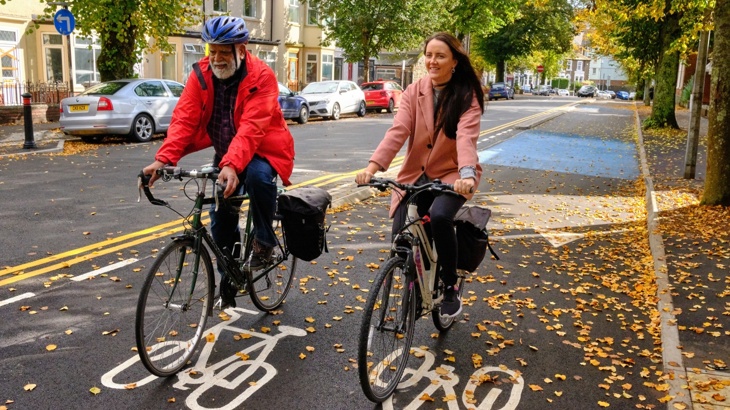 In total, 17 cities and urban areas are now part of the programme, representing almost 13 million residents.
This makes Bike Life the UK's largest assessment of urban cycling.
Cycling is part of the solution to better neighbourhoods
The data collected in Bike Life is wider than ever before.
Whilst the focus remains on cycling, it is now within a wider context of how streets and neighbourhoods can be better for people. And not just in terms of travel but also to live, enjoy and spend time in.
Bike Life also includes more diversity in the places it surveys.
In addition to cities, there are now seven city-regions participating including numerous towns and villages in these areas. We also have our first ever London Borough, Tower Hamlets.
This greater diversity is also reflected in the results we see in each area.
There are big differences between different places regarding what the infrastructure looks like, the level of cycling participation present and what people think needs to happen to improve their local area.
So what are the key findings?
Cycling trips currently taking place across 12 of our cities generate many health, social and economic benefits.
Our modelling suggests existing cycling produces 317 million trips cycled each year. This prevents 3,700 long-term health conditions and 338 early deaths.
Cycling produces a total economic benefit of £850m million for the local economy and individuals.
However, in total 68% of people never cycle, and only 6% cycle at least five days each week.
There is huge potential for cycling as an everyday mode of transport for all people in cities and towns across the UK.
There are three findings from Bike Life 2019 that we at Sustrans want to explore further.
1. The need to address health inequalities in cities and towns and the role of cycling to do so.
Many disadvantaged neighbourhoods have fewer local amenities and poorer public transport provision.
And the greater chances of not having access to a car means everyday services can be difficult to reach. This can compound existing health inequalities in society.
Bike Life found only 10% of people from socio-economic groups D and E currently cycle. These groups are more likely to be on lower incomes or not in employment.
However, 30% of people from socio-economic groups D and E would like to start. There is a huge appetite for cycling but this will only be realised with investment and prioritising the people that stand to benefit the most.
2. The urgent, but extremely challenging, need to reduce car use to respond to the climate crisis and how cycling can play a role in shifting journeys away from fossil fuels.
In 2017, it was calculated that the transport sector accounted for 27% of all greenhouse gas emissions in the UK, with the majority from private motor vehicles.
We urgently need to reduce car use if we are to respond to the climate crisis and many cities and towns now have goals to be carbon neutral in the next 10-20 years.
Currently, cycling in the Bike Life cities take 270,000 cars off our roads each day. But only 6% of people cycle on a daily basis.
Imagine what this would look like with Dutch or Copenhagen levels of cycling when cycling can reach over 40% of all urban journeys?
Reducing trips by car is controversial and challenging and steps to do so must be both fair and simultaneously ensure other options are available. This means a significant change in investment across the UK away from increasing road capacity and instead investing in local and sustainable transport.
Transport investment is at record levels but it is currently being spent on things that will only serve to increase greenhouse gas emissions not reduce them.
3. The continued need to ensure cycling is a genuine option for all people, not just those that currently cycle.
Finally, we need to make cycling inclusive.
In the cities, only 9% of women cycle at least once a week in comparison to 21% of men. Similarly, large gaps are seen between disabled people and non-disabled people and very few people over the age of 66 cycle.
Against this compounds inequalities in society and is likely to be a result of unconscious bias in transport planning over many years.
White, middle-aged men design and focus on things that have the most benefit to themselves. They are unlikely to consider or even be aware of other people's needs and this means people are neglected and ignored both in wider transport and cycling.
These gaps do not appear to be declining and cycling policy urgently needs widespread change to focus on all people in society.
We need a transformation to increase cycling for everyone
Sustrans is working across all three of these issues.
As an organisation, we have always been about ensuring all people can walk and cycle and when they do so they feel welcome and comfortable.
More recently this has been adopted at the core of our strategy and plans including both in cities and towns and the National Cycle Network.
Of course, all three of these challenges are interwoven.
The climate crisis is most likely to affect the most disadvantaged and for too long the most privileged have ignored other groups when making decisions to improve society.
We need a transformation to address this and must continually question our own work to ensure we are part of the solution and not the problem.
Ahead of crucial climate talks at COP26 in Glasgow, Sustrans calls on the UK Government for a step-change in cycling and walking investment to make cycling a genuine choice for everyone, and help people drive less and cut emissions.