As schools start to open their doors after Covid-19 closures, one of our London-based engineers, Zeina Hawa considers how boroughs and schools can create more street space for walking and cycling to help children to get to and from school safely. And she explores how our School Streets programme could be part of the answer to making it easier for families to do the school run after lockdown.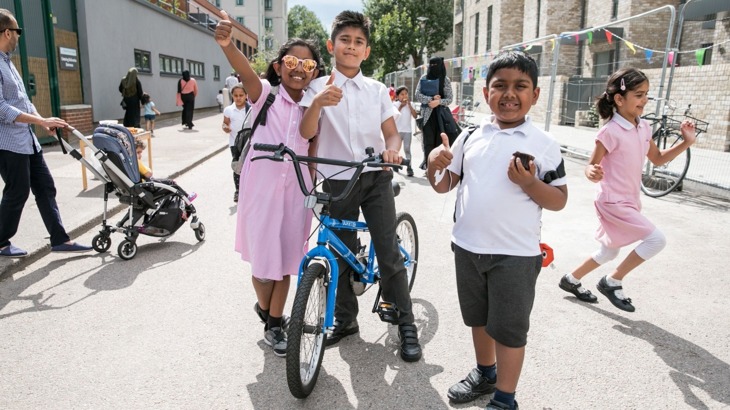 Rethinking how we use street space
A silver lining of the Covid-19 crisis is the huge opportunity that we've been given to think about how we move around our towns and cities and our relationship with street space.
This pandemic has highlighted the injustices of how we design our cities and what we traditionally prioritise when it comes to street space.
We can no longer travel the way we used to.
As lockdown eases and our demand for travel increases, the government has made clear the need to provide alternatives to public transport and private vehicles.
Return to schools, return to travel
Nowhere is this more pressing than when schools re-open to certain year groups from 1 June.
With public transport restricted, there is a danger that parents will look to the car as the safest way to get there.
An increased number of cars on the road for the hundreds of thousands of pupils expected to return to school simply can't be an option.
We must not exchange one health crisis with another where our streets come to a standstill, congested with toxic pollution.  
In discussions about how transport will adapt as we begin to return to work in a post-lockdown world, we seem to have focused less on how we'll safely travel to school.
But this is vital as the number of children being driven to primary school has been increasing each year since 1995, and now as many as one in four cars on the road during the morning peak are on the school run. 
Traffic danger is the most common reason cited by parents for not allowing their children to walk or cycle to school.
And children at more than 2,000 schools and nurseries across England and Wales are being exposed to illegal levels of damaging air pollution from motor vehicles. 
Urgent work is needed to make it safer and easier for children to walk and cycle to school independently.
Schools streets unlock space for safe play, active travel, clean air and social distancing 
School streets are part of the answer to this.
Children cycling or walking to school allows for physical distancing while giving the opportunity to get exercise and breathe better air than inside the car.
Air pollution is more detrimental to a child's health and development than it is to adults.
Children are also disproportionately victims of more traffic collisions. 
Crowding at school gates can no longer be acceptable for health reasons and concepts around physically distanced play will have to be explored, especially in schools with limited space.
Eliminating vehicles from around school gates can unlock potential street space for children to play and for parents to wait safely.
In London, school streets schemes have, to date, largely focused on timed closures during pick up and drop off times, enforced through ANPR (automatic number plate recognition) cameras or bollards.
The powers to do this currently don't sit with Local Authorities in England, outside of London.
It's imperative the UK Government gives them these powers as one way to enforce timed closures.
More importantly, it is vital that local authorities up and down the country consider a range of solutions beyond timed closures. And take steps to introduce longer-term improvements to the street environment around schools.
There is a range of measures which permanently improve the street.
And these measures can give children the freedom to play, cycle, scoot and walk outside their school safe from traffic and pollution beyond pick up and drop off times.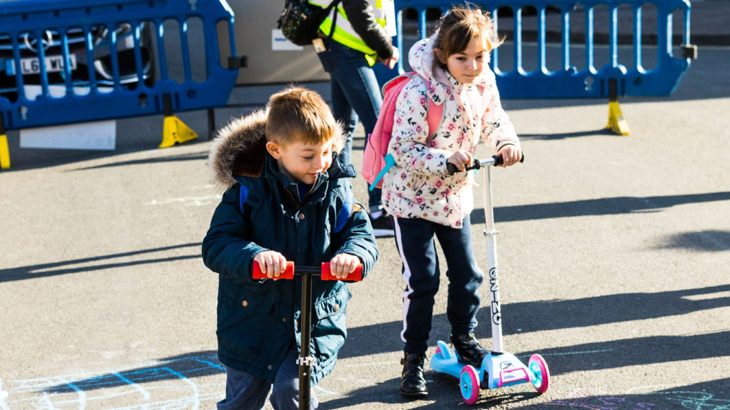 Our School Streets and Bike It programmes tackle the congestion, poor air quality and road safety concerns that many schools experience. We do this by restricting motor traffic at the school gates for a short period of time, generally at drop-off and pick-up times.
Keeping it simple, fast and inexpensive
With Local Authorities being resource and time scarce, physical street closures are an effective approach to bringing about the benefits of school streets quickly and inexpensively. 
Where possible these schemes can start as simple temporary low-cost filters that serve to eliminate through traffic and congestion at gates, that are later upgraded to activate the street further.
With experimental traffic orders, these changes can be implemented fairly quickly in line with the return to schools and will generate constructive community discussion about long-term change.
Transforming schools in Tower Hamlets
We've been working in Tower Hamlets on the second phase of their ambitious school streets program, which looks to implement 50 school streets by 2021.
With a focus on improving conditions outside of school gates, it may seem as though school streets plans tackle just a localised issue.
But if these schemes begin with 10 schools first, then 20, and then 50 all within one borough, they can help transform conditions across a wide area.
It can really change the nature of streets and bring lasting positive impacts across a whole borough.
School streets offer us the chance to think about how our streets could look and feel if they were designed for children to thrive, and if they were conducive to improving health and wellbeing.
In our work with Tower Hamlets, we wanted to take school streets schemes further than treatment at pick up and drop off times.
We proposed permanent changes that improve the physical environment and offer wider benefits for residents.
We looked for opportunities that allowed for permanent street transformations that reduce through traffic, maintain resident access, and create community spaces, add greening, seating, and play elements.
Children can help design their future
A key aspect of the success of a school street project is engagement with teachers, parents and local residents.
In our Tower Hamlets work, we got pupils involved and worked with them to design their future school streets.
This helped to raise the ambition for the changes and led to support from the school community.
We engaged with schools and pupils taking part in our Bike It programme. 'Bike It' has been helping to increase levels of active travel in Tower Hamlets schools for many years.
The children also learnt about how design features help activate streets and create a healthy environment around schools. They were part of imagining, designing and visualising their own school street.
We maximised impact by running a targeted behaviour change project alongside the School Streets programme.
This achieved greater levels of support for the scheme. And it increased the number of people using active travel.
When we encourage and support people to use their street in a different way it empowers them to see the real benefits.
This helps the community feel a sense of ownership around their school street. It increases the benefits and opens up new opportunities for how people use the space.
The time to protect children's health is now
This health crisis has highlighted the urgency of and opportunity for school streets across the nation.
We can design our streets so they change the way we travel to school for good.
Both the Department for Transport's interim guidance as well as Transport for London's Streetspace for London guidance mention school streets as important aspects of the required street transformations.
And TfL's new school streets supplementary guidance provides support to boroughs looking at implementing them.
Our recommendations are to:
Engage effectively - it is a key component of a successful scheme. Work with and tap into existing organisations, advocacy groups like Mums for Lungs and parent groups that have a wealth of knowledge and commitment to improvement, and are vital to the schemes' success.
Engage children and other community stakeholders in the design process. Use existing programmes such as 'Bike It' to help children understand the issues and create solutions that meet their needs. Build relationships and trust within school communities.
Opt for physical or permanent road closures to cars wherever possible to maximise community benefits, and use these as pilots or tests to gather feedback, make refinements and increase long term support.
Integrate school streets into wider low traffic neighbourhood and other transformative borough plans to have a wider impact with a more cost-effective approach.
Remember to plan improvements to streets around secondary schools, where a larger number of students rely on public transport.
Run behaviour change work alongside the School Streets programme to maximise support and impact.

Email us for information on how your school or borough can use behaviour change work like 'Bike It', or how to sign up for the programme
.