We need to make it easier and safer for children, parents and teachers to travel in an active and sustainable way, once schools re-open in August. Our Delivery Co-ordinator for Education and Young People in Scotland, Cecilia Oram, takes a look at how the Covid-19 pandemic has given us the opportunity to make it easier for families to safely walk, cycle and scoot to school.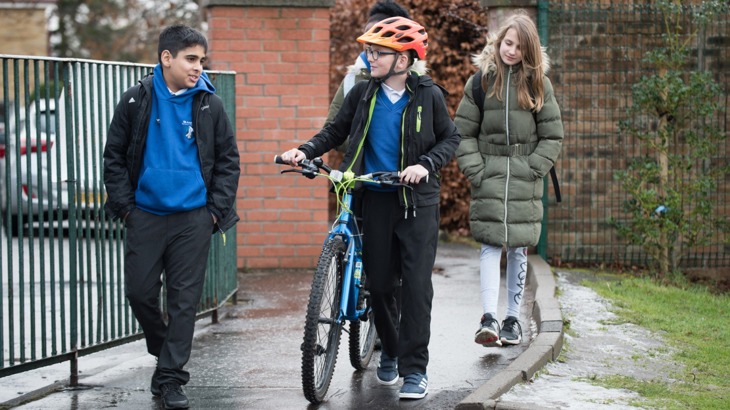 We need to make it easier and safer for children, parents and teachers to travel in an active and sustainable way
The latest data from the Hands Up Scotland survey offers a sobering reflection on children's travel habits to school in Scotland in 2019.
More than a quarter of pupils reported being driven to school by private motorised transport, whilst the number of pupils reporting travelling to school by car reached its highest recorded level.
Meanwhile, reports of pupils travelling by bus or walking to school continue to fall to record lows, at 16.0% and 41.0% respectively.
But, whilst these trends mirror the findings from other travel habit surveys in Scotland, they show that the way we choose to travel is gradually getting worse for our health, wellbeing and the environment, rather than better.
Resetting habits
There are some positives to take from the survey however. Primarily, that the data was collected prior to covid-19.
We are now living in a changed world.
One where safety has a whole new meaning. And where our behaviour is evolving to adapt to the 'new normal' we now find ourselves in.
What people's travel behaviour during lockdown has shown that is that, with fewer cars on the road, people will change their behaviour if they feel their streets are safer.
We also know that the safety of their children on the journey to school is a key driver for a parent's choice of mode of transport.
We need to make it easier and safer for children, parents and teachers to travel in an active and sustainable way, once schools re-open in August.
Responding to change
Through Sustrans' Spaces for People fund in Scotland, we have already seen a number of applications seeking to support pupils to walk, cycle or wheel to school through street closures, pavement widening and temporary cycling infrastructure.
But there is still much more which can and should be done.
We need safe and accessible routes
We need to make sure all pupils have access to safe and accessible walking, cycling and wheeling routes to school, no matter which part of the country they live in, or school they attend.
Infrastructure should meet the needs of the communities it runs through
It's important to remember that a route is only as good as its weakest point.
This means safe, continuous, segregated routes for cycling, wide pavements for walking, wheeling and scootering linked by a network of quiet streets that stay quiet. 
We need to give all children access to a bike
Especially those in our most disadvantaged communities
Start discouraging car-use
We need to start actively discouraging people from driving to school in all but the most exceptional circumstances.
Keep the roads clear for those who really need them.
Provide more funding and support
And we need to make sure there is enough funding and support available so that schools across the country can make real and impactful changes to the way staff and pupils alike travel to school each day.
Driving can no longer be the default
The pandemic has shown us the value of fresh air, exercise outdoors and access to greenspace.
When we drive our children to school we are depriving them of opportunities for daily exercise, of connecting with nature and chances to engage with and understand their community.
Our recovery from the pandemic can be a catalyst for positive, long-lasting change in the way we live and move around.
Cleaner modes of travel and fewer cars should be at the heart of our plans.
Covid-19 has reset these trends and we have the chance to establish and maintain healthier travel behaviours.
For ourselves but also for our children's future health and wellbeing.
Only then will we be able to ensure that walking, cycling and scootering is seen as a viable alternative to the private car in Scotland.