Chiquita Elvin is an Infrastructure Coordinator for Project Delivery in Scotland. She presented a workshop on Infrastructure for a Climate Emergency as part of the Future Planning Conference in Glasgow. In this blog, she explores how built environment professionals can work effectively together to ensure climate-adapted infrastructure is integrated into master planning and regeneration.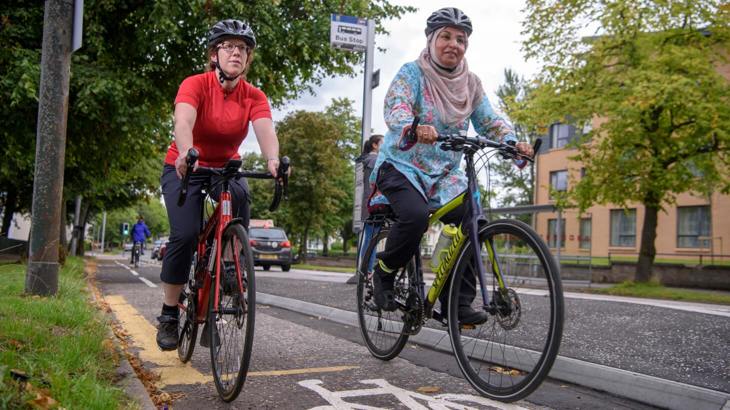 We need fundamental changes to the way we travel
In order to respond fully to the climate crisis, we need to reduce our dependency on cars altogether, not simply change the type of cars we use. The importance of this cannot be overemphasised enough.
Too often electric cars are seen as the answer to how we respond to the climate crisis, be that as individuals or within the transport planning and design community.
But although electric vehicles appeal to our sense of newness and novelty, whilst keeping the status quo, they do not address a number of the key issues. Professionals are currently working to ensure climate-adapted infrastructure is integrated into master planning and regeneration.
Ultimately, an electric car is still a car, impacting on place, safety and sedentary lifestyles in the same way as conventional cars.
People need genuine sustainable travel choices
Our transport infrastructure and built environment need to adapt in order to provide people with genuine sustainable travel choices. And not just in Scotland, but across the UK and across the rest of the world as well.
Not only would this bring many positive environmental impacts, from lowering net carbon emissions, reducing noise pollution and the environmental cost of building and maintaining news roads, but active and sustainable travel infrastructure offers improved health and economic benefits too.
Designing for everyone
In practice, this means accounting for the most vulnerable groups in society first in the design process. By designing our streets and public places to be accessible to all, we end up with places that work for everyone.
So, for example, if we make our footpaths safe, attractive and appropriate for the setting, then this has a knock-on effect for other road users and the natural environment.
Slowing and/or reducing traffic volumes and limiting the types of vehicles which use our streets makes them safer and more pleasant for people to walk, wheel or cycle through.
Making sure we include green and blue infrastructure, such as trees, rain gardens or other sustainable urban drainage systems, means that not only are our streets and public places more pleasant to spend time in, but essential for mitigating the effects of climate change.
Thinking about the context
As planners and designers we must also consider the context in which people travel and how their lives can often dictate this.
Responding to the needs of women as a group, for example, means taking into account travelling with children, fears around personal safety and recognising that women more often trip-chain than men.
Ensuring the availability of widespread, affordable public transport which is more accommodating of all users would provide people with a realistic option to leave their car at home for many of the journeys they make every day.
Equally, creating an extensive network of continuous, safe walking and cycling routes in an urban area would enable parents with children, along with everyone else, to travel more actively and sustainably. This could be achieved by addressing the way traffic flows through our streets or by incorporating protected cycle lanes where this is more appropriate.
The knock-on effect of this would allow all groups to access the vast range of benefits that active and sustainable travel brings, including:
a boost in health and wellbeing
increased physical activity
air pollution and carbon emission reduction
inclusivity
economic benefits. 
The best way to ensure that future urban transport systems support people's wellbeing, and support flourishing, healthy communities, is to invest in infrastructure that can be shown to make a positive impact.