Picture a typical scene outside many schools across the UK. The roads leading to the school are jammed with traffic. Outside the school gate, there is the chaos of cars mixed in with people on foot and scooters, with very few cycling. There is lots of noise from car engines and horns alongside children playing, and a strong smell of fumes from engines.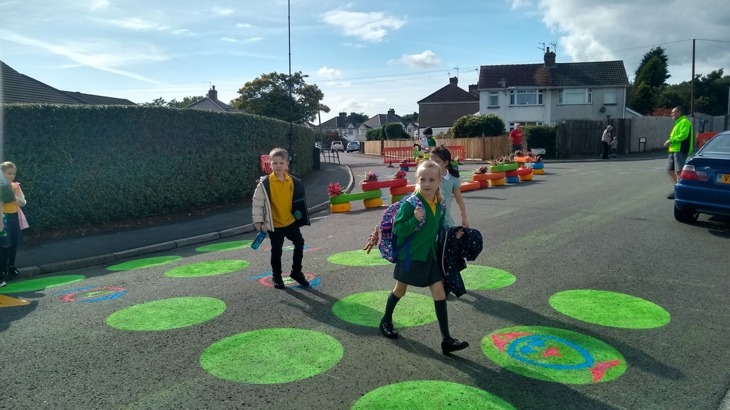 Congested and busy roads outside of schools can feel hostile for pupils and parents wanting to walk and cycle, which is why we're committed to transforming the school run.
Road Safety Week
This week was Road Safety Week and the campaign called for people to step up for safer streets and celebrate the amazing design-led solutions that allow us all to get around in safe and healthy ways.
It's a theme that is close to our hearts as we know that one of the main barriers to people travelling actively and independently is road safety.
A YouGov survey of 840 teachers, which we commissioned earlier this year, found that nearly two thirds (63 per cent) of teachers support car-free streets outside of schools. 
We're calling for the government to transform the school journey by rolling out School Zones, which will include: safe walking and cycle paths to school and closing streets around the school gates to cars.
This should be combined with providing cycle training to all children across the UK.
Opening school streets to walking and cycling
Our work across the UK is transforming the school run.
In March, we helped teachers and local authorities close the road to cars outside 40 schools. This created a safe road space for students and parents to travel on each morning and afternoon and enabled more people to walk, scoot and cycle in without the worry of oncoming traffic. And we're working hard to put in place permanent school streets.
Sustrans is delivering a project with the Road Safety Trust to transform schools around the UK.
In Wales, we are working with Newport City Council and St David's RC Primary School to redesign the space outside the school.
The first stage involved pupils and the local community to identify barriers to active travel.
We then closed the street to cars outside the school to test these ideas as part of a street trial. We used chalk to create a new crossing point, and Sustrans Street Kit to reclaim road space outside the school.
We used video to capture traffic speed and behaviour before and after the trial. This showed a drop of vehicle speeds by a third. We are now turning the proposals into detailed designs which are due to be built in the New Year.