People want their neighbourhoods to be quieter, safer, with space to play and socialise. Matthew Barber, Head of Partnerships, Midlands & East, discusses how this can be achieved if we start to prioritise our most vulnerable road users.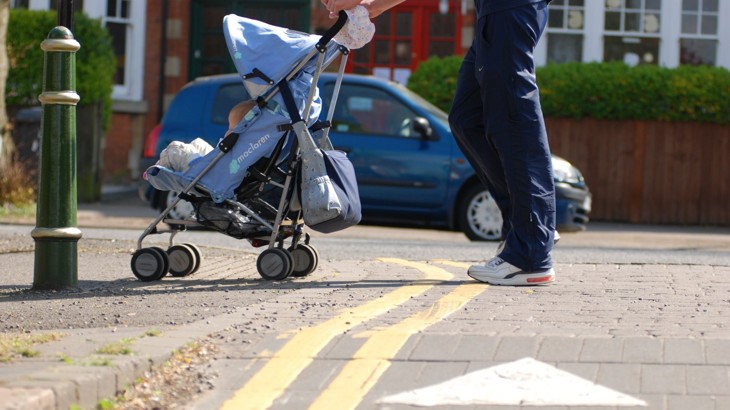 "Come on, let's dash for it!"
Those were the words I muttered to my one-year-old as I pushed the pram across the road outside our house.
The harsh reality of having to run with the pram to get across my street has made me reflect on the challenges I've faced as a new parent navigating my neighbourhood by foot.
It's not just the lack of safe crossing facilities or the lack of dropped kerbs (you quickly become proficient at the reverse, lift, tilt and bounce technique with the pram). It's not even walking in the middle of the road, as the footpath on both sides is blocked by parked cars.
It's the sense of feeling unwelcome or uncatered for.
It should never feel inconvenient to walk to the local shop to grab a pint of milk or a bottle of Calpol.
In the last week alone, I've had the handle of the pram thrust into my stomach due to a poorly designed kerb. I've battled past overhanging vegetation and somehow managed a fancy on-road, off-road manoeuvre to avoid the team installing high-speed internet cables.
When you add in disintegrating footpaths, and the constant up and down nature of pavements outside residential properties - it often feels like I've been competing in the moguls at the Winter Olympics.
Moving around with a pram is not a pleasant experience.
I've shared my observations here in a light-hearted nature. Yet many others are likely to share similar experiences, and many will likely face far greater challenges than I do. 
Is it any surprise people choose the car for half of all journeys under two miles?
What we're doing to help
In Birmingham, Sustrans is working with the community to address this. Our Age-Friendly Tyburn project has undertaken a street audit to identify problems and to look at solutions.
This community-led initiative gives local people, with their knowledge and insight, the power to help make their neighbourhoods accessible for all ages.
Our community-led projects are always popular and often have the same reoccurring themes.
People want their neighbourhoods to be quieter and safer. They want space to play, run, cycle, scoot, chat and socialise. 
All of this can be achieved if we start to properly prioritise our most vulnerable road users.
That's why we have put forward a manifesto for the General Election.
We are requesting the implementation and enforcement of inclusive and accessible design guidance for walking and cycling.
We must commit to creating streets designed for everyone, with infrastructure that protects and enables our most vulnerable road users.