Walking and cycling for transport make a valuable contribution to our activity levels. Be it walking to school, cycling to work, or many other everyday journeys, active travel can offer a convenient, accessible and affordable way to move more. For those with busy and hectic lives, it may be one of the few opportunities to create a regular habit.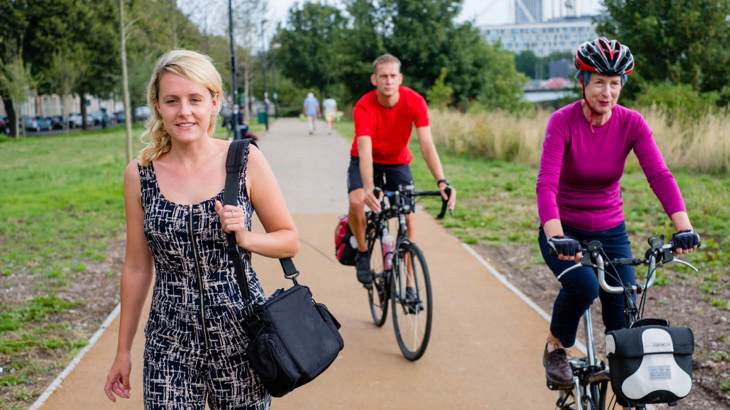 Sport England commissioned Sustrans, working with Dr Nick Cavill and Prof. Adrian Davis, to assess and highlight the great potential of active travel and mark Sport England's own ambition for how cycling and walking can support their vision of a more active nation.
Strong case for investing in active travel
The report presents a definitive case for investing in active travel to support physical activity. Our expert, independent research team reviewed the best quality evidence and found a wide range of effective interventions that increased walking and cycling, with the strongest evidence pointing to integrated approaches across whole places.
Eighty-four studies met the inclusion criteria. These were then clustered by a series of intervention typologies:
City and town-wide interventions – these involved a mixture of changes to walking and cycling infrastructure eg. cycle lanes and community engagement programmes eg. cycle training.
Building or improving routes or networks.
Social marketing including marketing of infrastructure.
Workplace and other institution based interventions.
Interpersonal interventions.
School-based programmes.
Conclusions 
Overall, the review concludes that there is strong evidence for the positive impact of interventions to increase or support active travel. This in turn increases levels of physical activity. Of the different intervention typologies the evidence was strongest (in terms of volume and robustness) for city or town-wide interventions. Each of the other intervention types reported some increases in walking and or cycling.
Of 84 studies, over two thirds (61) found interventions had led to increased levels of active travel. Most of the remaining studies showed no significant change or showed mixed results across a number of indicators. A small number showed decreases in active travel.
All of the peer reviewed studies addressing whole town or city-wide interventions showed that interventions increased levels of cycling and walking compared to controls. The evidence available for city and town-wide programmes shows change at the population level. However, the evaluations did not discriminate between different population sub-groups.
The review also found evidence for the positive impact of walking and cycling interventions at a more localised level. Interventions to build or improve local routes or networks report increased walking or cycling in most cases.
Recommendations
The report provides clear consensus of active travel's huge potential. To harness this, it's crucial we engage with and listen to people in the places they live and work – to recognise barriers, challenges and local context, and understand how active travel can work for them. The report also carries recommendations to invest and collaborate in active travel more effectively –  an important reminder of how further research and robust evaluation can help us continue to improve provision and delivery.

The message is clear: active travel has a vital role to play in achieving a more active nation. This review is an important step towards fulfilling that promise.
A number of recommendations emerge from the study. In investing in active travel, priority should be given to: 'whole system'-type intervention approaches; identifying appropriate combinations of measures that 'fit' locally, based on evidence of need and likelihood of impact; encouraging local agencies to promote active transport as part of their efforts to increase physical activity; securing consistent, long-term funding streams; and enabling funding streams that draw on wide-ranging cross-departmental support.
Sustrans and our partners on this project would like to thank Sport England, our expert advisory panel, and our theory-into-practice workshop participants of key stakeholders. All contributors are listed in the report.