The first report of the Connectivity Commission in December 2018 left me wanting more. It identified many problems with transport in Glasgow that Sustrans Scotland recognise, but it didn't propose the type of radical change needed. Here's why I feel Glasgow needs a bolder vision for true transport transformation.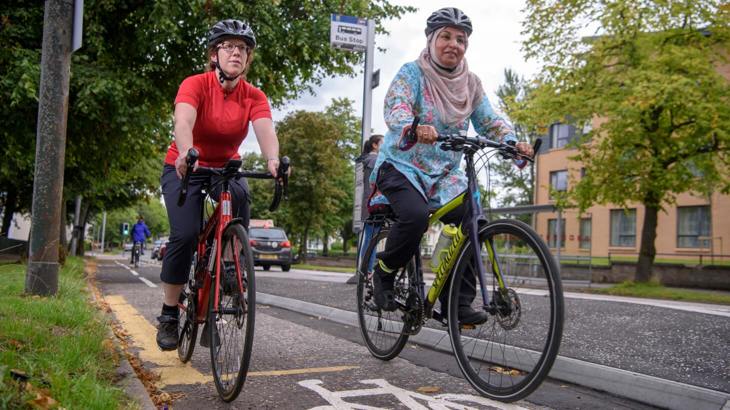 The second report delivers practical, deliverable recommendations for a healthier and prosperous Glasgow.
While press coverage has focused on the proposals for a Glasgow Metro, there are big ideas for walking, wheeling, cycling and public space too.
Connectivity
A network of safe, high quality, segregated cycling routes connecting the city centre to suburbs. The South City Way, a segregated space for cycling between Queens Park and Merchant City, is highlighted for praise. This project is delivered by a partnership of Glasgow City Council and Sustrans with part finance from our Places for Everyone programme, which is funded by Transport Scotland.
The Commission wants to see this type of infrastructure connecting all parts of the city and outer neighbourhoods so that everyone has the option of safe, direct cycle routes into the city centre.
Changes to vehicle access in the city centre to prioritise people-friendly public spaces 
The 'smart grid' proposal takes a lead from the city of Vitoria Gasteiz in the Basque Region and Barcelona's 'Superblocks'; mini-neighbourhoods created by permitting vehicles only on certain streets and prioritising walking, cycling and space for people. Vitoria Gasteiz has seen a rapid increase in walking and cycling as a result.
More Avenues
The acceleration and expansion of the Avenues project into other parts of the city centre such as George Square, Argyle Street, Cathedral Street and High Street. The Avenues programme, delivers streestscape improvements to establish principal Avenues throughout the city centre, forming an integrated network of continuous pedestrian and cycle priority routes.
It helps make the city more attractive, "people-friendly", and economically competitive.
Glasgow Metro
Once delivered, the eye-catching metro will help people leave the car at home and make life better for those without a car, but the proposals for walking, cycling and placemaking would also have major impact (at a fraction of the cost).
Whilst delivering the ambitions of the report will not be easy, the Commission underpin their recommendations with evidence of their impact and have indicated how they think infrastructure can be paid for.
We value our strong working relationship with Glasgow that has helped us to deliver the South City Way, South West City Way, Connecting Woodside and a host of other schemes to help more people walk, wheel and cycle. We hope to be a part of delivering these new, exciting proposals.
Glasgow has identified a path to be a greener, healthier and happier city. It is not alone in realising the problems created by 50 years of car-centric planning, and we continue to support the City of Edinburgh with plans for the City Centre Transformation.
More cities, towns and places in Scotland should take note and work out how they can deliver places for everyone.