Every March, we celebrated International Women's Day - a day in which we reflect on progress made, call for change and commend those people whose courageous and selfless acts helped to create the much more equal world that we live in today.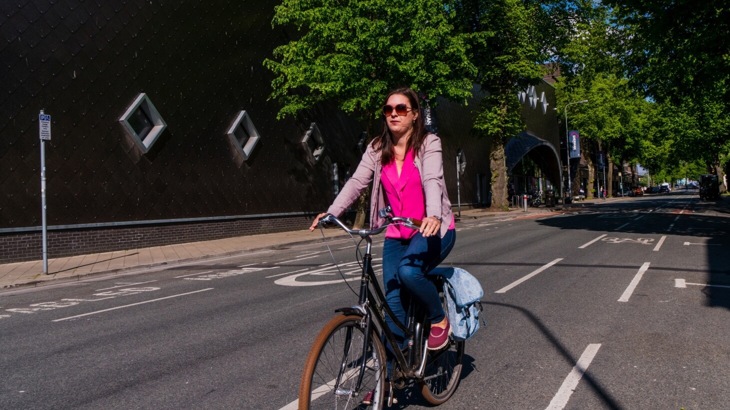 Sustrans "Bike Life Women: Reducing the gender gap" report released in 2018, details women's travel habits
What is long forgotten is that bicycles have played a large role in the Women's Liberation Movement. When bicycles came into mass production in the UK in the late 19th Century, women, who had historically relied on men to travel, were finally given the independence to travel alone by bike and on foot.
However, over 100 years later, research shows us that in Wales we have truly been backpedalling on the road to travel equality.
Women in Wales are being let down by a society that has been built around the needs of the car. Research shows that 37% of women in Wales do not have daily access to a car, yet still, the majority of travel spend is being invested in building and maintaining roads. This is compounded by the fact that public transport fares continue to rise, bus routes are being cut back, and women are being shut out by walking and cycling infrastructure that is being built without consideration of their wants and needs.
Understanding women's needs and perceptions
Sustrans "Bike Life Women: Reducing the gender gap" report released in 2018, details women's travel habits, views, and attitudes towards cycling based on an ICM independent survey of over 7,700 residents living in Belfast, Birmingham, Bristol, Cardiff, Edinburgh, Newcastle and Greater Manchester.
This research showed that men are twice as likely to use a bicycle for travel on a regular basis in all seven cities, and 73% of women living in Bike Life cities never ride a bicycle.
We know that impeding mobility can exacerbate existing inequalities in society, for example not being able to access employment or incorporate physical activity into an already hectic daily lifestyle.
Research by Chwarae Teg in 2016 shows that men are more likely to commute further, giving them access to better jobs and higher salaries. Whereas, women are more likely to work closer to home, making it more convenient for them to spend more time at home and to remain the principal caregiver. Reinforcing the idea of men being breadwinners and women principally being homemakers and carers.
In Wales, 49% of women do not meet the recommended daily physical activity in order to live a healthy lifestyle.  If women felt more confident about walking and cycling this figure could be significantly reduced.
For many people, especially those living in cities, the easiest and most accessible forms of physical activity are those that can be incorporated into our everyday lives, for example, walking or cycling to work, education or other everyday journeys.
It's time to balance for better
So what changes are women telling us that we need to make for walking and cycling to become a reality for them?
The report revealed that 31% of women in Cardiff who do not ride a bike would like to, with the majority of those wanting to see cycle safety improved.
A huge 79% of women surveyed would support building more protected cycle lanes, even if it means less space for other road traffic. This means building cycle lanes that are physically separated from the road, stopping the all too familiar problems such as pavement parking; which force wheelchair users and women with prams into danger, and cars drifting into cycle lanes.
This new data only goes to show how important it is for Welsh Government and Local Authorities to invest in good walking and cycling infrastructure that is co-designed with the communities that will be using it. Not only to bridge the gender gap when it comes to cycling but to improve the health and wellbeing of its population.
Investing in reducing the barriers to mobility can go a long way to breaking down existing inequalities in society, improve health and wellbeing, reducing air quality, and improving the overall prosperity of Wales. So let's start listening to their voices, and build environments that are truly accessible for everyone.