It's an exciting time to be involved in active travel. Guest blogger, Matthew MacDonald reports that the messages concerning the health and environmental benefits of walking and cycling are working their way into policy and the public consciousness.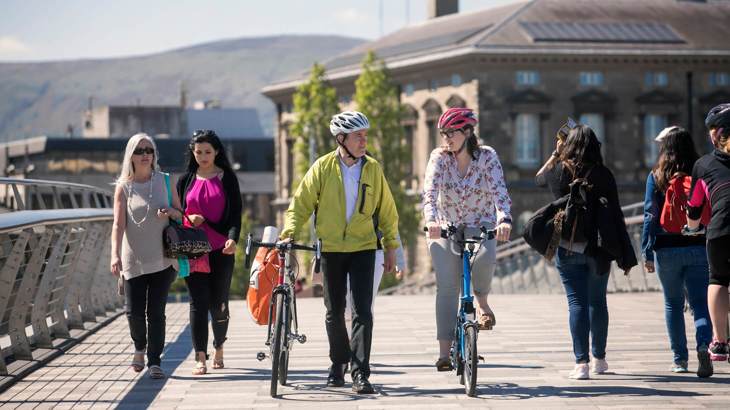 After doubling the budget for active travel in 2017 then appointing Lee Craigie to the new post of Active Nation Commissioner for Scotland in 2018, the Scottish Government has shown its commitment to the goal of making cycling and walking a safe and attractive option across the country. That doesn't mean the battle is won, we need to work together to maintain and build the momentum for change.
Our annual Raising the Standards Day is a great opportunity to look at the how and why we work. To inspire and be inspired. To come together with our partners, local authorities, and other interested parties, to exchange ideas on how to tackle challenges and approach issues in innovative and creative ways. An opportunity to reflect on what we have accomplished but also look to the future at what we can achieve.
Change is coming
It's also a good time to think about the standards we work to. With this in mind, we've listened to our partners and people applying for grants. We understand that more could be done to simplify access to funding so we are unifying and streamlining our current three match funding streams - Community Links, Community Links PLUS and Safer Routes to Schools - into one fund. This change will make it even easier to apply so you can spend more time delivering. The work to put those changes in place is already underway, and we will provide more information over the coming weeks.
Co-operation and collaboration
It's all too easy to become focused on your own work. Creating artificial barriers when collaboration is mutually beneficial.
At Sustrans we promote co-operation, with our teams becoming more integrated at all stages in the design and delivery process. And this is something we'd like to see across the industry. Cross specialist teams can make quicker decisions based upon multiple different viewpoints which should serve a greater number of needs compared to one department making all the decisions. Open, collaborative partnerships are the only way that we can continue to deliver ever more ambitious projects.
The bigger picture
We have to remember not to just think of infrastructure as new paths and cycleways but to look at the bigger picture. We want walking and cycling to be accessible to all and infrastructure that makes it easier for people to change life-long travel habits.
As an example of the kind of ambition we're seeing, it is a huge privilege to be funding, and working as partner on Edinburgh's City Centre Transformation. We will soon be supporting Glasgow in reviewing their Local Transport Strategy, rebalancing it towards investment in walking, cycling and public transport. These projects demonstrate a move toward remembering that our streets are just that, streets for playing, shopping, and living, not just roads for vehicles.
There are many reasons we are so passionate in our mission – the health benefits, a reduction in air pollution – but mainly the idea of creating better places for people to live. Research shows that people who walk and cycle are more likely to stop and spend on the high street helping to revitalise communities and town centres. And Sustrans are proud to be at the heart of a movement that is reclaiming towns and cities for people.
Would you like to find out more?