In 1995, Sustrans laid the first mile of the National Cycle Network. Today that Network runs for 16,000 miles across the UK connecting every major town and city and passing within one mile of half of the UK population. We have already started work to improve access, safety and quality on the existing Network to create paths for everyone. However, we want the next UK government to go even further.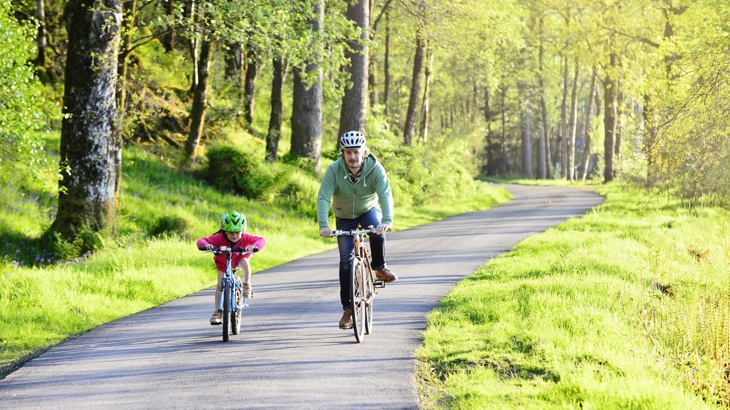 We have a vision to invest and improve the Network into green and blue corridors, traffic-free routes connecting communities to all kinds of destinations for commuting, everyday journeys or leisure and recreation, as well as providing people with a chance to connect to nature around them.
In Sustrans' Manifesto for the UK Government, we are calling for the next UK government to establish a Greenways Taskforce. This should build on existing work already underway in Northern Ireland and bring together governments, partners and communities from across the UK to oversee a radical step-change in access to green and blue infrastructure for everyone.
Working with the Taskforce, a Greenways Citizen's Assembly should be convened so that communities can develop a vision for the National Greenways Programme. The Taskforce should commit to developing an action plan to implement its proposals and the Citizen's Assembly. Funding should be structured so that local communities can also access resources to put the Greenways in place.
Access to nature is an essential human need
At present in the UK we are facing a climate crisis, air pollution is damaging our health and the health of unborn children. We have high levels of physical inactivity that costs our NHS billions every year, and a life expectancy which is decreasing. 12.7% of all sickness absence days in the UK can be attributed to mental health conditions.
Access to green and blue space is an essential human need. It improves our mental and emotional wellbeing, enables stronger social connections, and promotes physical activity.
A greenways programme that links towns and cities to green and blue space around them and provides direct, safe and attractive traffic-free walking and cycling routes, planned by the local community will go a long way to improving the problems which the UK population faces on a daily basis, and helping people incorporate encounters with the natural environment into their daily lives.
As our planet warms, we must do all we can to lower urban temperatures to help those who are most vulnerable to the effects of climate change. Research by the Office for National Statistics indicates that over the next decade, the number of people living in our cities is expected to grow further, adding to pressures on vital resources such as green spaces, water, infrastructure and electricity. Yet, urban green space had fallen from 63% in 2001 to 55% in 2018.
Trees absorb and store greenhouse gas emissions from cars, improve air quality, tackle noise pollution and provide shade in heatwaves.
Good quality green and blue infrastructure including measures like Sustainable Urban Drainage Systems will better enable our towns and cities to cope with increased flood risk and weather changes, as well as improve our health and wellbeing.
Whether it is providing a spot for our children to play, a place to walk our dog, or a chance to escape everyday stress, investing in green and blue spaces will help us live healthier happier lives.