Sustrans Scotland's Senior Transport Integration Officer, Ross Miller, works with bus, rail and ferry companies across Scotland to connect walking and cycling with public transport networks. His role finds him assisting operators with policy, giving technical advice for infrastructure design and advocating for operational change to make integrated trips the obvious and preferred method for day-to-day travel.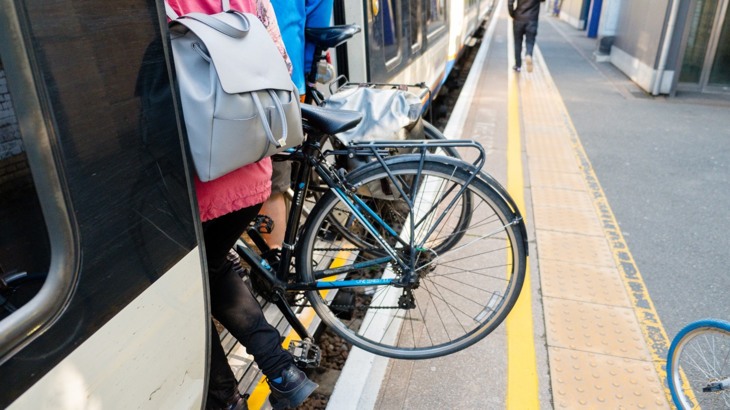 There is a growing appetite for an overhaul to the way we travel in Scotland.
We need to get people away from using cars and using more active and sustainable ways of getting around.
And if public transport joins up better with journeys by foot or bike, it will become easier for more people to leave the car at home and choose to travel in other ways instead.
We are working with companies like Lothian Buses and Scotrail Alliance to share our experience and technical knowledge of walking and cycling.
As well as giving feedback on active travel policies, we're helping to raise awareness funding to improve active travel facilities at stations to help join up trips. 
Changing rail travel in Scotland
Our work with Scotrail has seen us change their e-bike policy so that these bikes can be included on all of their trains.
This is helping to make bike and train trips more inclusive for everyone.  
We have also provided input into the design of their new designated cycle carriages, to make sure they work for all bike users.
From next year pilot carriages will be introduced on the West Highland line.
And our feedback at stakeholder workshops and mock-up trials has been used to make sure the carriages can accommodate a wide range of cycles from touring bikes to tandems.
As they will hold up to 20 bikes, they will give people a real choice to travel in a more sustainable and joined-up way between Glasgow, Oban and Mallaig.
The new carriages will also help to boost local economies through active tourism.
As well as being a space for bikes, there are specially designed racks for sporting equipment and large items of luggage.
This means that for the first time, people will be able to confidently leave their cars at home when visiting key tourist spots such as Loch Lomond and Trossachs National Park, long-distance cycle challenge routes such as the Caledonia Way or the islands via ferry connections.
Improving public transport systems
The carriages are a positive step in the right direction, making rail travel more accommodating and comfortable. If successful, they will inspire other train routes to follow suit.
But beyond these carriages, there is still more we can be doing if we are to make sure that travel by train or bus joins up and fully support the needs of people travelling by foot and bike.
As well as being better connected, public transport needs to be need more frequent and dependable. More comfortable and affordable.
Ticketing also has to be more flexible.
It needs to work across different types of transport and with different operators, including linking to cycle hire schemes.
We also need to make changes to the spaces in and around transport hubs, bus and rail stations.
As well as encouraging walking and pushbikes, the growing popularity of e-bikes should also be accounted for.
There should be real-time information about public transport services.
We also need active travel map boards in bus stops and platforms, and high quality, highly visible, covered cycle parking intuitively located to support bus and rail use.
These are all examples of the kind of improvements we are working with our partners to get.
Improving connections
Alongside improvements to our public transport systems, we also need to make changes to the catchment areas around public transport hubs, bus and rail stations.
To make active travel the go-to choice for everyone there needs to be better quality lighting, prioritised crossings and decluttered and well-maintained footways.
This will make it easier for everyone to choose to walk to catch a bus or train.
A comprehensive network of continuous and segregated cycle routes linking to local destinations and key visitor attractions to public transport is needed.
If done properly, cars will suddenly be a much less attractive choice for travelling around.
We're working with other active travel groups, public transport operators and network providers, as well as linking up with local authorities and regional partners.
This means that not only are we moving closer to joined-up trips but we are contributing to a society where the way we travel creates healthier places and happier lives for everyone.