Our Sustrans jobseekers project works to remove travel barriers to employment and training opportunities for people looking for work in Derby and Nottingham. Barriers people face include cost, time and not knowing how to access timetables and travel information. Matt Easter, our England Director for the Midlands and East, discusses how the project is changing lives, one person at a time.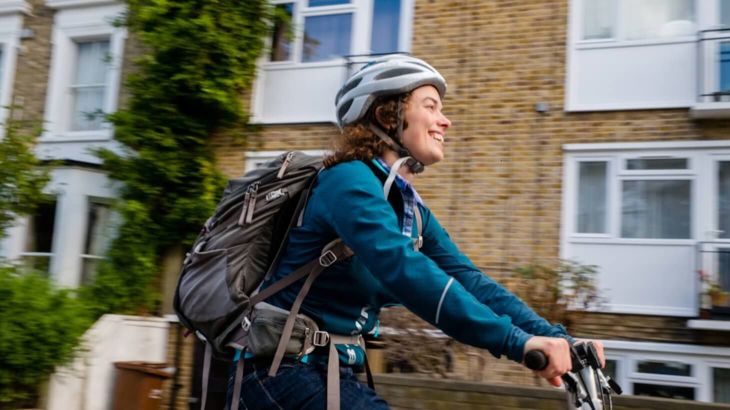 What was the problem?
When I'm asked about my work at Sustrans, one of the questions that always comes up is why should we care so passionately about cycling and walking? Of course, there are many reasons such as improving our environment or helping people to lead healthier lives. However, in Nottingham and Derby, we're adding another reason to that list - we're helping people back into work.
It's often forgotten in the debate around skills and employment that our entire economy is dependent on transport one way or another. Without a means of travelling, most people wouldn't be able to earn a living and lack of travel options is one of the big barriers to accessing employment and training.
In the East Midlands, unemployment runs higher than the national average. Many Jobseekers have told us they can't afford bus and taxi fares, don't have a car and either can't cycle or don't have access to a bike. Given these challenges, Nottingham and Derby are proving ideal locations to deliver a project which helps tackle transport poverty.
What do we do?
Last year, we were commissioned by Nottingham City Council and Derby City Council to help address these issues. Their funding, via The Access fund, now in its last year, builds on previous projects which helped jobseekers such as the previous Nottingham get 2 work scheme.
Whether unemployed, looking for new work or seeking access to training our new project team are here to offer support tailored to a person's needs. They work with clients individually to develop a bespoke personal travel plan. For many clients, a PTP could be the first time they've engaged in wider active travel and sustainable travel themes and this opens up a range of walking, cycling and public transport options.
For those who want to get on their bike, we've delivered a number of reconditioned bikes to our clients free of charge. We also offer a range of support and training activities including maintenance courses, how to build a bike, cycle training, led rides and Dr Bike services.
What have been the outcomes?
One by one, the project is bringing people together - it's brought us together with a range of partners, too! It has been a great example of collaboration and we've really benefited from working with Cycle Derby, Life Cycle Derby, Nottingham Bikeworks and RideWise. The project is dependent on a multi-agency approach, with each partner contributing to helping the Jobseekers we work with.
This inspirational project is funded until March 2020, so we're only halfway through but it's already made a big impact. So far we've:
 Spoken to more than 900 people in Nottingham and Derby who are looking for employment, a new job or access to training and apprenticeships.
 Helped more than 200 people with a bespoke personal travel plan specific to their needs
 Provided a range of cycle services to more than 150 people
 Handed out 80 free reconditioned bikes to jobseekers
We were originally set a range of performance goals based on a three year period and we were nearly a year late starting. Despite this, the project is meeting its targets and making a real difference for Jobseekers in the two cities.
Lots of people who've accessed our services have told us that the support we have given them has been transformative. Many clients who've benefitted from a reconditioned bike and cycle training say it's given them new skills and helped them get around in a practical way. Others say it's helped them to keep fit and allowed them to get to appointments on time.
There are also examples of this scheme enabling many people to turn adversity into a positive by embracing active travel after years of car dependency. One client told us that the bike we'd provided them with has given them new skills for life and a low-cost means to get around all year around. For others, it's given them the confidence boost they needed after losing a job and their car.
Could we be doing more?
This project is helping people get into work and training while enabling them to make healthy travel choices. In the longer-term, this project will be having a positive impact on local health budgets and is reducing out of work benefit payments.
I've been involved in numerous projects and worked with some great people during my time at Sustrans, but this project really stands out. I'm incredibly proud of our team in Nottingham and Derby, but I can't help feeling that we could be doing so much more.
Projects associated with 'behaviour change' are often judged by participant numbers or health impacts difficult to quantify over a longer period.  This project works, because it is targeted at a particularly disadvantaged group of people and success is all about the long term change in each person's travel behaviour. We could be having this impact by developing similar projects in other parts of the country. We'd be able to replicate the benefits on a much bigger scale with bigger returns. We could take the model from Nottingham and Derby and improve it based on what we've learned so that it can be developed as a key component of our city and town based programmes across the country.
Our jobseekers project has also been effective as we've really honed our ability to work in partnership with other organisations who have a similar focus on getting people back to work. These include; 20 20 Journey 2 Work program, Derby County Community Trust, The Refugee Forum and JC+ in Nottingham. This ability to utilise Sustrans' pioneering engagement expertise, alongside our local knowledge, enables us to attract excellent local partners and means projects can be really rooted in local need, with participants also encouraged to shape our work further.
This transformative project has delivered impressive results in a short space of time. Thanks to our dedicated team, and our partners, there are hundreds of people who are looking forward to a better future in work and training, with hope and confidence. For me that makes Sustrans' work so worthwhile and reminds me why we need to continue to make it easier for everyone to walk and cycle.