In this blog, Kevin Daniels, Sustrans supporter, discusses the injury risk posed by ice on the road surface to people cycling and presents recommendations for improving safety, drawing on a 2018 Royal Society for the Prevention of Accidents (ROSPA) paper on delivering accident prevention, co-written with Rob Benington, Health Improvement Manager, Bristol City Council.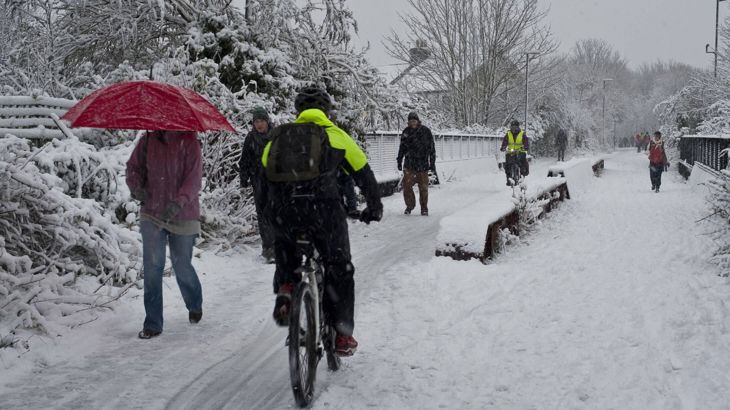 Falling on ice is the second highest cause of cyclist admissions to English hospitals. Loss of control on ice causes more serious casualties among cyclists than many other better known contributory factors. 
By analysing hospital admissions data, we can target preventative actions to better inform cyclists about the risk of ice and to improve the prospects of an ice-free ride.
Reducing injuries is a necessary part of work to encourage more active travel.
Cycling injury data
The two largest and most detailed sources of data on traffic-related injuries are:
STATS 19

 

which is a record of personal injury incidents which become known to the police.
Hospital Episode Statistics (HES)

 

which include records of patients admitted to NHS hospitals.
STATS 19 is the source of most government reports on accident statistics. However, it does not give a complete picture of cycling injuries. According to the Department of Transport, 'a very low proportion of pedal cyclists injured in non-collision accidents are reported to the police'. It is estimated that only 4% of non-collision incidents are known by the police and recorded in STATS19. 
According to Hospital Episode Statistics (HES), cycling non-collision Incidents (NCIs) -incidents in which no other road user was involved- accounted for 10,737 hospital admissions during 2016/2017. This represents 64% of all injury-related admissions of cyclists. No further analysis of the causes of NCIs is provided.
HES data shows that cyclists suffered a greater number of admissions than other road users in England in 2016/17.
The causes of non-collision injuries
In 2009, in partnership with Bristol Cycling City, NHS Bristol designed a UK-wide online survey to help understand the causes of non-collision injuries.
More than 1,000 cyclists responded, recording the details of their non-collision incidents, giving a good sample for analysis. Please note the methods used created biases in the response, and the results are most applicable to working-age cyclists.
Nevertheless, the survey showed that 26% of all reported non-collision incidents (including 17% of those that resulted in a hospital admission) happened as a result of slipping on ice.
Slipping on ice was by far the single largest reported cause, followed by slipping on wet roads (8%) and slipping on 'soil, gravel, mud, wet rock, etc', (6%).
Around 10,000 visits to Accident and Emergency each year in England are as a result of cyclists slipping on ice.
In the study, the total number of non-collision admissions for 2016/17 were apportioned to individual causes using the results from the survey. This highlights ice as the second highest cause of admissions to English hospitals.
Impact of hospital admissions on encouragement to cycle
Awareness of accidents discourages more people cycling. Hospital admissions are the tip of the iceberg when inactive people consider taking up cycling.
Identifying and acting on the underlying causes of non-collision incidents can directly result in an increase in cycling. Encouraging more cycling in winter months is a relatively low capital cost activity that makes better use of existing infrastructure. 
Mitigating actions to reduce non-collision injuries
So what can be done to reduce the risk of slipping on ice for cyclists? The study makes seven recommendations:
1. Gritting cycle paths
A survey of 11 authorities in the South West of England (2016) established that only two authorities partially treated their cycling network. It is recommended that:
When new cycle routes are built, effective treatment for ice is taken into account.
Consideration is given to progressively treating more existing cycle paths/routes on a priority basis.
Roads the council will grit can be searched on gov.uk for England and Wales, and on Traffic Scotland.
2. Weather forecasts
Weather forecast temperatures, that cyclists often rely on to decide if they should cycle, are air temperatures. Whether ice can form is highly dependant on road surface temperatures. The distinction is significant, as road surface temperatures can be 4 or 5 degrees lower than the forecasted air temperatures.
Currently, road surface temperatures are not usually included in weather forecasts. This is one of several improvements in ice forecasting that would be helpful to cyclists.
In 2016 four cycling organisations called upon the MET Office to improve ice forecasting and a meeting was held in November 2016. There appear to have been no substantive improvements in ice forecasting since this meeting.
Daily gritting routes and road surface temperatures for the whole of Scotland are available online. The road surface temperatures appear under the weather station tab.
Over 50 local authorities publish near real-time road surface temperatures on http://www.trafficweather.info/Index/example/Index.action.
3. Employers
Employers are encouraged to adopt flexible working practices so that cyclists can choose to cycle when the risk of ice has passed. The Think Twice campaign gives suggestions.
4. Co-ordinated action
The government, NHS, local authorities, cycling organisations, broadcasters and weather forecasters are encouraged to coordinate campaigns to raise awareness of: 
Hazards of cycling in freezing conditions.
How to cycle more often, but safely in the winter.
5. Phone App
Weather forecasters and mapping organisations are encouraged to cooperate to produce a phone app that reliably forecasts ice along a planned cycling journey.
6. Improved analysis of non-collision incidents in HES statistics
The published HES data should include a breakdown of the non-collision admissions along the lines of the 2009 survey.
7. Use of HES statistics
All organisations are encouraged to use Hospital Episode Statistics alongside STATS 19 data when making decisions about priorities for cycling.
Conclusion
The Government Cycling and Walking Investment strategy calls for underlying performance of cycling injury and incident statistics to be understood. The analysis in this blog - which has identified the significance of the risk posed by ice - contributes to this objective. Taking the mitigating actions set out in this blog should help achieve the Government objective of reducing the injury rate among cyclists and increasing the number of cyclists and the frequency with which they ride.
References