Providing adequate space for cycling is an essential aspect of effective design, and in new developments, it should be possible to provide dedicated space for cycling on those streets carrying the most traffic.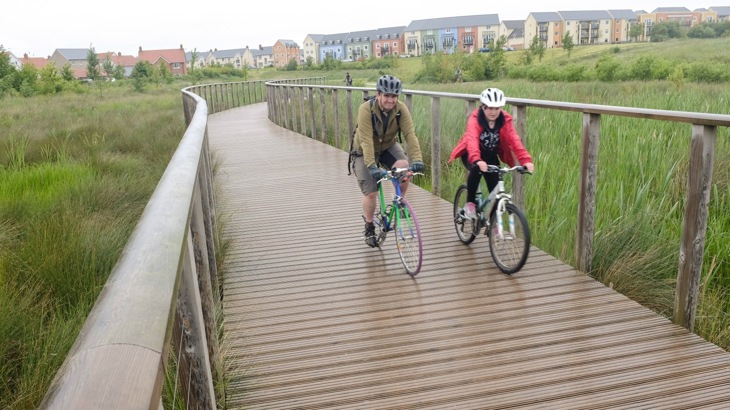 New developments and regeneration schemes offer an opportunity to provide networks of high-quality infrastructure that encourage cycling, which can rarely be achieved when retrofitting provision in existing, often constrained, urban areas.
Such infrastructure should be suitable for cyclists of varying levels of ability and speeds of cycling, with separation from traffic appropriate to the location. And consideration needs to be given to movements through the site as well as connectivity between the site and the surrounding area.
Opportunities should be taken to include filtered permeability, which provides more direct and convenient routes for walking, cycling and public transport, compared with the equivalent journey by car. These can include traffic-free links and bus gates, as well as exemptions from one-way streets and turning restrictions.
In achieving this, key considerations will include:
providing space for cyclists away from traffic
minimising interactions with pedestrians
the layout of car parking
designing for low traffic speeds
continuity at road crossings, junctions and bus stops
In addition, storing your bike at each end of a journey is a fundamental requirement, and new developments offer the opportunity to ensure that adequate provision is made for this, and even changing facilities.
The location and design of housing influences how people travel and plays a significant role in encouraging economic vibrancy, access to education, workplaces and retail and community cohesion.
Building new homes within existing towns and cities means people are located near services and venues that people travel to on a regular basis. This reduces the overall distances travelled thereby reducing transport demand. Shorter, more localised journeys allow higher levels of cycling and walking and lend themselves to public transport - therefore reducing dependence upon the car and mitigating negative impacts such as traffic congestion and air pollution.
Large scale new development in suburban and rural areas, including new settlements, allow building in a well-planned way and can have a number of benefits including the provision of sustainable and affordable transport infrastructure in the right places, a mix of high quality homes to meet local need, and creating low carbon lifestyles by integrating green travel options that encourage walking and cycling.