2017 marked 40 years of Sustrans. It also marked the next chapter in our history with the launch of a new five-year strategy responding to the challenges of today and setting out our vision for tomorrow.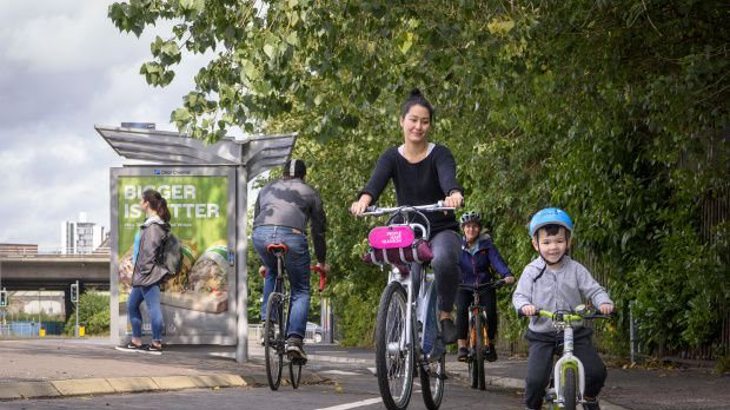 In 1977, a group called Cyclebag was formed in a pub in Bristol to challenge the growing dominance of cars on our streets.
With the transformation of the disused Bristol to Bath railway line into a traffic-free path they showed what could be done.
Cyclebag became Sustrans, and the Bristol to Bath path grew into the National Cycle Network.
Sustrans started a practical revolution but it is far from complete
Forty years on the need to rebalance the way we move around is stronger than ever.
Governments nationally and locally are spending increasing amounts of money on large infrastructure – road and rail – but this investment will not provide the solutions for local short journeys where alternatives to car travel are often absent.
Moving around in metal boxes is bad for our mental and physical health, roads and traffic cut off communities, congestion strangles local economies, and vehicle emissions contribute to climate change globally, and poison the air locally.
And all of this hits disadvantaged communities hardest – those with least access to a car get the worst of the downsides.
Technology is not a silver bullet
Electric vehicles will reduce tailpipe emissions – although over 90% of harmful PM10 (particulate matter) emissions are from brake and tyre dust. 
The fundamentals are unlikely to change.
Self-driving cars will still use space inefficiently and won't help you burn calories (although I wouldn't bet against somebody coming up with a treadmill-equipped Fitness-Car™).
We need to offer true healthy alternatives to vehicles (electric, driverless or otherwise). Most of the journeys we make are short enough to be made on foot or by bike. We can fuel our own travel, transforming the way we live and the places around us.
The solution is simple – make it easier for people to walk and cycle
This is our new mission at Sustrans, reflected in our new strategy for the next five years. Why? It's what we do best, and it's what is needed most.
Walking and cycling makes us healthier and happier, it makes our places and the air around them better, and it builds stronger economies and communities. Indeed, when cycling is considered normal, then people will be healthier, happier and wealthier.
The evidence of the benefits of cycling and walking is now better understood and accepted.
Governments are now enshrining ambitions for increased cycling and walking in national and local plans and strategies, with the most recent example being the first Cycling and Walking Investment Strategy, published last week.
This is a great boost of confidence to our work and one that should help us make walking and cycling the natural choice for shorter journeys.
Streets that are better for walking and cycling are better for cities' liveability, safety and economies. For 40 years, Sustrans has been the leading voice in the urban revolution about how we get around, and today, the world is starting to catch up with them.
We make the case for change and provide solutions
Working in partnership, we bring people together to find the right solutions.
We influence decision-makers across the UK to create the conditions for change, and to make impactful, lasting changes we involve local people in the design, delivery and maintenance of local solutions.
Our people are based in offices and neighbourhoods in every nation and region of the UK. Our 40,000 supporters and 4,000 volunteers root us firmly in local communities. Grassroots support combined with political leadership drives real change, fast.
Our work will be focused on three areas:
Connecting people and places, through routes and networks for both leisure and everyday utility trips;
Creating liveable neighbourhoods by working with communities to redesign their streets into lively, people-friendly neighbourhoods, and ensuring that new developments have walking and cycling at their core – not as an afterthought;
Transforming the school run and commutes, by working with schools and employers to make it easier for people to walk or cycle for regular journeys.
We believe that fuelling our own travel benefits our health and happiness, our environment, our communities, and our economies. By responding to the changing world around us with solutions, we will capture people's imaginations with bold ideas for the journey ahead.
It's a journey that we want to take with individuals and partners across the UK. Join us!