Cycling skills training provided by our Belfast Community Active Travel Programme team is playing a vital role in helping newcomers get to know their adopted city. The 'More than a Bike' scheme, sponsored by Maritime Belfast Trust, worked with Migrant Help to offer individuals seeking sanctuary in Belfast refurbished bicycles, safety equipment and cycling skills training.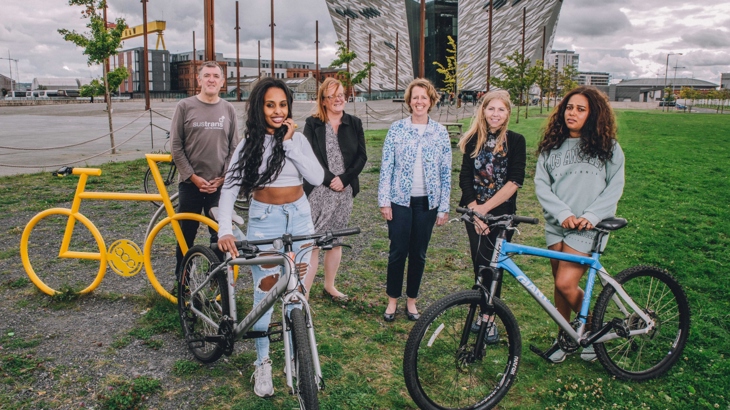 Tom O'Dowd, CATP; Orla Gardiner, Migrant Help; Caroline Bloomfield, Director of Sustrans in Northern Ireland; and Maeve Moreland, Maritime Belfast Trust pictured with two participants who received refurbished bicycles from the More Than A Bike project after completing a six-week cycle skills course. Photo: Maritime Belfast Trust.
As part of the Community Active Travel Programme, funded by the Public Health Agency, we delivered a six-week training programme to 10 participants, teaching them cycling skills on a series of led bicycle rides which familiarised them with local cycle routes and infrastructure. 
Our partner from Cathedral Gardens Active Travel Hub, Big Loop Bikes, provided refurbished bicycles to those who'd taken part at the end of the training.  
The costs were met by a number of local organisations who acted as sponsors through Maritime Belfast Trust.
Access to bikes can be a barrier
Caroline Bloomfield, Director of Sustrans in Northern Ireland, said:  
"Through our Community Active Travel Programme, we have worked with communities across Belfast to support people to walk and cycle more for everyday journeys. Sustrans wants to make it easier for everyone to walk and cycle but we know that access to bicycles can often be a barrier.
"We are therefore delighted to have partnered with Maritime Belfast so that the participants from Migrant Help will be able to continue to cycle after the end of the programme, putting their new-found skills into practice." 
Positive impact of project
Orla Gardiner, Migrant Help's Northern Ireland Regional Manager, said: "Our clients have often undergone traumatic experiences before finding safety here in Northern Ireland.
"Schemes such as this are so important, as they support not only the physical but also the mental wellbeing of the people we support. Using a bicycle is also a great way for them to begin to get to know – and find their way around – their new home, Belfast.
"We are grateful to the Department of Justice Assets Recovery Scheme for their help with funding, and we are delighted to see the positive impact that this project has had on our clients." 
Enabling more people on sustainable journeys
Richard Good, Director of The Turnaround Project, said: "Big Loop Bikes is a Turnaround Project circular-economy enterprise, creating both social and environmental value.
"Through paid employment, strengths-based coaching and training, we provide opportunities for people who have served sentences in prison or in the community to turn around their futures.
"Working together with Maritime Belfast Trust, Sustrans and Migrant Help, we are delighted to play our part, enabling more people on their journeys towards healthy, sustainable futures." 
Building skills and confidence
Maeve Moreland, Destination Manager at Maritime Belfast Trust, said: "As the charity that preserves and promotes Belfast's rich maritime heritage, we are delighted to be working with so many organisations to provide the group with a sustainable method of transport and help build their confidence and skills when cycling the Maritime Mile.
"We would like to say a massive thank you to all our sponsors, for their support in covering the cost of the refurbished bikes, lights and tools for bike repair. The organisations include Titanic Quarter Limited, Titanic Belfast, Belfast City Airport, Belfast Harbour and Titanic Hotel, Belfast.
"We look forward to seeing the participants exploring more of Belfast's heritage Waterfront."