The Welsh Youth Parliament advocates for public transport and active travel, promoting their environmental and health benefits. Recently, they organised two events to encourage pupils to share their experiences and opinions on public transport and active travel. Sustrans colleagues actively participated in the events, conducting workshops and inspiring young people and teachers to commit to sustainable travel.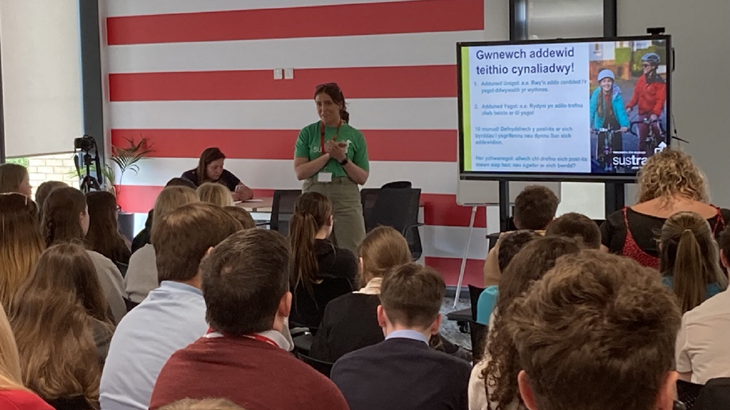 Hayley Keohane from Sustrans Cymru asking pupils and teachers in Pontypridd to make a sustainable transport pledge.
The Welsh Youth Parliament's Climate and Environment Committee are looking into sustainable travel as a priority, and they want young people across Wales to share their experiences and opinions.
The #SustainableWays Survey empowers children and young people living in Wales under the age of 25 to have their say on sustainable travel.
This includes how they travel to their place of learning, what barriers might stop them from travelling sustainably, and how accessible services are.
Gathering perspectives of young people from across Wales
The Welsh Youth Parliament invited Sustrans to join them for the two exciting transport events in North and South Wales.
The week began with the first event in Blaenau Ffestiniog and finished with the second event in Pontypridd.
The events included:
Welcome presentations by Members of the Welsh Youth Parliament,
guest speakers from Transport for Wales,
focus groups asking pupils about their travel habits,
workshops with Sustrans,
sustainable transport mapping activities,
information stalls with partners,
opportunity to complete the #SustainableWays Survey,
pupils' speeches on transport barriers.
Speeches by pupils from Ysgol Llanhari and Ysgol Gyfun Gymraeg Llangynwyd in the South Wales event expressed their concerns about public transport links and specifically access to Welsh medium education.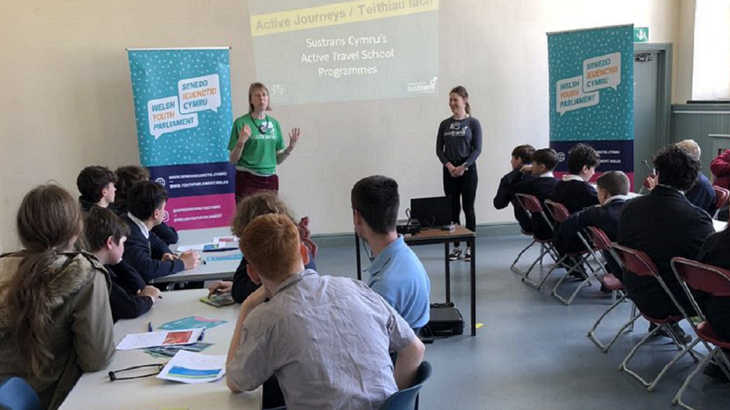 Hannah Meulman and Anna Lloyd from Sustrans Cymru engaging with pupils in Blaenau Ffestiniog.
Hannah Meulman, Active Journeys Officer in North East Wales, reflected on the importance of giving a voice to young people living in rural communities. 
Travel in rural North Wales can produce its own challenges and obstacles whether this be on limited public transport or by travelling actively with lack of infrastructure and challenging topography.
"This is why it's so important to hear the voices of the young people from these communities on their ideas for future sustainable travel."
Pupils representing ten secondary schools from across the South Wales valleys also had the opportunity to visit the Transport for Wales headquarters.
Sustrans believes that engaging pupils and young people from all areas of Wales about active travel plays a vital role in fostering their development as healthy, confident individuals who are ready to lead fulfilling lives as valued members of society. 
We had a great time and we definitely want to be included in similar events in the future!
Pupils show commitment with sustainable travel pledges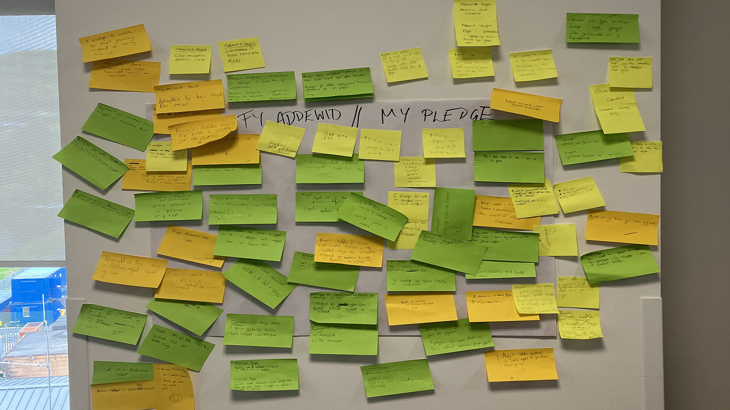 Sustainable travel pledges from pupils and teachers in Pontypridd.
As part of the workshops, Sustrans invited pupils and teachers to make a sustainable transport pledges, both as individuals and as a school.
Many pupils across Wales pledged to adopt more sustainable transport methods.
Other individual pledges ranged from lift-sharing to football practice, walking the last ten minutes to school, catching the bus into town, and cycling more in nature.
Schools participating in the events pledged to promote and encourage active travel to school, increase cycle storage, and organise activities such as a walking club.
Including everyone in the conversation around active travel
Additional learning needs schools, such as Ysgol y Deri in Penarth, attended the event.
Including pupils with additional learning needs in discussions about public transport and active travel access and the barriers is crucial, and a key part of the work that Sustrans does.
It promotes inclusivity and ensures that the voices and perspectives of all individuals are heard and considered.
By actively involving these pupils, we can gain valuable insights into their unique experiences, challenges, and needs when it comes to accessing transportation options.
Their input can provide insights into physical, sensory, cognitive, or communication barriers that might impede their use of public transport or engagement in active travel.
By recognising and addressing these barriers, we can work towards creating a more inclusive and accessible sustainable transportation system for all.
Involving all pupils in discussions fosters a sense of empowerment and ownership.
It allows the future generation to actively contribute to decision-making processes that directly impact their lives and well-being.
Sustrans Cymru's work with schools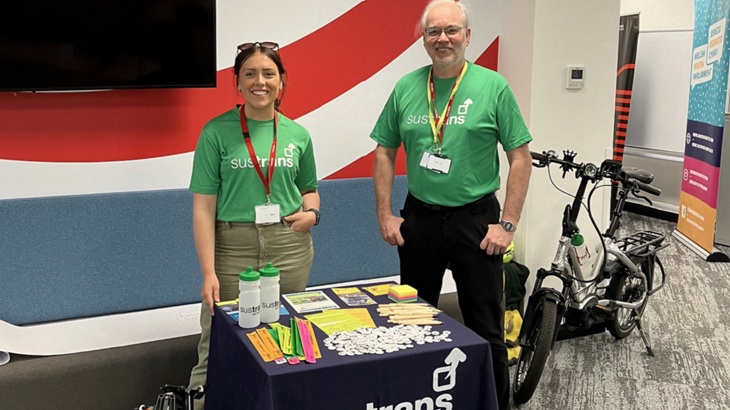 The Active Journeys team ready to engage with young people about active travel to school.
Sustrans always looks forward to actively engaging and collaborating with a wide range of schools across Wales, promoting and encouraging active journeys to and from school.
In Wales, Sustrans works with schools across Wales through the Welsh Government-funded Active Journeys Programme and with our Active Travel School Planning project.
Our Active Journeys Programme makes it easier for children to walk, wheel, scoot, and cycle.
Based on data collected through travel surveys, we can observe the positive impact the Active Journeys programme has on the levels of active travel during the school run.
Data from 2021-22 shows that schools participating in the programme experienced:
24.6% increase in active travel,
29.9% decrease in car use.