A primary school involved in the Active School Travel programme hosted a cycle sale with our partner Life Cycles offering upcycled bikes for an affordable price.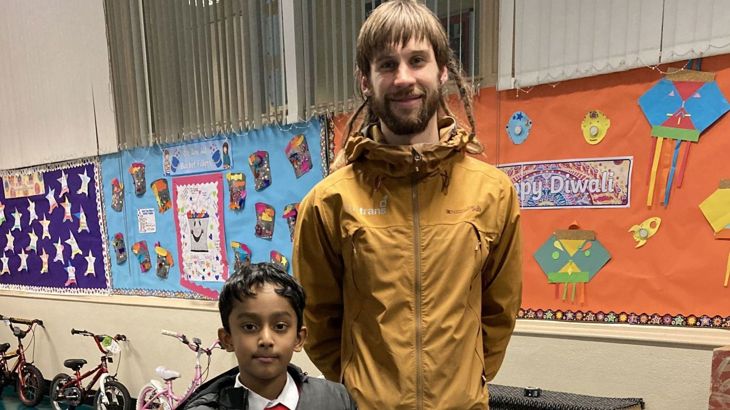 North West Active School Travel Officer Steven Ward with Righteous, a pupil of Good Shepherd Primary School who picked up a bike at the sale. ©2022, Sustrans
Good Shepherd Primary School in Derry is one of many schools involved in our Active School Travel programme.
The programme helps more children to choose an active and healthy journey to school by encouraging walking, wheeling and cycling.
The Principal, Mrs McCafferty, was only too happy to host the recent sale which aligns with her environmental vision for the local eco school.
Delight at Active School Travel programme
Principal Mrs McCafferty said:
"We have been supported since September by Steven Ward through the Active School Travel programme which has been brilliant.
"We were delighted to be selected for it as where we are is such a hotspot for traffic and we are very keen to adopt active travel for the environment, for health and safety and for the children's health and wellbeing.
"The work with Sustrans has been very well received by the whole school community."
Benefits the whole community
Mrs McCafferty continued:
"I had seen Life Cycles on Facebook and thought it would be brilliant to host a bike sale in the school, anything that benefits the local community, helps people save a few pounds and gets the children equipped with quality bikes so they're able to get out and about.
"Our Eco Council have been delighted to help Steven set up for the sale too."
Judith Blythe bought a bicycle for her four-year-old daughter Leah who is a pupil in the nursery school, and said:
"I think the sale at the school is such a good idea because it means parents can buy bikes for a good price. I'm happy to support it."
Nursery school staff buy cycles
Good Shepherd nursery school staff were thrilled to have the event in the school.
They were able to buy a number of bicycles with stabilisers for their pupils to use during the school day.
Life Cycles, a Zero Waste North West initiative, saves hundreds of bicycles from landfill by upcycling those left at Pennyburn Recycling Centre Bike Drop-off and other unwanted cycles which are donated to them.
It is based at the Active Travel Centre in the North West Transport Hub.
Dedicated volunteers help get ready for sale
Life Cycles had support from mechanics The Bike General in Greysteel and BP Cycles from Strabane as well as a dedicated team of volunteers to get a wide selection of cycles ready for the Good Shepherd school sale.
Another cycle sale is planned at the school in the spring.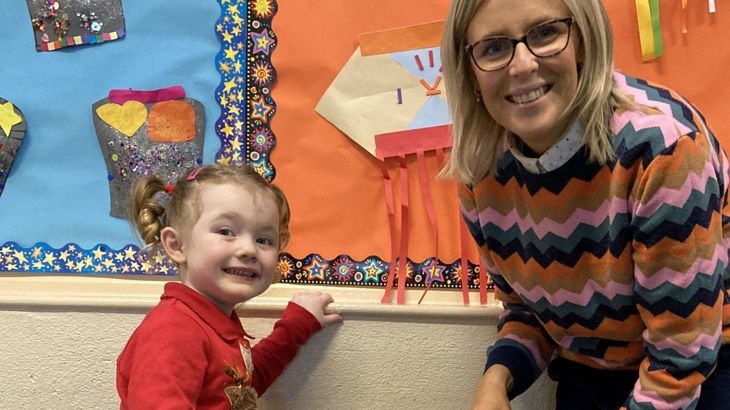 Good Shepherd Primary School Principal Mrs McCafferty pictured with nursery school pupil Leah Blythe. ©2022 Sustrans