A Head Teacher in North Wales has been leading by example after he replaced his car with an e-bike to get to work. Ysgol Sant Elfod, in Abergele, has been part of the Sustrans Cymru schools programme, Active Journeys, since 2021. Active Journeys Officer Debbie recently put Head Teacher Gwynne in touch with fellow Sustrans colleague Jonny, who coordinates the E-Move project, where people across Wales can borrow electric assisted cycles for free.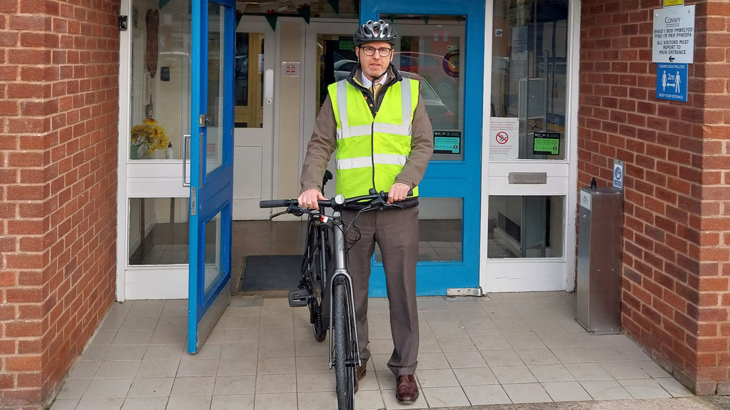 Mr Gwynne Vaughan, Head Teacher of Ysgol Sant Elfod with his new electric bike. Credit: Sustrans
This collaborative work between the two Sustrans Cymru projects is enabling more people to travel actively across North Wales.
Starting with the Active Journeys Programme 
Our Active Journeys Programme, funded by Welsh Government, works with schools across Wales to create a culture that makes it easier for children to walk, scoot or cycle.
Increasing active travel isn't just important for the fight against climate change and reducing air pollution outside the school gate.
It's also great for pupils' physical health and well-being.
Since Ysgol Sant Elfod joined the programme in 2021:
Active Journeys Officer Debbie has helped purchase a scooter fleet for the school
Weekly scooter skills classes have been implemented
Active travel awareness has increased amongst pupils, staff, and parents
We ran a day of free bike safety checks
Pupils have used our community mapping tool and fieldwork to explore active travel barriers on their school street
We loaned an adult commuter scooter to a teacher
They have signed up to participate in Sustrans Big Walk and Wheel 2023
They have achieved the Bronze Active Travel School Award 
A range of engaging activities helps to build the confidence, enthusiasm and skills needed to form new active travel habits for the pupils and teachers.
Ysgol Sant Elfod joined the Active Journeys Programme back in September 2021. As a result, the pupils have developed a number of skills and are more aware of sustainable travel. The children and staff have benefited from being part of the scheme.
An enthusiastic teacher, Mrs Williams, also borrowed an adult scooter from Debbie to commute to work each day.
She also regularly walks and cycles to work.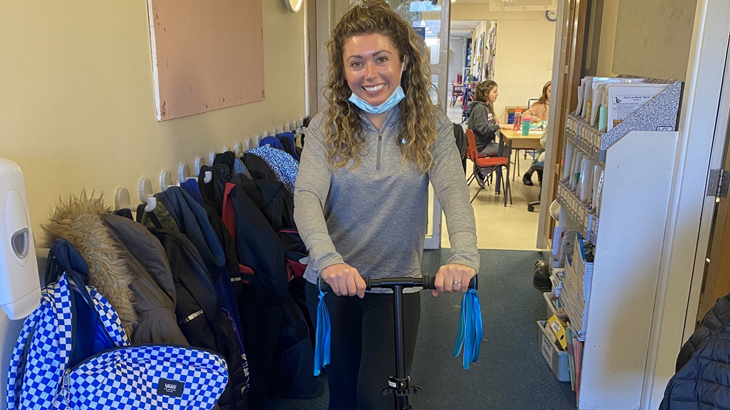 Mrs Williams with her adult commuter scooter. Credit: Sustrans
Sustrans' Active Journeys Programme is fantastic! It delivers much-needed cycle and scooter skills and confidence building, whilst supporting young people, and their families, to travel actively on the school commute and beyond. It has been great to collaborate with the local Active Journeys Officer, Debbie, to help to embed positive active travel behaviour change within the wider school community.
Collaboration leading to behaviour change
In collaboration with our E-Move project, Head Teacher Gwynne Vaughan met with Liveable Cities and Towns Coordinator, Jonny. 
Mr Vaughan expressed his interest in trying an e-bike for his daily commute to Ysgol Sant Elfod.
Following the loan agreement and induction, Jonny supported Mr Vaughan through a four-week free ebike loan, which was then extended to six weeks.
At the end of the loan period, Gwynne cycled the bike back to Ffordd Las Community Centre in Rhyl.
He then jumped on the train to Colwyn Bay, walked to Evolution Bikes to demo some e-cycles, and immediately bought his own!
Leading by example on the daily commute
Having a head teacher who cycles and a teacher who scoots is having a positive impact on pupils and parents at the school.
It has also helped clear the school entrance and car park of vehicles, reducing harmful emissions and improving safety.
Gwynne's e-bike is stored in the school foyer each day, inspiring pupils, staff, parents, and visitors to travel actively to school and work.
Now, more staff at Ysgol Sant Elfod are set to trial an e-bike with Jonny's support through the Welsh Government-funded E-Move project.
The new Active Journeys champion at Ysgol Sant Elfod, Laura Carroll, works closely with Debbie.
She began her e-cycle loan on 1 March, and is planning to use the e-cycle to commute to work in the weeks leading up to the Easter break.
Her seven-mile journey from Colwyn Bay to Ysgol Sant Elfod will be enjoyed along the coastal National Cycle Network Route 5. 
Going forward, Jonny is planning to set up a school pool bike for staff to try, and school staff will visit the E-Move project in Rhyl to try out the different e-cycles available. 
About the E-Move project
E-Move is a Welsh Government-funded pilot project delivered by Sustrans.
It enables people to borrow electric-assisted cycles.
There are 20 e-cycles available through the scheme for people, businesses and organisations in Rhyl and the surrounding area to make use of.
The E-Move project also runs in other cities and towns across Wales, including Aberystwyth, Newtown, Barry, and Swansea.