Our friends at cycling holiday company Saddle Skedaddle have made a generous donation to Sustrans based on each mile their customers cycled in 2021.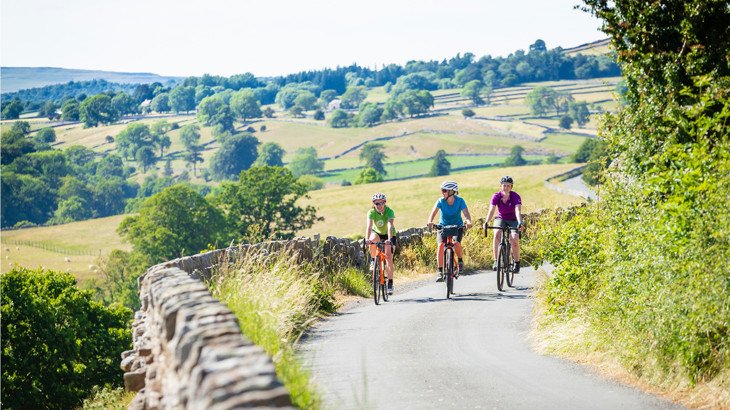 Way of the Roses route © Saddle Skedaddle
Each year, our friends at cycling holiday company Saddle Skedaddle make a donation for every mile their customers cycle along the National Cycle Network during one of their holidays.
With classic trips including Land's End to John O'Groats, Hadrian's Cycleway, and Coast To Coast (C2C), these miles add up quickly - in 2021 alone, their customers cycled over 147,694 miles along the Network.
Since 2010, Skedaddle has donated over £38,000 thanks to the ongoing support of their customers.
Giving back to communities
Sharing a commitment to responsible travel, our relationship with Saddle Skedaddle started over eleven years ago as a way to jointly promote cycling in the UK and give something back to the communities that the Network runs through.
Skedaddle's donation will help us continue to care for the Network and support our work to improve walking and cycling for everyone, creating healthier places and happier people.
The Network forms the backdrop of many of the Saddle Skedaddle holidays—from riding classic road cycling routes and challenging mountain biking trails to exploring historic regions at a more leisurely pace or bringing along the entire family. There is something for everyone.
Discover some of Skedaddle's favourite long-distance routes.
People are choosing more and more to enjoy the country by bike
"We love hearing about the adventures our customers have holidaying along the National Cycle Network," remarked Paul Snedker, CEO of Saddle Skedaddle.
"Last year was our busiest ever year in the UK, thanks in part to the rise in domestic tourism and people choosing more and more to enjoy the country by bike.
"We believe the Network is a great tool for enabling that opportunity and we are proud to lend our support with yet another donation."
Over a decade in partnership
Rhianna Jarvis, Sustrans Corporate Partnerships Manager said: 
"Sustrans' partnership with Saddle Skedaddle has been crucial for the development of the National Cycle Network over the last 11 years.
"The generous donation this year will ensure we can deliver our exciting plans for 2022 and develop the Network further to make sure the way we travel creates healthier places and happier lives for everyone."