Fancy an adventure? We've teamed up with our friends at Saddle Skedaddle to pick out some of the UK's best long-distance bike rides. So pack up your bike and get planning your next trip.
Coast to Coast
Travelling the 142 miles from Whitehaven to Tynemouth, this route is the UK's most popular place to ride.
It's a challenge, but you can spread the ride across multiple days or think about hiring an e-bike to give you a boost up the hills.
This varied route explores some of England's most spectacular landscapes, including the North Pennines and Lake District.
Highlights include:
Castle Rigg Neolithic Stone Circle (a great place for an ice cream, with views back out over the Lake District)
the legendary Hartside Pass (580 metre climb)
panoramic views out towards the Lake District, Solway First and Scotland.
Find out more about the famous Coast to Coast route.
And check out Saddle Skedaddle's website for information on how to book this trip.
Hadrian's Cycleway
This 100-mile ride has something for everyone. And it's a great route for families.
Starting at Bowness-on-Solway, take in the sights as you ride to Tynemouth.
You'll glimpse the UK's ancient past as you cycle along Hadrian's Wall with multiple forts dotted along the route.
Read more about Hadrian's Cycleway.
And head to Saddle Skedaddle's website for information on how to book this trip.
  
Coast and Castles
On this route, you'll hop from Northern England to Scotland via one of the most beautiful stretches of coastline in the UK.
This 202-mile ride from Newcastle upon Tyne to Edinburgh sees you start and end in two of the UK's most vibrant cultural cities.
And the journey has two very distinct halves – the Northumberland Coast Area of Outstanding Natural Beauty and the gorgeous green valleys of the Scottish borders.
Highlights include:
soaking up the various historical castles
enjoying the beaches en route including Lindisfarne and Bamburgh.
Top tip: the lesser-known ruins of Dunstanburgh perched on the cliffs above Embleton beach are very special.
Take a look at what other sights you can spot on the Coast and Castles route.
And head to Saddle Skedaddle's website for information on how to book this trip.
Way of the Roses
A picture-perfect coast-to-coast adventure. The Way of the Roses is a 170-mile ride from Morecambe to Bridlington.
With lots of big hills, this is one of the more challenging routes.
But if you're eager to take on the challenge, you'll be rewarded with lots of historical and cultural wonders along the way.
Some of the spectacular sights include:
Nidderdale and Yorkshire Dales, which are areas of outstanding natural beauty
the historic city of York
and picturesque towns along the way like Settle and Pately Bridge.
Find out more about the Way of the Roses.
Take a look at Saddle Skedaddle's website to see how you can book this ride.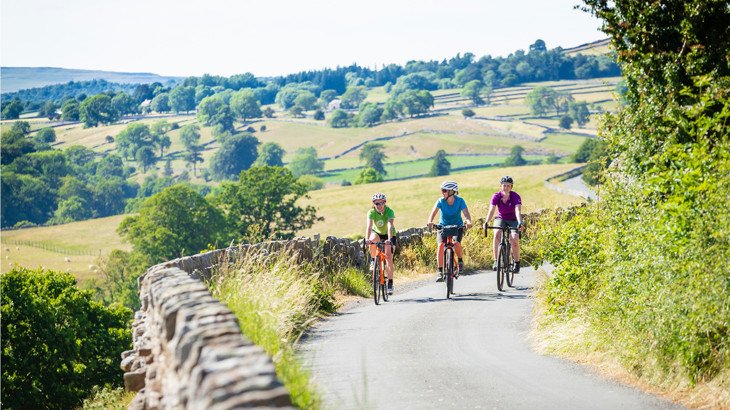 The Way of the Roses route is full of history and culture. Photo: Saddle Skedaddle.
Yorkshire Wolds
This 171-mile ride is a satisfying circular loop, starting and ending in Beverly.
The gently rolling landscapes of the Wolds avoid steep, cheeky climbs.
This makes it a great option for beginners to the world of cycling holidays.
You'll pass Seacliff and see thousands of seabirds at Bempton, one of the UK's top wildlife spectacles.
And the entire route goes through breathtaking scenery and historic mediaeval towns.
Read more about the Yorkshire Wolds cycle route.
View this cycle trip on Saddle Skedaddle's website.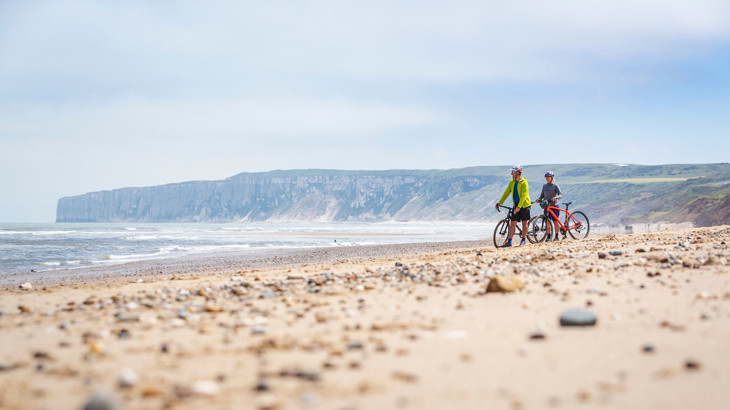 Enjoy the breathtaking scenes of the Yorkshire Wolds. Photo: Saddle Skedaddle.
Land's End to John O'Groats
This is the UK's ultimate place to place for a micro-adventure.
Taking you from the toe to the tip of the country, you'll ride 1,042 miles end-to-end.
It's a challenging journey and only really suitable for fit, regular riders who are hungry for a challenge.
There are lots of highlights on the route, including Cheddar Gorge, Trough of Bowland and riding through the Highlands.
The journey gets better and better as you head further North into wilder, quieter landscapes.
Learn more about this iconic long-distance ride.
See how you can book this trip with Saddle Skedaddle.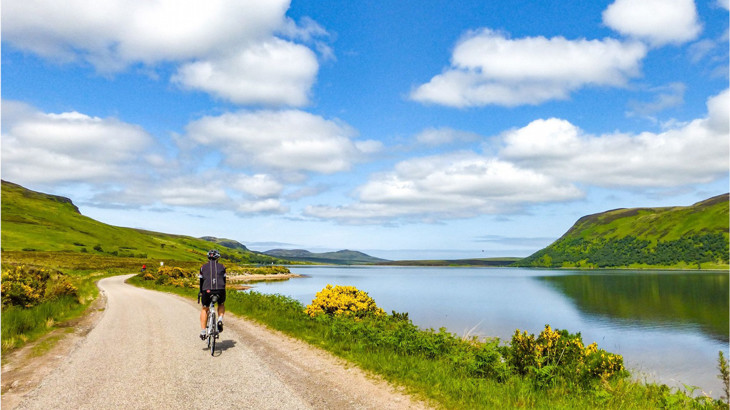 The iconic Lands End to Jon O'Groats cycle ride is a challenge like no other. Photo: Saddle Skedaddle.
About Saddle Skedaddle
Saddle Skedaddle are the UK's leading independent cycling holiday specialists.
They want to inspire as many people as possible to travel the world by bike.
And we've been working with them for over a decade.
For every mile that a Skedaddle customer rides on the National Cycle Network, Saddle Skedaddle donate 5p to Sustrans.
Whether you're new to bike packing or you're a seasoned tourer, Saddle Skedaddle can help you plan the perfect cycling holiday. They offer:
luggage transfers
quality accommodation
detailed routes notes
a handy navigational app
and emergency support just in case you get into difficulty.