The popular Monkland Canal towpath in Coatbridge will soon be ready to welcome even more walkers, wheelers and cyclists thanks to investment from Sustrans Scotland's Network Development Fund.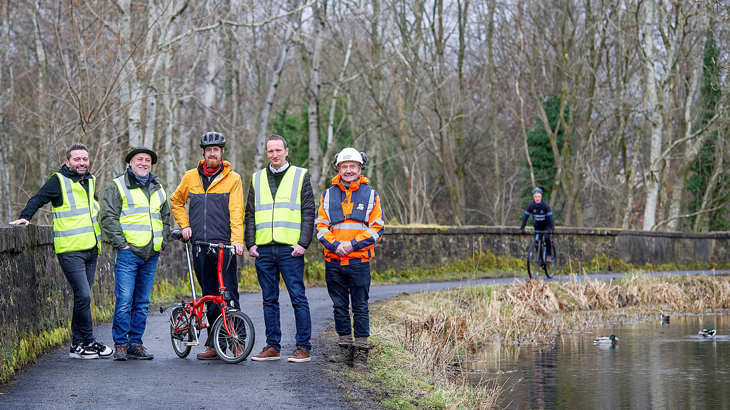 Sustrans and Scottish Canals staff were joined by members of Friends of Monkland Canal to announce the improvements
Improvement works have begun along the Monkland Canal towpath on National Cycle Network Route 75.
These will create a safer and more accessible walking, wheeling and cycling route for everyone from Coatbridge and beyond.
The improvements, backed by funding from Transport Scotland through Sustrans Scotland's Network Development Fund and delivered by Scottish Canals, will:
Upgrade 2km of the towpath surface along Route 75
Install a new drainage system to allow year-round access to the route for everyone 
Introduce two new towpath counters for walking, wheeling and cycling journeys.
A safer, more accessible route for the whole community
The improvements continue the ongoing rejuvenation of the Monkland Canal and surrounding area.
This began in 2008 when Scottish Canals, in partnership with North Lanarkshire Council and the local community, led an award-winning placemaking project.
Friends of Monkland Canal, a group of local volunteers who play an active role in caring for the space, have been instrumental in the plans. 
Alan McCormack from Friends of Monkland Canals said:
"This is fantastic news and it will make a massive difference to the area.
"I would like to thank all our members and the local community for their continued support in raising the profile of our historic canal and paths and lobbying for the improvements."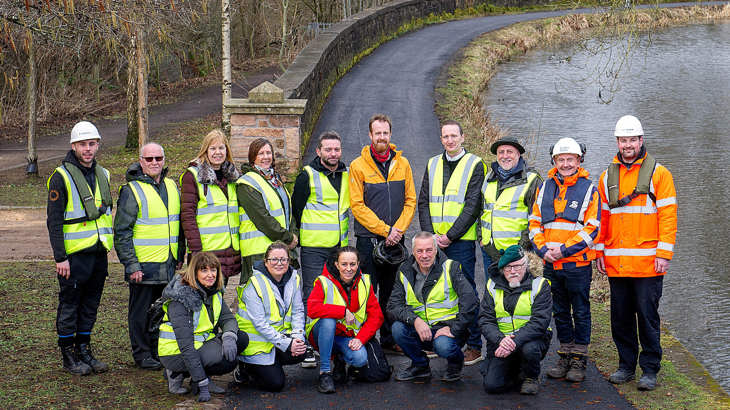 The improvements will make it easier for everyone in the community to walk, wheel and cycle.
Unlocking real change by funding active travel
Speaking about the improvements, Minister for Active Travel Patrick Harvie said:
"I'm pleased that Scottish Government funding is improving the quality of the Monkland Canal towpath and Route 75 of the National Cycle Network.
To improve health, wellbeing and to respond to the climate emergency, we need to make walking, wheeling and cycling easier for everyday shorter journeys. These improvements are a great local example of how our record funding for active travel is unlocking real change.
"By increasing our investment in active travel to over £320 million by the end of 2024/25, we will see many more improvements like this in the years to come."
More local people walking, wheeling and cycling
Throughout the COVID-19 pandemic, more people have discovered National Cycle Network Route 75 in Coatbridge.
Community interest has grown with the formation of the Friends of Monkland Canal volunteer group.
The increased number of people making their journeys along the route has reduced the quality of the towpath surface.
And access to the route for everyone is sometimes difficult after bad weather. 
This project, which will be completed in April 2022, will solve these issues.
Improving access to the National Cycle Network for everyone
This project will deliver on the community's aspiration for year-round access to the route for everyone- regardless of age or ability.
And it will make the route safer and more consistent. 
This will allow everyone living in or visiting the area to walk, wheel or cycle along National Cycle Network Route 75 for more of their journeys. 
Encouraging more people to leave the car at home
Karen McGregor, Portfolio Director at Sustrans Scotland, said:
"Sustrans is delighted to be working with Transport Scotland, the community and Scottish Canals to improve this section of National Cycle Network Route 75.
"The National Cycle Network is the backbone of Scotland's active travel infrastructure.
"And the enthusiasm for these improvements shows the importance of safe and accessible walking, wheeling and cycling links to our communities.
"We need to make it easier to leave the car behind and make healthier and sustainable choices for more everyday journeys.
"This project is a great example of how we can come together to improve access to active travel and greenspace for everyone."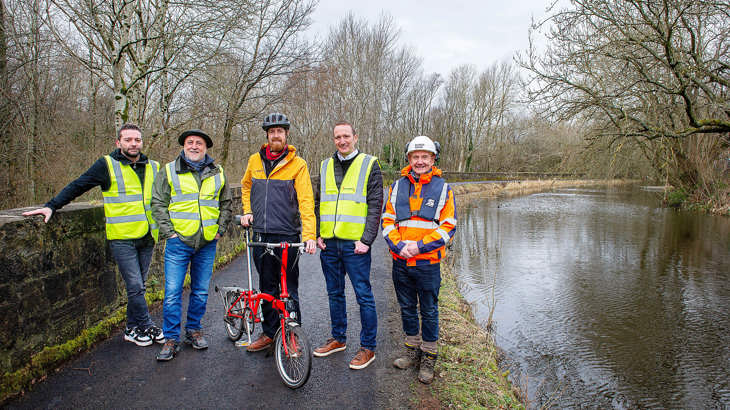 Improvement works are underway along National Cycle Network Route 75
Protecting a much-loved local greenspace
Richard Millar, Chief Operating Officer at Scottish Canals, added:
"The Monkland Canal and the surrounding area offers beautiful green and blue space for the local community to enjoy.
"This project goes some way to ensuring as many people as possible can safely enjoy the space for years to come.
"The new surface has been installed throughout our network and we're constantly seeing increased usage as a result, which is fantastic.
"We hope this consistent, all-weather surface will encourage even more people to make active and healthy journeys, whether that's local people using the path as an alternative to driving short journeys, or more cyclists taking on the Route 75 challenge."
Working together to create paths for everyone in Scotland
The project is part of Sustrans' Thirty Year National Cycle Network Plan for Scotland.
This plan was announced as part of our Paths for everyone: Three years on report. 
It will improve and grow the National Cycle Network across the country, and has Scottish Government support.
We want to connect more communities with high-quality walking, wheeling and cycling routes.
And we want to work with our partners to make the existing Network more consistent and accessible for everyone.
Read more about our work to create a National Cycle Network of paths for everyone
Find out more about the National Cycle Network in Scotland