Healthy Streets Officers (HSOs) are making great strides towards a car-free school run by supporting the delivery of School Streets across London. School Streets reduce nitrogen dioxide levels by up to 23% at drop-off time.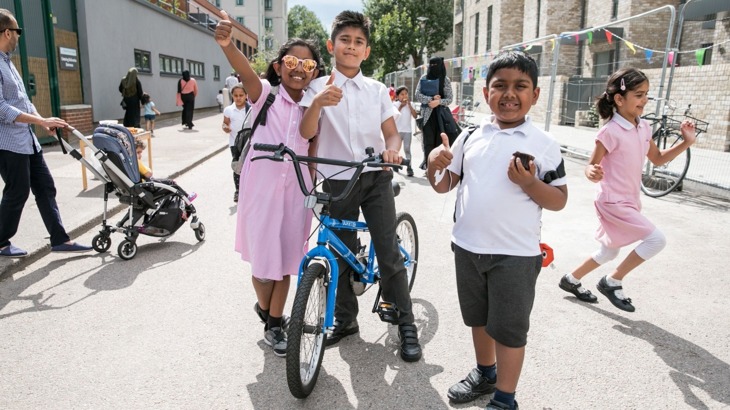 By implementing School Streets, schools stop through traffic along the street where the school is located, at drop-off and pick-up times. Credit: Kois Miah
Making streets around schools safer and healthier
Transport for London and Sustrans have been working in partnership with local authorities to deliver the Healthy Streets Officers programme.
The programme focuses on helping children and families walk, wheel, scoot and cycle in 32 of the city's 33 boroughs. 
As part of this work, Healthy Streets Officers help boroughs to organise School Streets.
School Streets tackle the congestion, poor air quality and road safety concerns that many schools experience by restricting motor traffic at the school gates for a short period of time, generally at drop-off and pick-up times.
Helping schools switching to active travel
The Healthy Streets Officers also help schools to implement "switchable trips"- switching car travel for active travel, which includes walking, cycling, scooting and wheeling.
By doing so, the Healthy Streets Officer programme helps schools to achieve Transport for London's STARS (Sustainable Travel: Active, Responsible, Safe).
Since the start of the STARS scheme in 2007, more than 22 million kilometres of car journeys have been replaced with active travel. 
Working in partnership with Transport for London
Since 2019, Sustrans has been working with Transport for London on the ambitious Healthy Streets Officers (HSO) programme.
The programme is key to helping implement the Mayor's Transport Strategy, which sets the target for 80 per cent of all trips in London to be made on foot, by cycle or using public transport by 2041.
Ambitious targets for School Streets
Before the Covid-19 pandemic, there were 76 School Streets in London.
Since 2019, the Healthy Streets Officers programme has helped to accelerate this with 456 School Streets launched by London boroughs.
An additional 107 have been planned or confirmed, bringing the total number of School Streets across London to 563.
Healthy Streets Officers have supported over half the School Streets in London, so far helping to deliver 300. [1] 
Jo Chattoo, Sustrans' Head of Healthy Streets, said:
"The Healthy Streets Officers team at Sustrans is proud to have played a part in bringing together the best of Healthy Streets practice from across the capital to support London boroughs.
"We are thrilled to have helped to create such a huge uplift in the number of School Streets in London.
"It is vital that children have access to safer streets, providing healthy, active options for getting to school.
"London's children already experience pollution levels above World Health Organisation recommended limits.
"The health advantages of using active travel resonate through a lifetime, and the capital's children are starting the habit early."
Sustrans is delighted to have contributed to this huge increase in School Streets across the capital, via the Healthy Streets Officer programme. Children are particularly vulnerable to air pollution as their lungs develop, and School Streets are a crucial tool to combatting the poor air quality and congestion around schools. They create healthier, happier and more liveable neighbourhoods for everyone, especially for children travelling to school.
Why implement School Streets?
The Covid-19 pandemic has shown the need to make London's streets better for cycling, walking and wheeling so people can move around safely.
Making the school run car-free can help reduce air pollution and congestion in London. Studies have shown that School Streets reduce nitrogen dioxide by up to 23 per cent during morning drop-off. [2]
Walking, scooting or cycling to school gives young people the chance to weave exercise into their day.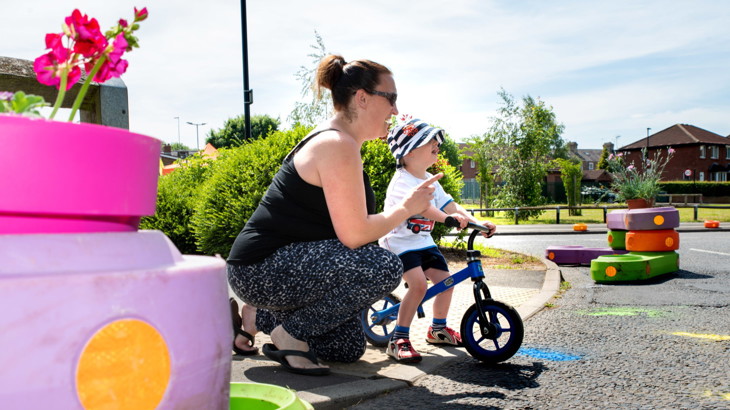 There is overwhelming public support for School Streets
Public support for School Streets
There is overwhelming public support for School Streets, with 90% of parents and residents saying they would support regular traffic-free streets outside schools.
18% of parents reported that they drove to school less as a result of School Streets intervention. [3]
Parents report walking to school more as a combined result of the pandemic and the implementation of School Streets. [4]
Parents also report that School Streets have reduced the amount they travel by car to and from primary schools, beyond the impact of the pandemic.
Writing on Better Streets' Facebook page, Oakthorpe Primary School (Palmers Green) parent Klimi Nunes said:
"School Streets started today at Oakthorpe Primary School. I'm so pleased this has finally happened!"
What do pupils think?
In a YouGov survey for Sustrans, over 55% of UK school pupils described the environment around their school as having too many cars, and half (49 per cent) of pupils were worried about air pollution near their school.

They worry for their health and for the environment they will grow up in.
The majority of school children don't think adults are doing enough to tackle climate change.
Over the last three years, the Healthy Streets Officers programme, delivered by Sustrans on behalf of Transport for London, has been supporting London boroughs to deliver their plans to create healthier, greener and more accessible ways for people to get around by foot and bicycle.
This vital work must continue to create places that work for everyone. If you would like to explore ways of continuing this work with Sustrans, please contact our London team at london@sustrans.org.uk.