Celebrations have been held at Bowling Harbour to mark the completion of the Bowline, which has made it easier for everyone to walk, wheel and cycle along National Cycle Network Route 7 in West Dunbartonshire.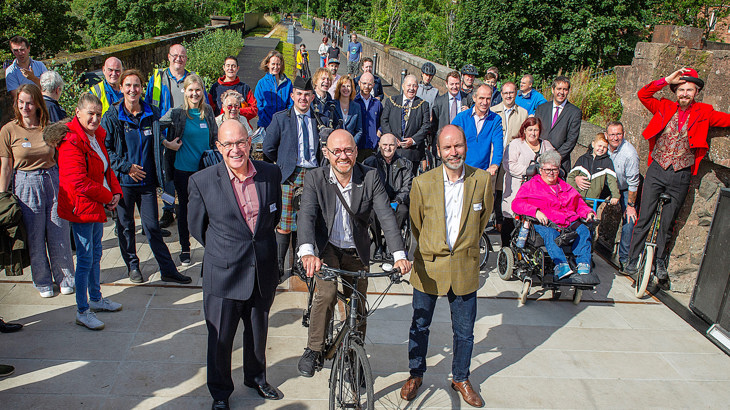 John Lauder, Deputy CEO at Sustrans, Patrick Harvie, Active Travel Minister, Richard Miller, COO at Scottish Canals and members of the Bowling community officially open the Bowline along National Cycle Network Route 7.
The Bowline project, launched in partnership with Scottish Canals and supported by Transport Scotland, has seen:
Refurbishment of three former railway bridges.
Removal of a dangerous road crossing along Route 7.
Installation of a full-accessible ramp connection to Route 7 at Bowling Harbour
Creation of an attractive traffic-free link, including a linear park inspired by New York City's Highline.
Developing a key walking, wheeling and cycling link for everyone
Bowling Harbour is a key link along National Cycle Network Route 7 and the long-distance Lochs and Glens Way route.
The Bowline project means that everyone in the surrounding communities choosing to walk, wheel or cycle can now make everyday journeys towards the heart of Glasgow.
And they can now head further west towards Dumbarton, on a fully traffic-free route.
  
Improving access, and bringing a taste of New York to West Dunbartonshire
Inspired by New York's Highline, the new linear park has transformed a railway crossing and 124-year old bridge which have sat derelict since the Caledonian and Dunbartonshire Railway closed in 1960.
A new, high-quality access ramp has been installed to allow everyone walking, wheeling and cycling to access Route 7 for their everyday and leisure journeys.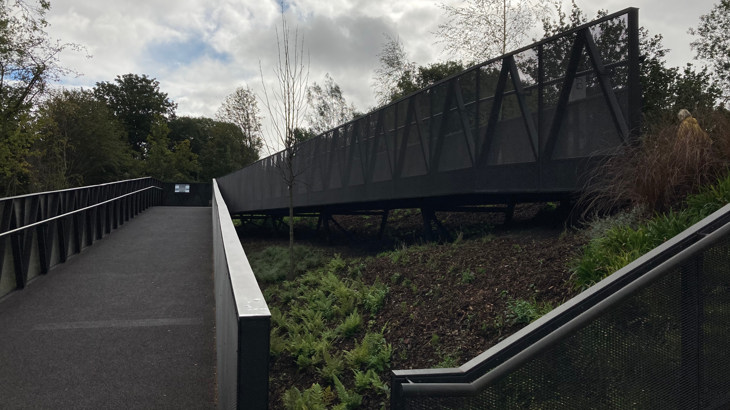 A new access ramp connects Bowling Harbour to National Cycle Network Route 7
John Lauder, Deputy Chief Executive at Sustrans, said:
"The Bowline is a great example of how we are working with partners across the country to improve the National Cycle Network.
"Increasing the number of walking, wheeling and cycling journeys is a win-win for society:
improving air quality,
reducing noise,
improving public health
reducing carbon emissions.
"As we face the climate emergency together, it's vital that we make it easier, safer and more attractive for people to walk, wheel and cycle by delivering high-quality projects like the Bowline. 
"And we all need to work quickly and in partnership to create a safe, consistent and accessible network of paths, and safer streets and roads; giving everyone the opportunity to travel in a healthier, greener and more sustainable way, more often."
"Alongside our partners at Scottish Canals, I'm delighted by the huge transformation we've achieved along National Cycle Network Route 7.
"The new Bowline is a real asset to the surrounding communities, and I'm looking forward to seeing the new link inspire more people to walk, wheel and cycle well into the future."   
Patrick Harvie, Minister for Active Travel said:
"I'm incredibly excited to open the new Bowline active travel project at Bowling Harbour.  As a result of this ambitious project, people can now walk, wheel or cycle between Loch Lomond, Bowling and Glasgow almost entirely separated from traffic throughout their journey.
"To make active travel choices easier, through new infrastructure or by expanding access to bikes, both local authorities and government are taking action. We've invested £3 million pounds to build the The Bowline and I want to see more projects like this delivered right across Scotland.  
"That's why the Scottish Government has now committed to investing at least £320 million, or 10% of the total transport budget on active travel by 2024-25 – almost triple what it is today. With this record investment, we'll help build an Active Nation, where more people enjoy greater opportunities to walk, wheel and cycle for everyday journeys."
Creating a must-see destination
Alongside opening up an accessible and safe active travel link for people living in the area, the Bowline has also created a new destination point for people from outside West Dunbartonshire.
And, working in partnership with the local community, the project has created a space along National Cycle Network Route 7 that celebrates local history and heritage.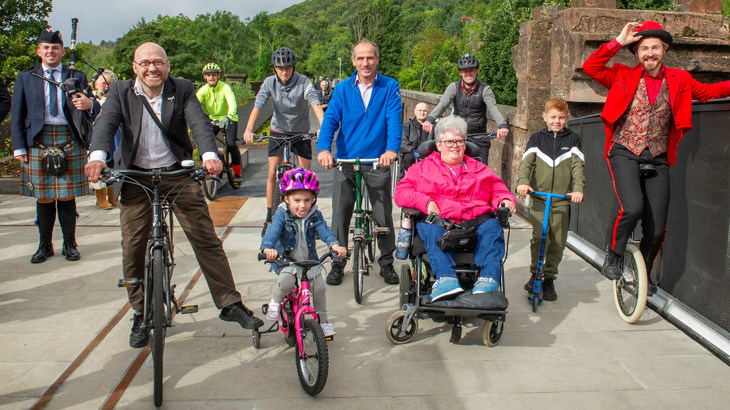 The project has created a linear park and opened up new retail spaces
Catherine Topley, CEO of Scottish Canals added:
"The opening of The Bowline marks a new era for Bowling Harbour; one built upon sustainability, that everyone can enjoy.
"Active travellers making their way along National Cycle Network Route 7 can now take full advantage of the harbour's regeneration.
"Our renovated railway arches host a variety of local businesses transforming the area into a hub of activity, creating new jobs and opportunities.
"It's a special destination and one that is well worth a visit."
Investing in sustainability and communities
Investment in the Bowline project has created jobs through the employment of local construction firms, and opened up exciting new retail space occupied by a café, bike shop and activity centre.
Elaine Paton, local business owner said:
"As a business owner that has made a significant investment in the Bowling Harbour across the past 6 years, I am very excited to welcome the long awaited opening of The Bowline.
We are looking forward to welcoming lots of new visitors to the destination".
Supported by Transport Scotland through Sustrans Scotland's Network Development and Places for Everyone programmes, the Bowline is an important step in our ongoing work to improve the National Cycle Network;
Creating a safe, consistent and accessible network of paths for everyone
And giving more people the opportunities to travel in healthier, greener and more sustainable ways, more often.