Active travel isn't just important for the fight against climate change and reducing air pollution. It's also great for our mental health and wellbeing. Our Active Journeys Programme in Wales is helping children across the country to safely, easily and confidently travel to school by foot, bike and scooter.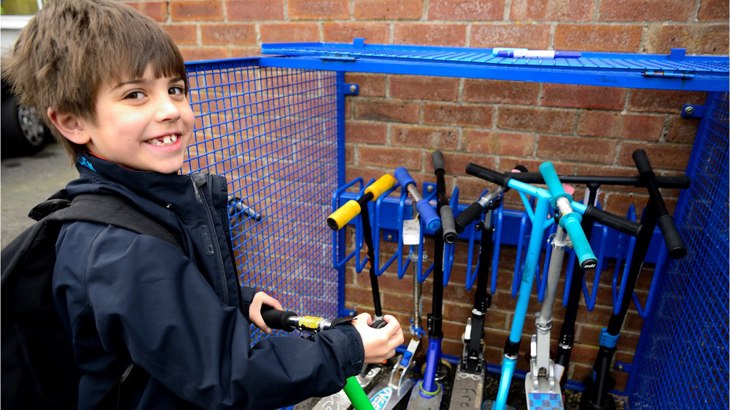 With around three children in every primary school class living with a mental health problem, it's never been more important to support and empower children and schools to make healthier choices in their daily activities.
Physical activity can increase mental alertness, energy, positive mood and self-esteem, as well as reducing stress and anxiety, according to the Mental Health Foundation.
Teachers find that pupils who cycle, walk or scoot arrive at school more relaxed, alert and ready to start the day than those who travel by car.
Cycling, walking or scooting to school also increases awareness of road safety as well as boosting independence for children.
There is strong and consistent evidence to show that physical activity makes people feel better about themselves.
Sustrans Cymru Active Journeys Officer, Roger Dutton, has been working closely with Ysgol-y-Graig primary school.
A commitment to mental health and well-being
The school have shown a commitment to boosting pupil's mental health and well-being through active travel.
They applied to join the Active Journeys programme to develop sustainable travel and support opportunities which would benefit all pupils.
After the first lockdown, the school developed a theme called 'Resilient Me'.
This focussed on improving the resilience and wellbeing of pupils after the difficult time away from the classroom.
Roger said: "I recently supported a scooter skills workshop at Ysgol-y-Graig. Their commitment to improving health and wellbeing was clear to see when the workshop was allowed to take place in wet weather.
"I was so impressed by the school's allowing the scootering to go ahead, many schools cancel in wet weather. It was great to see how much the school genuinely value physical activity.
"The pupils channelled their resilience with smiles on their faces and developed key scooter skills which will help them travel more actively.
"If we are to reduce car use and increase active travel in Wales we need to teach the pupils to be prepared for all conditions and be more resilient.
"This resilience helps build and safeguard children's mental health too, a very important and ever more current topic."
Benefits of active travel
Having the confidence to scoot or cycle to school has many benefits. It can boost pupil's mood and self-esteem.
The school has noticed the benefits being active has on the well-being of pupils.
Mr Samuel Aylward, a teacher at Ysgol-Y-Graig, said:
"Our end goal is to operate a fully functional cycle bus so that children can travel to and from school with the support of trained marshals.
"Our journey is in its very early days, but with ambition and determination for our students, we believe we'll get there in a post-Covid world.
"We are excited to continue developing our Active Journey's plan with Roger from Sustrans and we look forward to the future of Ysgol-Y-Graig."
Ysgol-y-Graig has an ambitious plan to encourage active travel once schools re-open and we can't wait to work with them in achieving this.