The time for action on climate change is now. But emissions from transport, especially cars, remain stubbornly high. Here, we share some of the reasons why active travel is key in tackling the climate emergency in Scotland.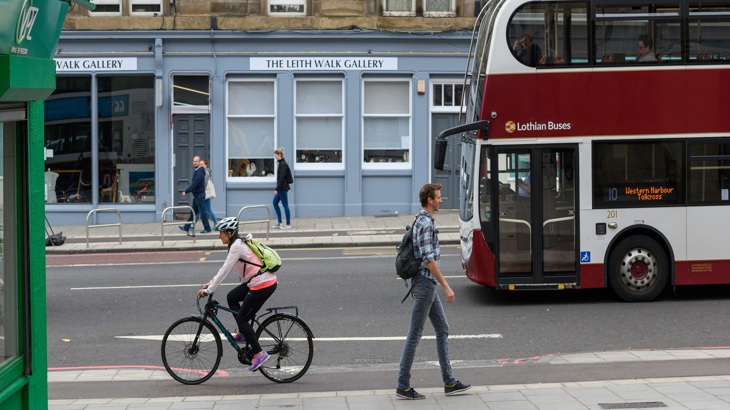 Walking, wheeling and cycling can help Scotland meet its climate targets.
With Scotland's Climate Change Plan newly updated and COP 26 to be hosted in Glasgow later this year, achieving our climate targets is more pressing than ever.
We've shared some reasons why walking, wheeling and cycling should be prioritised as a way to tackle the climate emergency in Scotland.
  
Walking and cycling reduces carbon emissions
We all know that choosing to walk and cycle can reduce carbon emissions.
And it is already having an impact.
People who choose to cycle rather than drive for their everyday journeys take up to 420,000 cars off the roads every day across six Scottish cities.
That's a very good start, but we need to do more to reduce transport emissions, particularly from cars:
Electric vehicles aren't the magic solution
The switch to electric cars isn't going far enough or fast enough, to tackle the climate emergency.
Even if 100% of new sales were Ultra Low Emissions Vehicles (ULEVs) by 2030, car mileage would still need to be reduced by between 10% and 20% to meet the UK's Fifth Carbon Budget.
The average lifespan of a new car on sale today is 14 years – so without additional measures, there will still be many fossil fuel cars on our roads throughout the 2030s.
If more people can walk or cycle their regular short journeys we can save a lot more carbon.
By cycling instead of driving for one trip each day, an adult can save 0.5t of CO2 emissions annually.
In combination with better public transport, prioritising walking and cycling would reduce overall transport carbon emissions by 12% by 2030.
That's faster and cheaper than buying new electric cars, and also offers better public health and more pleasant places to live.
Active travel needs to be prioritised as a way to tackle the climate emergency in Scotland.
Travelling actively for short journeys can have a big impact
In Scotland, 54% of journeys are under 5 km, roughly 3 miles.
To reduce carbon, we need more of these trips to be undertaken on foot or by bike.
That means we need to make it easier for people to walk and cycle, and reduce the need for car journeys.
Making it easier to walk, wheel and cycle for short trips means:
More space for people on major routes
Wider pavements would give more space for pedestrians, wheelchair users, queuing and physical distancing.
Segregated cycle routes along key major connecting roads would connect town centres, stations and major areas of employment. 
Quieter residential streets
Closing off through traffic whilst maintaining residential vehicle access would reduce vehicle volumes and rat-running.
And slower speeds increase actual and perceived safety for people who are walking, wheeling and cycling.
  
Creating 20-minute neighbourhoods
By placing more of the everyday services we need within a 20-minute walk of people's homes, we can reduce the need for longer car journeys.
And we can also:
create vibrant, healthy and prosperous communities that engage citizens
ensure the most vulnerable members of society are easily able to access vital services, medical care and social spots
put accessibility ahead of mobility – in a world where home working is becoming the new normal.
It's also important that key amenities are within a 20-minute walk:
Shops
Making it easier to access local businesses will create more resilient local economies
Schools
When the school run is dominated by active modes, the surrounding streets become safer and more pleasant
Health services
The more people who are able to walk, wheel, or cycle to health services, the easier it is to free up parking spaces for those who need them the most
Green spaces
It's never been clearer how important access to the outdoors is for our physical and mental wellbeing.
  
Walking and cycling is key to tackling the climate emergency
If we are to achieve net-zero, walking, wheeling and cycling need to be a priority.
This will ensure a green and sustainable recovery that is fair for all people in Scotland.
And will help tackle climate change, improve health and wellbeing, reduce inequalities and help stimulate inclusive economic growth.
Read our manifesto asks for the Scottish Government. These asks will ensure a green and sustainable post-Covid recovery that is fair for all people in Scotland.