The majority of residents in Belfast want measures to reduce car traffic and make more space available for cycling in the city, according to the latest Bike Life report.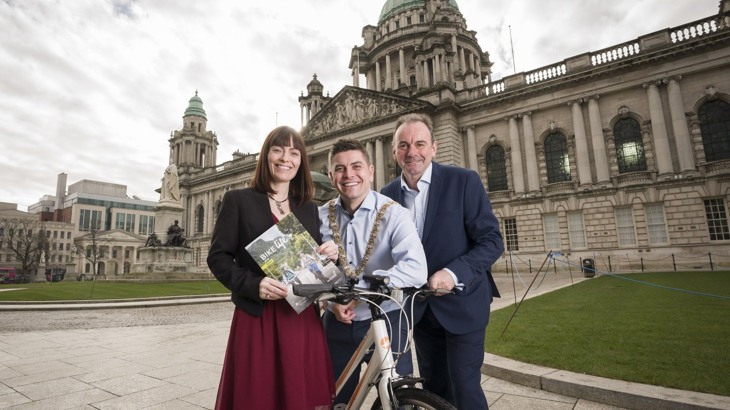 Infrastructure Minister Nichola Mallon launches Bike Life Belfast 2019 report at Belfast City Hall with the Lord Mayor Danny Baker and Sustrans Interim Director Stephen Martin.
Currently there are just two miles of protected cycle-lanes in Belfast. 77% of residents think more cycle tracks along roads physically separated from traffic and pedestrians would help them to cycle more.
The Bike Life survey, the biggest assessment of cycling in urban areas in the UK and Ireland, is produced by sustainable transport charity Sustrans in partnership with city authorities. This is the third report for Belfast in partnership with the Department for Infrastructure (DfI).
The information in this report comes from local cycling data, modelling and a representative survey of more than 1,400 Belfast residents, whether they cycled or not.
78% of Belfast residents want increased space for socialising, cycling and walking on their local high street; whilst 54% think there are too many people driving in their neighbourhood. 63% of residents support restricting through-traffic on residential streets.
Belfast is a good place to cycle for just 36% of residents, with almost half of residents (48%) reporting concerns about safety as the main reason why they don't cycle or cycle less often.
Department for Infrastructure Minister Nichola Mallon, who is launching the report at Belfast City Hall 5 March, said: "Since taking up my role as Infrastructure Minister, I have made it clear that my focus is doing what I can to improve the lives of everyone in Northern Ireland.
"Connecting communities and encouraging more active travel is a key priority for me and I want to make transport cleaner, greener and more sustainable.
"The Bike Life report launched today provides key data to help us better understand the state of cycling in Belfast and highlights the areas we need to focus on in order to encourage more people to cycle, for their everyday journeys, in a safe environment.
"In addition to reducing air pollution, this has huge benefits for all of us, including cutting down on traffic congestion and contributing to improved mental and physical health and wellbeing."
Anne Madden, from Sustrans, said: "While we can visibly see more people, and a greater diversity of people, cycling in Belfast, we still have a long way to go to make the city a great place to cycle.
"This is the third report we have produced for Belfast which recently declared a climate emergency.
"The need to invest in cycling infrastructure is more urgent than ever if we are to tackle the mounting problems of the climate crisis, air pollution, congestion and obesity.
"The good news is that cycling can help tackle all of these issues for a very small investment."
Colette Leeson, a civil servant who lives and works in Belfast, chose to have a car-free lifestyle. She described how she and her husband decided to live near the city centre so they can walk and cycle everywhere.
"We cycle in all weathers," said Colette. "We cycle to and from work. We cycle to keep fit. We cycle to see family and for leisure.
"If we need a car, say for weekend trips or to transport bigger items, then we just hire one. It works out a lot cheaper than buying and running a car that might sit outside your door all week.
"We need more protected cycle lanes on Belfast's roads so we are not causing a nuisance to pedestrians, and we need a proper network of cycle lanes that join up and that are safer at junctions."
Other key facts from Bike Life Belfast 2019:
Residents want improved cycling infrastructure to cycle more:
80% want more traffic-free cycle routes away from roads, e.g. through parks or along waterways
77% want more cycle tracks along roads, physically protected from traffic and pedestrians
67% of residents also support building more protected on-road cycle tracks, even when this would mean less space for other road traffic.
Cycling benefits:
People cycling in Belfast take up to 7,500 cars off the roads each day
Every year cycling saves 3,800 tonnes of greenhouse gas emissions, equivalent to 8,200 people taking flights from Belfast to Tenerife.
Cycling creates £24.7 million in economic benefits to Belfast annually