There has been a disappointing rise in the number of school-children being driven to school in Northern Ireland, while those walking has continued to fall, according to the latest data from the Department for Infrastructure.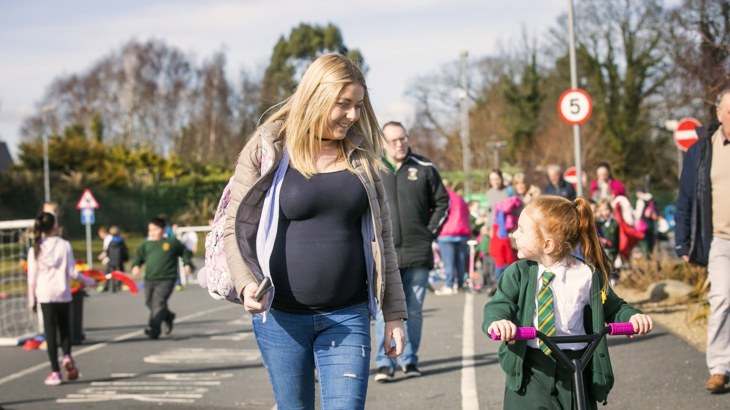 In response, Sustrans issued the following statement:
"The figures showing how increasing numbers of school-children are being driven to school in Northern Ireland are truly woeful," Anne Madden, from Sustrans said.
"The fact that the number of primary school children being driven has risen from 59% to 67% since 2013/14 shows that we, as a society, have a lot more to do."
"We know from our surveys that road safety is the main reason why parents drive their children to school, but these same parents are adding to congestion and air pollution at the school-gates.
"There need to be improvements in infrastructure such as footpaths and traffic crossings to enable more active travel.
"As many as 54% of primary school pupils who are being driven to school live less than a mile away, which is a very walkable distance.
"Walking or cycling to school is a simple way of incorporating more exercise into a child's daily routine. This can help tackle both the obesity epidemic and improve children's overall health and well-being."
In contrast to the overall picture, the Active School Travel (AST) Programme which Sustrans delivers, has successfully increased the number of pupils walking, cycling and scooting to school.
We take on 60 new schools each year but the programme needs to expand and provide more long-term support to school communities in order to turn around these statistics.
For the same period 2018/19, the number of children walking, cycling and scooting to school in the AST Programme increased from 35% to 53%. At the same time, the number of pupils being driven to school fell from 58% to 41%.
Active School Travel Programme statistics for 2018/19
Active school travel increased from 35% to 53% at the end of 2018/19. At the same time, car use fell from 58% to 41%. 
Cycling increased from 3% before engagement to 6% at follow up.
The proportion of pupils walking increased from 27% to 31%
More pupils reported travel by park and ride/ stride, scoot journey rising from 5% to 13%.
The programme is delivered across Northern Ireland in both urban and rural schools, primary and post-primary. It is delivered by Sustrans and jointly funded by the Department for Infrastructure and the Public Health Agency.
As part of the programme, Sustrans carries out an annual audit of infrastructure around the schools we work in. Of the 60 primary schools that joined the programme in September 2019 we found the following:
Just 2 out of 60 schools have 20mph zones implemented around the school
15% of the schools have no footpaths outside the school gates
33% (a third) have footpaths which are not adequately connected up
92% of schools have no cycle paths within 500m of school gates
60% of schools have no cycle or scooter parking for pupils and staff
17% of schools have 50mph or 60mph limits outside the school gates