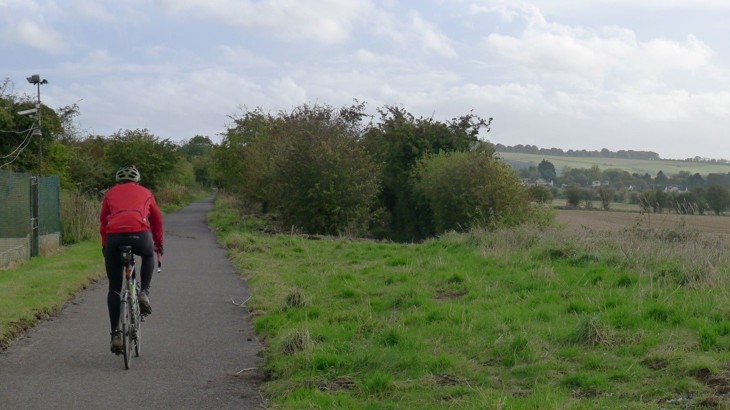 The improvements were possible thanks to the support of the European Agricultural Fund for Rural Development North Wessex Downs LEADER Programme, which has allowed us to complete nearly a mile of new path surfacing north of Ogbourne St George.
People using the route can now rest and relax more easily because the funding has also enabled us to provide 11 new benches. These include three oak picnics benches at locations chosen for the great views of the downs. Visitors will also spot new signs at entrances to the path, and the access points have been modified to make it easier for trailers and tricycles to get onto the path.
As well as the LEADER-funded work, the Friends of the Railway Path have designed and installed three interpretation boards at other locations on the path to tell people about the local history and habitat.
Sustrans manages the path which runs for 10 miles through the Marlborough Downs connecting the towns and several villages.
Alistair Millington, Land Manager at Sustrans, said "I'm delighted that we've been able to do this work with the help of North Wessex Down LEADER. We are looking to improve the path every year but 2019's is the biggest single project we've done. I'm really pleased with the new picnic benches because it's something that families visiting the path had really wanted."
Dick Millard from the Friends of the Railway Path said "Friends of the Railway Path is delighted with the new surface, which will make it much easier to use the route from Coate Water to Marlborough. 
"There are now more facilities along the route, which we think will encourage more people to enjoy the journey through the landscape.  We are also pleased that it is now easier for people to access the path."
The North Wessex Downs LEADER programme supported Sustrans with a grant of £31,009.
About North Wessex Downs LEADER
The LEADER Programme is part-funded by the European Agricultural Fund for Rural Development via the Rural Development Programme for England (RDPE).
North Wessex Downs LEADER has provided grants for rural businesses and community projects across parts of Wiltshire, West Berkshire, North Hampshire and southern Oxfordshire between 2009 and 2020 with Wiltshire Council acting as its accountable body.