School children from Seaton Church of England Junior School have planted apple trees, damsons and blackcurrants in a community orchard along the popular walking and cycling route at Seaton, as part of our Tracks of the Ironmaster project in Cumbria.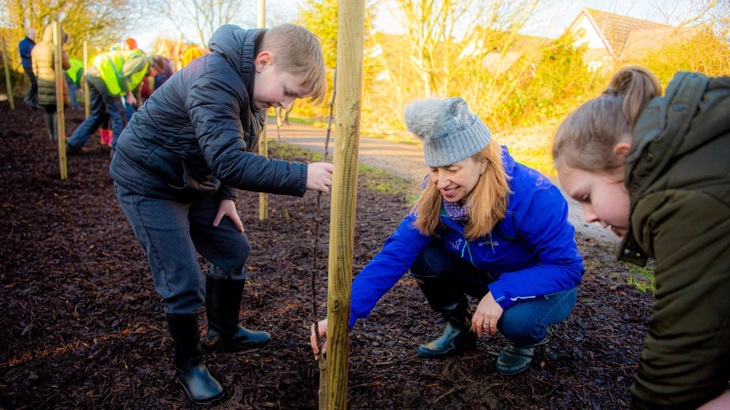 The 35 local children from year five planted 25 apple, plum and damson trees along the former iron ore railway, including the local Keswick Codlin and Egremont Russett, as well as a rare local variety of damson called Blue Violet.
Our Chief Executive Xavier Brice joined the children to help plant the mini orchard, along with our Director for the North of England Rosslyn Colderley, local volunteers and staff.
Together, the team also created a large bug hotel and made hedgehog shelters. They met a rescue hedgehog thanks to Ani-Mel Sanctuary at Bank Mill.
This section of the C2C is known as the Tracks of the Ironmasters as it was once a railway linked to former iron ore mines at Knockmurton and Kelton and ironworks at Workington, Cleator and Distington.
The path is now part of our project supported by the National Heritage Lottery Fund, to restore the natural, social and industrial heritage of the area.
Xavier said: "It's been a wonderful opportunity to plant trees today with the children and volunteers at Seaton Church of England Junior School. We have planted several local varieties which we hope will be yielding fruit for generations to come.
"Tracks of the Ironmasters route has long been at the heart of the community. It was once a busy iron ore railway and is now a popular walking and cycle path, as well as an important site for local heritage and wildlife.
"The route is a great example of a path for everyone, which attracts all ages and abilities to get outdoors and choose a healthier lifestyle."
Tim Dickinson, Year 5 Class Teacher at Seaton Church of England Junior School said: "It was great for the children to give the time to a worthwhile community project, which they can see evolve and literally bear fruit.
"All the children thought it was a brilliant experience. Some liked the planting, some liked building the bug hotel, others liked seeing the hedgehog."
The new mini orchard will join Mirabelle plums trees already growing along the track at Seaton, which are harvested by local people for jam making. Surveys of local people for the Tracks of the Ironmasters project showed that people would like more fruit trees.
The path is owned and managed by us as part of the National Cycle Network. It includes a number of historic bridges and remnants of the path's past, such as a rock crusher and railway signal.
The route is also a haven for nature as well as people, with rare wildlife such as red squirrels, the small blue butterfly, and bat colonies on some bridges.
The 140 mile C2C runs from Whitehaven to Sunderland attracts over 15,000 people on foot or by bicycle each year.