Penyrheol Primary School near Swansea has been an exciting school to work with as part of the Sustrans Active Journeys Programme. With a strong culture of pupil voice and involvement in day to day activities, the school has fully embraced creating a culture that makes it easier for children to walk, scoot or cycle. Sustrans Cymru Active Journeys Officer, Roger Dutton, speaks about his experience of delivering the Active Journeys Programme to Penyrheol Primary.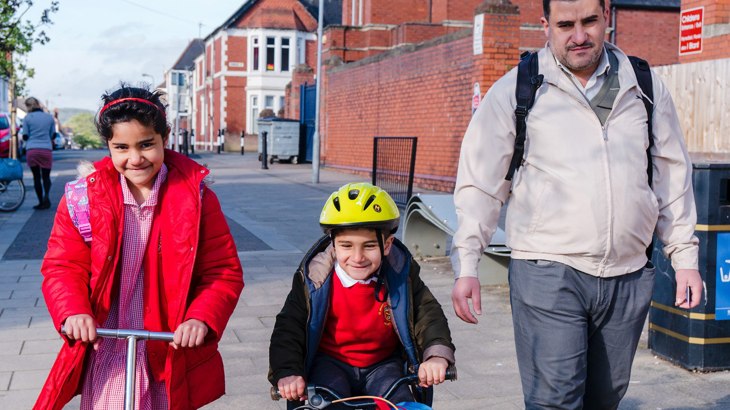 Active travel isn't just important for the fight against climate change and reducing air pollution. It's also great for our physical health and wellbeing.
Our Active Journeys Programme in Wales is helping children across the country to safely, easily and confidently travel to school by foot, bike and scooter.

Getting started right away
Working with Penyrheol Primary has been a fantastic experience. There's a strong emphasis on pupil voice and involvement, to a level that I haven't seen in any other school.
The result of this is a student body with above-average skills and confidence, who self-regulate what they do.
When I first met Headteacher Alison Williams, it was decided that I would help the school buy bikes, good quality scooters, helmets and tools.
Alison secured funding from the Community Council within the week.


Passionate about active travel 
The school was immediately passionate about increasing active travel levels. 
They organised an active travel day for the then First Minister Carwyn Jones after Rebecca Evans MS suggested he should visit the school as she was so impressed with their progress.
The school built an on/off-road cycle route around the school, designed by the pupils.
During every break time, you see bikes, scooters and balance bikes with pupils of all ages hurtling down the tarmac slope towards the main entrance.
The Active Journeys Crew, a group of keen and mechanically talented pupils, service the school's fleet of balance bikes and are equipped and trained to look after the scooters and bikes.
They love their role so much, they have stripped a few bikes down so that they can spend extra time fixing them.


Working with the Local Authority 
Pupils have also fed into a safer routes exercise, looking at potential routes from the school to the Penyrheol cycle link, after Swansea County Council asked for opinions.
This has had enthusiastic support from local Councillors and is developing nicely into a multi-partnership project.
Penyrheol Primary came 30th in Wales in the Sustrans Big Pedal, with 50% of pupils travelling actively.
Head Teacher, Alison, was disappointed. So next year she is determined to win in Wales.
And with the school community's determination, I believe they just might!
The school is powering towards a Silver Active Travel School Award.
The awards are given to schools that have worked to bring about organisational, cultural and behavioural changes which help the school community choose to travel in more active and sustainable ways.


Building confidence and enthusiasm 
It's been great to deliver the Active Journeys Programme to the school.
I've especially enjoyed promoting the opportunities for young people, teachers, parents and governors to develop the confidence, enthusiasm and skills to travel actively to school.
By involving staff and pupils in planning and delivery, it empowers schools to be independent and generate positive changes in travel behaviour for the whole school community.