Ysgol Bryn Deva in Flintshire is one of many schools in Wales that has hugely increased the number of families travelling to school by foot, bike or scooter. We're working with them as part of our Active Journeys Programme, which aims to make an active school run easier for families.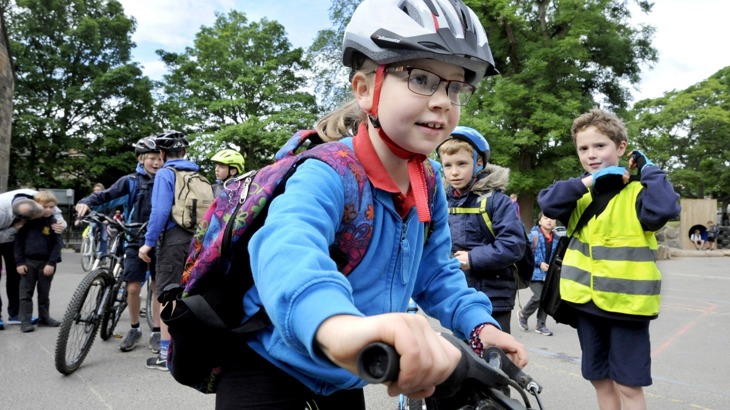 Our Active Journeys Programme works with schools across Wales to create a culture that makes it easier for children to walk, scoot or cycle.
We're helping children across the country to safely, easily and confidently travel to school by foot, bike and scooter.
Active travel isn't just important for the fight against climate change and reducing air pollution. It's also great for our physical health and wellbeing.

Embracing active travel
Ysgol Bryn Deva has embraced the Active Journeys Programme by taking part in a host of activities and working to achieve their Bronze Active Travel School Award.
The award is given to schools that have worked to bring about organisational, cultural and behavioural changes which help the school community choose to travel in more active and sustainable ways.


Opportunities for pupils
Pupils were given opportunities to:
comment on safe routes to school
learn how to check whether their bikes and scooters were in good condition
and have their equipment looked at and repaired by local Sustrans volunteers.
The school came fourth in Wales during Sustrans' Big Pedal 2019 challenge, with over 76% of pupils travelling actively to school.
The school community also embraced the challenge with 75% of journeys by staff, parents and guardians being active.
To follow the success of the Big Pedal, the school took part in Walk to School Week and again saw impressive numbers of children travelling actively.


Weekly active travel activities
The school also introduced Scooter Fridays, where every Friday, pupils bring their scooters to school and have half an hour during lunchtime to ride around the one-way course.
This proved very popular with more pupils joining each week.
The school also borrowed balance bikes from Flintshire County Council and Welsh Cycling for a day of skills practice.
Staff observed the sessions delivered by Sustrans School Officer, Gwen Thomas and Welsh Cycling's Go Ride Officer, Tim Matthews.
Being part of the Active Journeys Programme has had so many positive effects on our school. As well as being great fun we have had so much support. The programme has developed the children's skills and confidence and encouraged greater road awareness. It has also had a positive impact on their wellbeing as well as helping to develop an awareness of the environmental benefits of active travel.
The whole school community have been a part of the Active Journeys programme.
Accomplishments and milestones have been shared through letters, the school website and Twitter, ensuring that the whole school community moves together towards a more sustainable and healthy school journey.