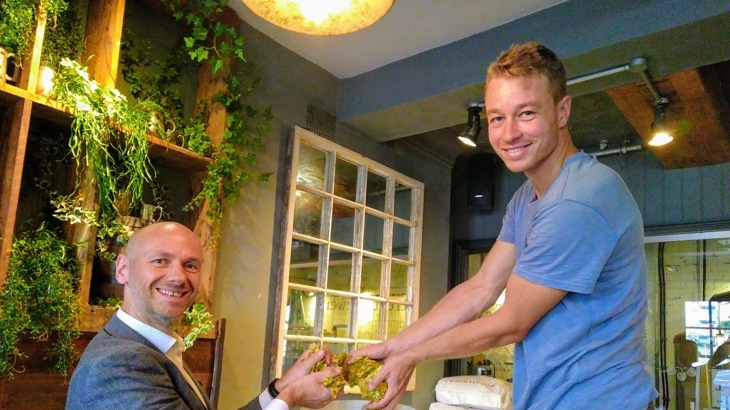 James Cleeton, England Director South (left), got stuck into the process of brewing.
Last week, James Cleeton, England Director South, got stuck into the process of brewing, weighing out the ingredients and mixing the mash, which will later become a delicious beer to enjoy at the end of a day out on one of the most popular traffic-free routes in the country.
The Bristol and Bath Railway Path was Sustrans' first major infrastructure project. It has since become an iconic and highly valued route, which inspired the development of the National Cycle Network.
The path links communities across the West of England and enables thousands of people to commute and do the school run by bike or on foot every day, as well as being a popular location for leisure rides and walks. It's maintained by dedicated volunteers, who keep the path in the best condition possible.
James Cleeton said: "The Bristol and Bath Railway Path is a true community asset, loved by so many people.
"Its development came about through grassroots action, and we're dedicated to working with the community to maintain and enhance this green and biodiverse corridor for the benefit of current users and future generations.
"The £1.1 million Department for Transport funding we announced last week will enable us to do this.
"Developing this limited edition beer with The Bath Brew House is something fun we've been able to do to celebrate the path.
"I'm looking forward to sampling a pint when we launch it in October."
Talking about why The Bath Brew House wanted to develop a beer to celebrate the path, head brewer Max Cadman said: "I regularly use the Bristol and Bath Railway Path to commute from Bristol to Bath and am really grateful for having such an enjoyable way to get to work.
"It's also a popular tourist attraction and we see many people in the pub who have been out enjoying the path for leisure.
"One day I was riding along the path and it struck me that I could help celebrate and promote the path to others by creating a beer in its honour.
"The 40th-anniversary celebrations were just the excuse we needed to get the process started."
The pale ale will be available to purchase from the Bath Brew House from Saturday 5 October and 20p per pint sold will go to support the Bristol and Bath Railway Path.