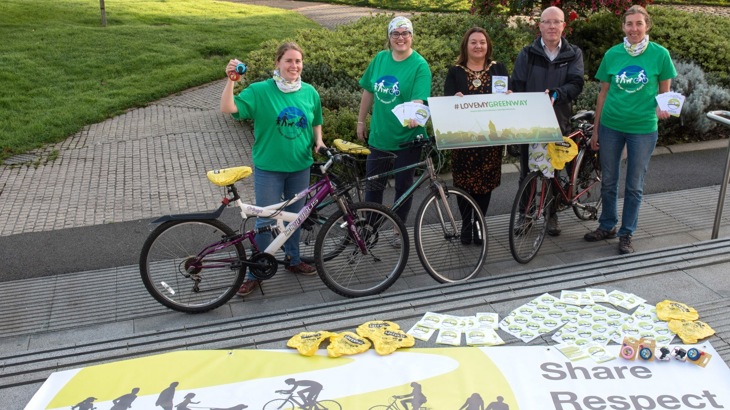 Members of the public gathered in Derry-Londonderry on Thursday 19 September to learn more about how to get the most out of local greenways and paths.
Derry City and Strabane District Council have teamed up with Sustrans to launch their One Path initiative, which encourages users to share these spaces.
The campaign gives practical guidance on path etiquette, and the information session shed light on the core values of sharing, respecting and enjoying the spaces together.
With walkers, runners, cyclists and dog walkers amongst just some of those who regularly take advantage of the paths and greenways available, One Path encourages everyone to show courtesy - from travelling at a suitable pace, to watching out for others who may not be aware of you, to ensuring that your dog is kept under control.
Mayor of Derry City and Strabane District Council, Michaela Boyle, said that following the guidelines will help make everyone's experiences of the north-west's greenways and paths an enjoyable one.
"We are spoilt for choice in Derry and Strabane when it comes to cycle paths, beautiful walkways and running routes and it was fantastic to see so many people coming out on Thursday morning to discuss how to get the best out of them," she said.
Respecting everyone's journey on these spaces is very important and makes the entire experience more enjoyable for everyone.
"This campaign has some really practical tips, like ringing your bell if you are out cycling to alert other path users to your presence, and thanking people who move aside to share the path.
"These are simple acts of courtesy that we sometimes take for granted, but they can make a huge difference."
Emma Hagger from Sustrans agreed that it is vitally important that people respect the shared areas, as not doing so can have an impact on all other users.
"Shared paths and greenways are really popular and lots of people use them in different ways, especially with our expanding network that includes 80km of traffic-free routes. These public spaces serve groups with different needs at the same time.
"We spoke to around 200 users of the cities' shared paths and it was clear that everyone thought the paths were a fantastic addition to our District," she said.
"However, we did also hear from users about issues such as people not lifting dog mess, groups spread out across the path and not moving aside, dogs on extendable leads causing concern and cyclists not giving sufficient warning of approach.
"We hope this guidance will help all users have a great experience, whether you're walking the dog, out for a bike ride, on a leisurely stroll or commuting to work."