There are many misconceptions about investment in walking and cycling. New research by Sustrans uncovers the truth behind some common myths, by examining the mounting body of evidence showing the many health, environmental and economic benefits of walking and cycling.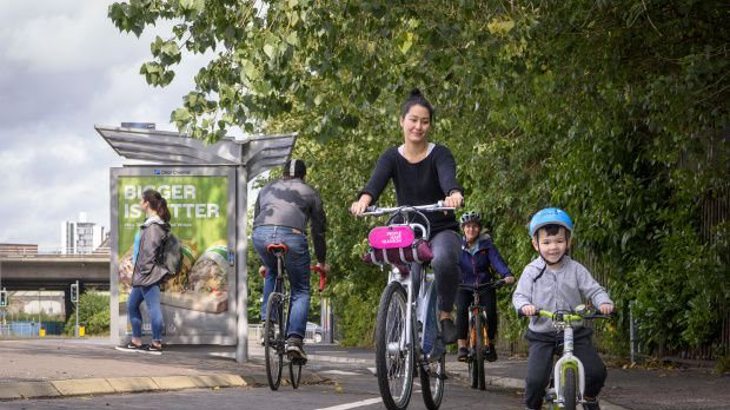 Public or political opposition can act as a barrier to changing the environment and creating spaces that help people to walk and cycle. 
The opposition is often caused by misconceptions about the consequences of reallocating road space or how to get the most economic benefit from transport spending.
One way to address these misconceptions and help make decisions is to look at the evidence.
Our Research and Monitoring Unit carried out a study to identify evidence around the common myths about investment in cycling and walking. 
Myth 1: There is no public support for investment in cycling infrastructure or giving more road space to cycles.
Bike Life, the UK's biggest assessment of cycling in cities, found that 75% of city residents want to see more money spent on cycling.
Furthermore, 78% of residents in those cities support building more protected roadside cycle lanes - even when this could mean less space for other traffic.
No study was found showing that the public does not support investment in cycling infrastructure.
Truth 1: The public support investment in cycling infrastructure.
Myth 2: Road space reallocation to bicycles will bring the city to a grinding halt.
In reality, this is rare.
Evidence shows that reallocating road space for cycling and walking can help to ease road congestion.
Cars are the least space-efficient way of moving people and goods around - a three-metre wide lane can move 700 to 1,100 people per hour in cars, whereas for bicycles and walking this increases from 2,000 to 6,500.
There are also multiple city case studies, such as the construction of Cycle Superhighways in London, which show that changing car space to bicycle space does not adversely affect car travel times.
Truth 2: Giving more road space to bicycles and pedestrians does not make traffic worse.
Myth 3: Removing car parking spaces will harm the local economy.
Studies found that retailers consistently overestimate the number of customers that travel by car (by almost double) and that parking was not found to have a clear impact on retail vitality.
Interestingly, evidence suggests that removing car parking spaces could actually be good for business.
Per square metre, cycle parking delivers five-times higher retail spend than the same area of car parking. Many studies also show that those travelling sustainably spend more at the shops per month than those travelling by car.
Similarly, evidence from case studies across the UK shows that removing traffic from retail streets through pedestrianisation has a positive effect on retail vitality (turnover and shop occupancy rates).
Truth 3: Removing car parking to provide cycle parking and pedestrianisation makes places more attractive, which can have a positive impact on trade. 
Myth 4: Our streets are too narrow to accommodate cycle lanes.
In reality, most streets can accommodate high-quality cycling infrastructure by removing car parking or changing the way motorised traffic moves through the space available (e.g. making streets one way or reducing traffic speed and volume).
There is extensive design guidance on how to provide good-quality cycling infrastructure in a range of urban environments.   
Truth 4: There are ways to improve the experience of cycling on any street through traffic calming or road space reallocation.
Myth 5: Cycling is not safe.
Our Bike Life survey found that 77% of people think cycling safety needs to be improved in their city.
But, cycling is a relatively safe activity - in fact, countries with higher levels of cycling have lower casualty rates.
In Denmark, where nine out of 10 people own a bicycle, the cyclist fatality rate is half that of Great Britain.
The safety of cycling is therefore determined by the conditions in which people have to cycle, not the activity itself. This is a strong argument for investing in high-quality cycling infrastructure.
In addition, between 2000 and 2012, 470 miles of bicycle routes were added to the streets of New York.
The city experienced a 72% fall in the risk of serious injury experienced by cyclists in New York, despite a three-fold rise in the number of bike trips. (NYCDOT, 2013).
Truth 5:  High-quality cycling infrastructure is vital to reduce road dangers for people cycling, and improve the perception of safety.
Myth 6: It's better for the economy to build roads than routes and paths for walking and cycling.
The economic growth argument is often used to support road building, but the evidence suggests that walking and cycling schemes make more economic sense.
It costs around £50 million per kilometre to build the average road, compared to just £1.3 million per kilometre for a high specification cycle path.
Cycling and walking schemes also offer better value for money than road building. For every £1 spent on building roads, the economic benefits are £3 to £5. For every £1 spent on walking and cycling schemes, the economic benefits are £4 to £19.
Truth 6: Cycling and walking schemes offer better value for money than building roads.