An estimated 34,000 incidences of eight life-threatening conditions, including Type 2 diabetes, stroke, breast cancer and depression, would be prevented in seven major cities between 2017 and 2040, if cycling increased at rates like those seen since the millennium in London.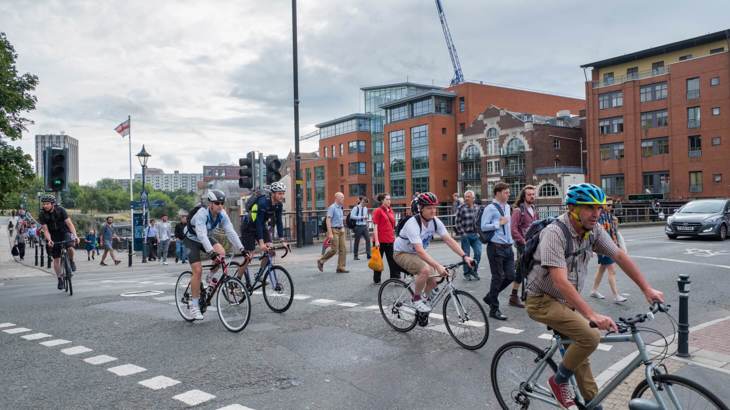 The UK Government's Cycling and Walking Investment Strategy seeks to double cycling in England by 2025
Sustrans has published a first of its kind report which looks at what the health, economic and environmental benefits of cycling could look like by 2040 in seven UK cities: Belfast, Birmingham, Bristol, Cardiff, Edinburgh, Greater Manchester and Newcastle.
"Transforming Cities: The potential of everyday cycling" is based on data from Bike Life, the largest assessment of cycling in UK cities, and highlights the impact of doubling cycling trips every eight years between 2017 and 2040. The modelling follows the UK Government's Cycling and Walking Investment Strategy which seeks to double cycling in England by 2025.
It has estimated that more than one billion cycling trips would take place in 2040 in those major cities, which is an eight-fold increase from 123 million trips. This would:
Equate to over 242.4 million hours of additional physical activity.
Prevent 628 early deaths.
Generate £21 billion of savings to the economy, including 319 million of savings to the NHS over the 23-year period.
England's Chief Medical Officer and the UK Government recommend adults get 150 minutes of physical activity each week. However, in 2015 34% of men and 42% of women reported that they did not meet UK guidelines on physical activity.
Physical inactivity currently costs the NHS around £1bn each year, and when including costs to wider society, this rises to around £7.4bn each year.
A new report from the World Health Organisation states non-communicable diseases (NCDs): cardiovascular disease, diabetes and cancer are one of the key global health threats and recommends governments meet physical activity targets to tackle the growing epidemic of NCDs.
In the UK, the National Institute of Health and Care Excellence (NICE) issued a proposal earlier this month, which recommends city planners should develop connected travel routes which prioritise pedestrians and people on bikes.
Sustrans warns that the substantial health benefits from increased cycling are only possible if long term political commitment and investment across government exist.
Currently, the Government's ring-fenced cycling and walking investment in England, outside of London, is on a steep downward trajectory: from £2.16 per person in 2016/7, to just 37p in 2020/1. Whilst, some devolved authorities are able to invest additional funding, the majority need greater financial certainty from the Government through ring-fenced funding to be able to invest and plan for active travel in the long-term.
Sustrans, along with other walking and cycling organisations, wants the UK Government to commit 5% of the transport budget on active travel, rising to 10% by 2025 in the next Comprehensive Spending Review. This would amount to £17 per person annually in 2020/21, rising to £34 per person in 2024/5 in England. Similar commitments should then be made in the devolved nations and would help cities to invest.
Recommendations
The report outlines a set of five must-haves for local government to help increase, and therefore normalise, cycling for local journeys, including:
Political commitment alongside ambitious plans and long-term investment.
Delivery of a high-quality cycling network: including on-road cycle tracks separated from motor traffic, off-road paths, and local routes on low-trafficked and low-speed streets.
Neighbourhoods are designed in a way that prioritises people walking and cycling, including traffic restraints measures.
People and businesses are supported to change travel behaviours.
Cycling is fully integrated with public transport, homes and work.
Xavier Brice, Chief Executive at Sustrans said:
"Our report provides 34,000 reasons why governments across the UK should prioritise investment in cycling. Every part of the country is facing a physical inactivity and obesity crisis, which is why decision-makers need to get on the front foot and tackle these problems head-on.
Prevention is better than cure is an often repeated mantra of health ministers across the UK, but tackling the deepening health crisis shouldn't be left to the NHS alone. That's why the forthcoming Comprehensive Spending Review should prioritise prevention and provide greater public funding for cycling to deliver our five 'must haves'
John Lauder, National Director at Sustrans Scotland said:
"We call on communities in Edinburgh, and right across Scotland to embrace every day walking and cycling as a cheap and easy way to get regular physical activity.
"We also call on local government and national government to prioritise prevention and protect spending on active travel."
Andy Burnham, Mayor of Greater Manchester, said:
"Cycling in Greater Manchester, like in many UK cities and regions is increasing, although not at a pace we'd like to see. We have a long way to go before we can call cycling a 'normal' way to travel, which is accessible to all our residents.
"This is why we are investing £160m in walking and cycling. We cannot think of a better way to spend £160m on transport that brings such widespread benefits to residents across our region. This investment, however, is just the start. We want to double cycling and then double it again. We were made to move and now is the time to act on this and transform our great city region."
Marvin Rees, Mayor of Bristol City Council said:
"Bristol demonstrated it is possible for a city to double cycling in ten years, and we are committed to continuing this momentum to ensure we meet future goals, not least improving air quality and meeting our carbon neutral targets.
"Our draft Transport Strategy presents a vision for Bristol to be a well-connected city that enables people to move around efficiently with increased transport options that are accessible and inclusive to everyone. Making space and improving safety for walking, cycling and public transport will enable us to meet this goal."