Southampton, Greater Cambridge, Liverpool City Region and the London Borough of Tower Hamlets have joined Bike Life – a partnership project run by the walking and cycling charity Sustrans – which is designed to help UK cities normalise cycling.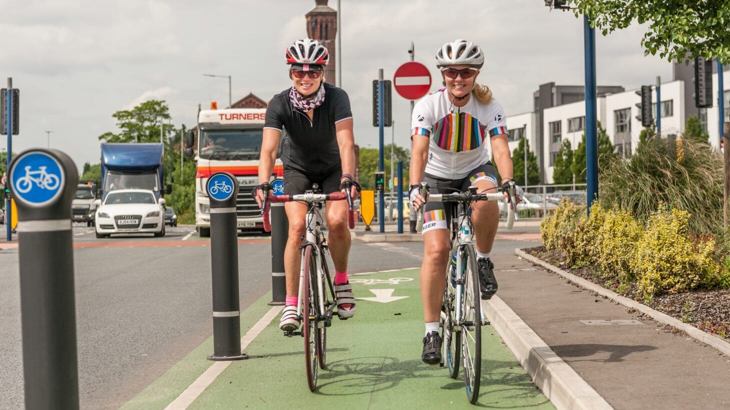 New cities join Bike Life, the UK's biggest assessment of cycling in cities
Additionally, Bike Life in Birmingham, which launched in 2014, will expand to cover the West Midlands.
The local authorities in each region and city will be working with Sustrans to produce reports capturing data on infrastructure, travel habits, public attitudes and the impact of cycling, due to be published in 2020 and 2022.
The Scottish Government has taken the lead in funding Bike Life in Scottish cities outside Edinburgh. Sustrans Scotland will work with Glasgow, Perth and Stirling to deliver respective Bike Life reports, due out in November 2018. 
In total 14 cities and regions are due to participate in the project between 2018 and 2022. Collectively they cover almost 14 million people or 20% of the entire UK population.
Bike Life was founded in 2014 in seven major UK cities to help local authorities build the case for cycling and inform planning at a local level whilst shaping the political and funding landscape for active travel across the UK.
Bike Life has been used to develop cycling strategies, justify investment and delivery of schemes, support air quality plans, and demonstrate the benefits of cycling in cities for residents. Most recently the Greater Manchester Combined Authority used evidence from Bike Life to demonstrate public support for a bold new strategy for cycling. This has already paved the way for an investment of £160m for active travel.
Xavier Brice, Sustrans' CEO, said: "Bike Life has demonstrated how it is an important tool to help encourage both political support and practical delivery of cycling in our cities. We are excited to be rolling this out to new cities across the UK.
"Delivering better infrastructure for cycling is key to keeping our cities moving, and improving health and economic vitality. It is fantastic to see local authorities have the appetite for change.
"Bike Life shows that people in cities across the UK understand the benefits of cycling and want better provision, including protected space. We need both national and local governments to rise to this challenge and make our cities more active and liveable".
Cllr Jacqui Rayment, Cabinet Member for Environment & Transport, Southampton City Council, said:
"In Southampton, we are passionate about the health and wellbeing benefits cycling offers our residents. In addition, cycling also has a really positive impact on the quality of air in our city. As successful bidders for funding that supports and encourages active travel, we think Bike Life can help further develop the economic case for additional funding in Southampton."
Councillor Ian Bates, Cambridgeshire County Council's Chair of the Economy and Environment Committee and Greater Cambridge Partnership Board Member, said:
"I'm delighted that Greater Cambridge has been successful in joining the Sustrans Bike Life project.
"This means that much more data can be collected to gauge the progress that is being made in getting more people cycling more safely and more often across the area.
"Gathering more information will help build the case for further investment in walking and cycling, which is so important in helping to tackle traffic congestion, improve air quality and produce a network which allows a broader spread of people to feel safe and confident cycling".
We are delighted to be the first London borough to work with Bike Life to build the case for additional cycling strategies and innovative alternatives to car use. Reducing air pollution and developing active travel options are key priorities in Tower Hamlets. The data we collate will pave the way for new investment in greener transport solutions across the borough.
Steve Rotheram Metro Mayor of the Liverpool City Region, said:
"As Metro Mayor of the Liverpool City Region, I have pledged that we will promote and champion sustainable transport. Cycling is a healthy form of transport and we are working in partnership to make it more attractive and accessible to encourage more people to take it up. We are delighted to be part of the national BikeLife programme and look forward to working alongside the other participant areas to make the most of this great opportunity."
Bike Life mirrors the Copenhagen Bicycle Account which outlines the development in cycling, identifies challenges and informs planning.
The Danish capital of Copenhagen is the most bicycle-friendly city in the world. The Government has invested over £35 per head each year on cycling and a network of segregated cycle routes on almost all main roads and bridges across the city since 2004. In 2016, 41% of trips to work and education in the city were made by bike and 76% of Copenhagener's feel secure when cycling (Copenhagen Bike Account, 2016. Copenhagen City of Cyclists).
Currently, there's a huge variation in active travel spending across the UK and many cities are facing a significant fall in funding.
The expansion of Bike Life in England is funded by the Freshfield Foundation and the cities and regions themselves. For more information and respective city Bike Life reports visit www.sustrans.org.uk/bikelife.