Wondering where to find the best patches for pumpkin picking near you? Take a trip on the National Cycle Network and discover these spots all across the UK for a great day out for families and people of all ages.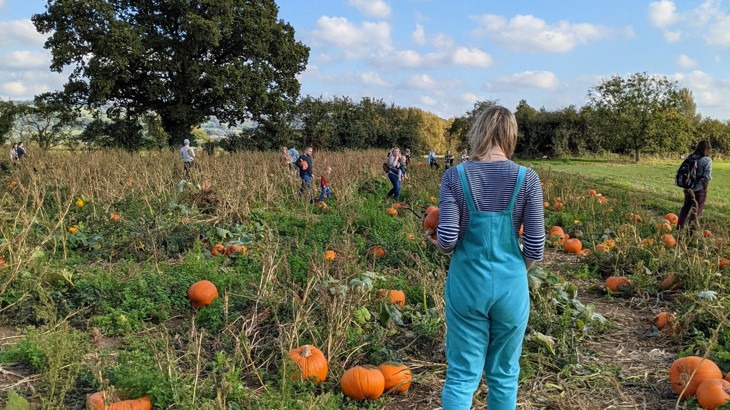 Pumpkin picking is a great day out for families, friends and couples alike. Photo: Thomas Hughes
Wales
Manorafon Farm Park, Conwy - Route 5
Take a short hop from National Route 5 into Abergele and you'll find Manorafon Farm Park.
This visitor attraction has fun for all the family, with a pets corner, a play barn, and of course a pumpkin patch ready for picking.
There's a carving tent where you can get to work straight away on your creation, as well as a huge selection of other gourds and squashes in their pumpkin market.
Route 5 is a long-distance route starting in Reading and travelling across the north coast of Wales.
From Manorafon, you can walk, wheel or cycle west along Rhos-on-Sea to Pensarn or back east via Pensarn to Prestatyn.
Windsor Farm Pumpkin Patch, Pembrokeshire - Route 4
Explore local produce at Windsor Farm and say hello to the animals while you find your perfect pumpkin.
Everything is stored under cover, so there's no chance of rain spoiling the fun.
This family-run farm can be found just off National Route 4 on Pembrokeshire's south coast.
It's just a short trip east on the path from the historic town of Pembroke.
Travel north of Pembroke and you'll find yourself on the Brunel Trail.
This car-free route follows the picturesque Cleddau Estuary and is a perfect walking, wheeling and cycling route for children.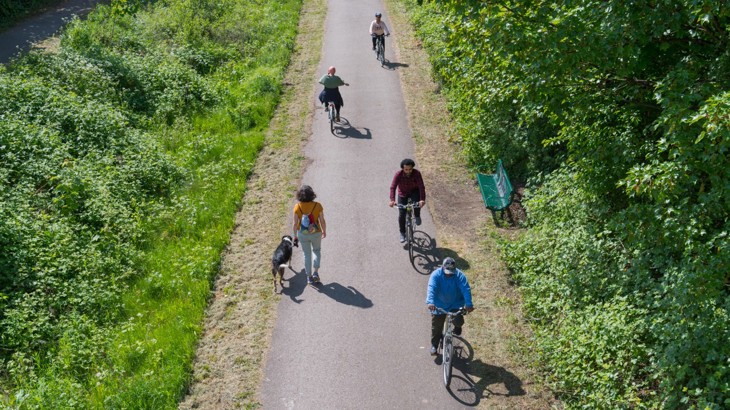 The Brampton Valley Way is part of the long-distance Route 6, which connects London with the Lake District. Photo: Livia Lazar
England
With over 40 varieties of pumpkins available, the pumpkin festival at Farndon Fields is a must-visit.
Wander your way through 30 acres of pumpkins and pick your favourites, then explore the extensive selection of produce at the farm shop.
The pumpkin festival at Farndon Fields is on the outskirts of Market Harborough, a quick cycle from the Brampton Valley Way.
This peaceful route is traffic-free and follows an old railway path through 16 miles of beautiful countryside to Northampton.
Crockford Bridge Farm offers pick-your-own seasonal fruit and vegetables, with outdoor-grown pumpkins available throughout October.
You can also choose a pre-harvested pumpkin from their pumpkin market and enjoy circus performances as part of their festival.
The farm can be reached from National Route 4 via a quiet off-road path that runs alongside the River Wey.
The route includes the West London Thames ride, a mostly traffic-free path taking you from Kingston through the grounds of Hampton Court and on to Staines.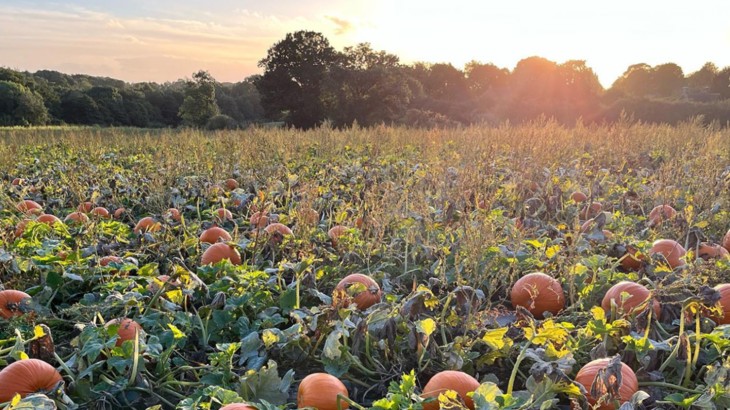 The fields to pick from at Mr Pumpkin are only a short journey outside the city of Derby. Photo: Mr Pumpkin
Mr Pumpkin, Lime Farm, Derbyshire - Route 672
Mr Pumpkin is set on a fourth-generation arable farm just a short trip away from Derby city centre.
With a pumpkin trail to follow and fields upon fields to pick from, it's a wonderful day out for the family - just make sure to bring your wellies.
You can reach the farm from National Route 672, also known as the Great Northern Greenway.
This path has an all-weather surface, making it accessible all year round for walking, wheeling, cycling and horse riding.
Dunham Pumpkins, Greater Manchester - Route 62
Grab your wheelbarrow and get picking at Dunham Pumpkins.
Set in the quiet countryside of Dunham Massey, it's easily accessible from National Route 62.
This green and car-free path connects Trafford with Warrington to the west.
Along with a pick-your-own patch, you'll find a wagon train ride and a pumpkin hunt trail to explore art Dunham Pumpkins.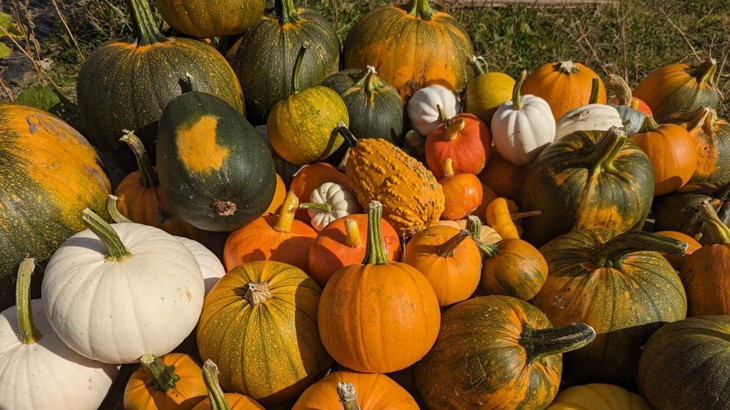 At Udny Pumpkins, you'll find pumpkins of every size and colour. Photo: Udny Pumpkins
Scotland
Udny Pumpkins, Aberdeenshire - Route 1
Also on National Route 1 is Udny Pumpkins, north east Scotland's original pumpkin patch.
It's set across five acres, where they grow pumpkins of every size and colour.
There you'll find friendly animals, autumnal craft stalls, and lots of photo opportunities.
Udny Pumpkins can be reached from the National Cycle Network via a quiet lane through the Aberdeenshire countryside.
A true family enterprise, Craigies Farm grows soft fruit and vegetables and has been going for four generations.
They operate a pick-your-own option throughout much of the year, with a helpful calendar of what's available.
Come along during October to find your favourite pumpkin, but make sure to book an entry voucher ahead of time for this popular spot.
You'll find the farm just off National Cycle Network Route 1, part of the Coast and Castles North route in Queensferry.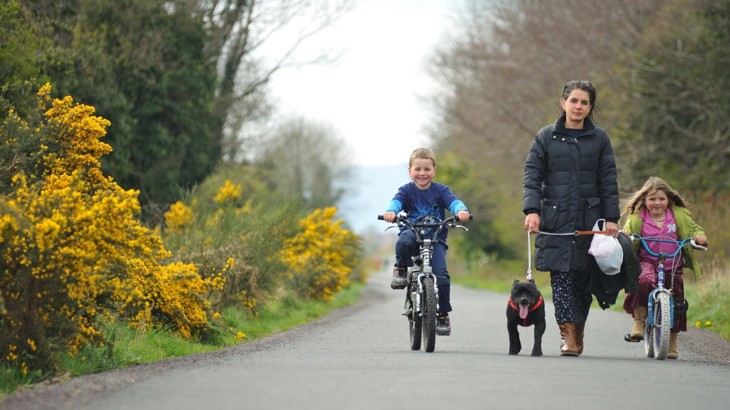 The Comber Greenway takes you out of Belfast and through seven miles of serene countryside. Photo: Sustrans