Whether you're returning to cycling, trying it for the first time, or without your own cycle, hiring can be a great solution for making journeys on the National Cycle Network. Explore this collection of UK-wide hire shops to find a bike rental near you.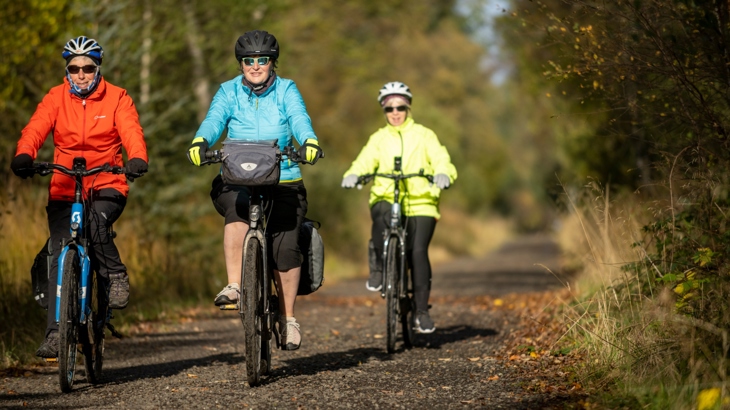 The Lochs and Glens Way, National Cycle Network Route 7, Perthshire, Scotland. Credit: Andy McCandlish/Sustrans
The Deeside Way, with its stunning views of the Cairngorms, follows traffic-free paths and quiet-roads along the former Deeside Railway line between Aberdeen and the Victorian village of Ballater.  
Skyline Cycles is situated in Cults, just one street away from the Deeside Way.
Here you can hire adult hardtail mountain bikes, which will enable the option to also explore the vast forest paths of Kirkhill.
The Caledonia Way from Oban to Fort William offers beautiful coastal landscapes and woodland track options.
Situated near the new Bosch charging tower in Oban, Oban Cycles hire a variety of bikes for single or multi-day trips.
Chose from touring, mountain and e-bikes to explore the stunning Scottish scenery.
The Lochs and Glens Way is a beautiful 214-mile route between Inverness and Glasgow through two National Parks, ideal for long-distance touring and bikepacking.
Wheels Cycling Centre is located beside National Route 7, at the east end of Loch Venachar, so you can enjoy a spectacular ride as soon as you pick up your bike.
Rental cycles include mountain, hybrid and e-bikes, along with tandems, children's bikes and tag-alongs.
Tracing the south banks of the Forth Estuary, National Route 76 travels past the Dalmeny estate, Blackness castle and the imposing Forth bridges.  
Belhaven Bikes is situated in the centre of Dunbar, near National Route 76, which links up with the 134-mile long route, John Muir Way.
Belhaven Bikes offer mountain, children's and e-bikes for rental, with packages including a pannier, pump, spare tube, selection of tools and range of maps.
Glasgow boasts a number of cycling routes, perfect for exploring the city centre and its attractive parks.
Alternatively, cycle further afield on National Route 7 to Bowling, Dunbartonshire, to see the newly built Bowline, a railway viaduct repurposed as a path and linear park.
Gear Bikes can be found next to Kelvingrove Park, not far from National Route 756.
They hire out a range of fully equipped hybrid bikes, along with the option to add Ortlieb pannier bags.
Hadrian's Cycleway is a 170-mile route with magnificent coastal and countryside views, alongside Roman forts, museums and of course, Hadrian's Wall.
The Cycle Hub is located beside the route, on the quayside to the east of Newcastle-upon-Tyne city centre.
They hire out an excellent selection of bikes and children's cycling kit, plus a range of adaptive bikes, from four-wheeled tandems to hand cranked tricycles.
The 24-mile Consett & Sunderland Railway Path has plenty to see along the route, including giant robot sculptures 'The Transformers' and Beamish open-air museum.
Darke Cycles are located at the eastern end of the railway path in Sunderland town centre.
They hire out hybrid and tandem bikes, perfect for enjoying this impressive linear route.
Whether you travel north or south from the western side of York city centre on National Route 65, you'll find long stretches of traffic-free cycling through open countryside.
Get Cycling is located near to where National Routes 65 and 66 meet, offering yet more route options to the east of the city.
A community interest company, they hire out a range of cycles for all ages, and are specialists in adaptive cycles.
Fallowfield Loop is a 5.4-mile former railway line greenway, linking urban parks and greenspaces.
From Manchester Bike's store near Salford Central railway station, head south on National Route 6 to join the Fallowfield Loop.
Manchester Bike hire out city bikes, cargos, tandems and e-bikes, along with trailers and children's seats.
National Route 62 forms part of the long-distance Trans Pennine Trail route, but from Southport it's possible to take shorter traffic-free rides with coastal views.
Southport Cycle Hire can be found on the esplanade, beside National Route 62, hiring adult and children's bikes, plus trailers and tag-alongs.
They also provide mapping for a range of themed local cycling routes ideal for children and those who are less experienced at cycling.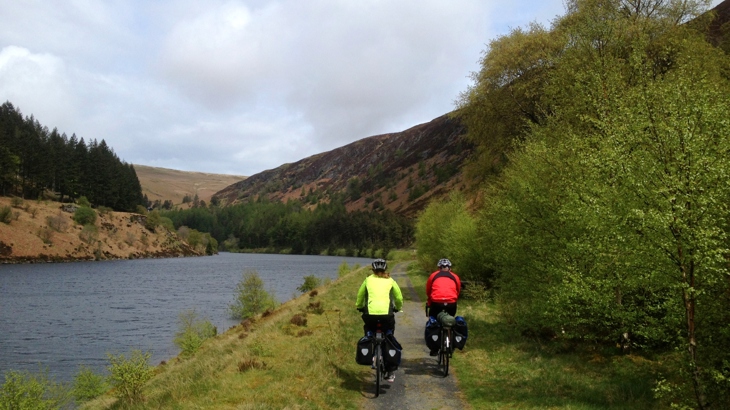 Elan Valley Trail, National Cycle Network Route 8/81, Powys, Wales. Credit: Sam Howard
The 9.4-mile Monsal Trail follows the route of the Wye river, in the beautiful Derbyshire Peak District.
Blackwell Mill Cycle Hire can be found near the start of the northern end of the trail.
They hire out adults, children's and e-bikes, plus tag-alongs, trailers and baby seats.
The 16-mile High Peak Trail offers dramatic views of the stunning Derbyshire Dales between Middleton Top and Parsley Hay.
At the southern end of the route, Middleton Top Cycle Hire offer a range of bicycles, including electric, children's and tag-alongs.
Make sure you check their opening times, as they are seasonal.
From the Doddington Hall estate, you're well placed to explore long stretches of traffic-free greenways on both National Route 647 to the west, and Routes 64 and 1 to the east.
Giant Lincoln at Doddington Hall, rent out adult mountain and hybrid bikes, as well as tandems, children's and a range of different e-bikes.
There's also an onsite Giant shop and café, as well as the beautiful Doddington Hall estate facilities to explore.
The 5.3-mile Stratford Greenway follows a former railway line linking historic Stratford-upon-Avon with the village of Long Marston.
Stratford Bike Hire can be found at the northern end of the greenway, hiring a range of bikes, plus tandems, tricycles and an e-trike.
For an authentic local experience, why not hire one of their beautiful Pashley bikes, which are hand-built in Stratford-upon-Avon.
The 20-mile Peterborough Green Wheel uses a mixture of traffic-free paths, quiet roads and urban cycle lanes, which pass attractions such as Ferry Meadows Country Park and Peterborough Cathedral.
At Ferry Meadows, a range of premium brand cycles, including electric and tandems, can be hired from the Lakeside Activity Centre.
Cycles are provided by Rutland Cycles who have five other regional hire centres, perfect for exploring more of the National Cycle Network in the East Midlands.
This scenic 16.6-mile route from Caernarfon to Bryncir runs alongside the Welsh Highland Railway, offering wonderful views of Caernarfon Bay and Snowdonia.
Beics Antur is based in Caernarfon, offering a large selection of bikes, including a fleet of adaptive cycles.
Conveniently located close to Caernarfon Castle, there's easy access to the Lôn Las Eifion path and Y Foryd estuary, a quiet country lane route.
The Elan Valley Trail is an 8.9-mile linear route in the heart of Wales, with breathtaking views of the three Elan reservoirs.
A wide selection of bikes, including e-bikes and tandems, can be hired from the visitor centre, where you'll also find a café, shop and exhibition area.
Helmets, puncture repair kits, bike locks and a cycle map are included free of charge with cycle hire.
The 7.7-mile Brunel Trail is a popular traffic-free path linking Haverfordwest with Neyland, once the western terminus of Brunel's Great Western Railway.
Pembrokeshire Bike hire operates from Manorbier, near Neyland, but will deliver bikes across the county.
They offer a range of quality hybrid, road and e-bikes for single-day or long-term hire.
The Millennium Coastal Path is a tranquil 4.5-mile long green corridor that travels past stunning coastline and beautiful woodland.
Pembrey Country Park hire a range of cycles for use on their 500-acre park and the Millennium Coastal Path.
As well as bikes, an impressive range of adaptive cycles are available, including those which accommodate passengers.
The largely traffic-free, 6.9-mile Afan Valley route travels between Port Talbot and the gorgeous Afan Forest, a haven for wildlife.
Afan Valley Bike Shed hire out a selection of mountain bikes, suitable for the host of world-class mountain bike trails which lie beyond National Route 4.
If you're cycling with small children and sticking with the Afan Valley route, you can also hire tagalongs and infant seats.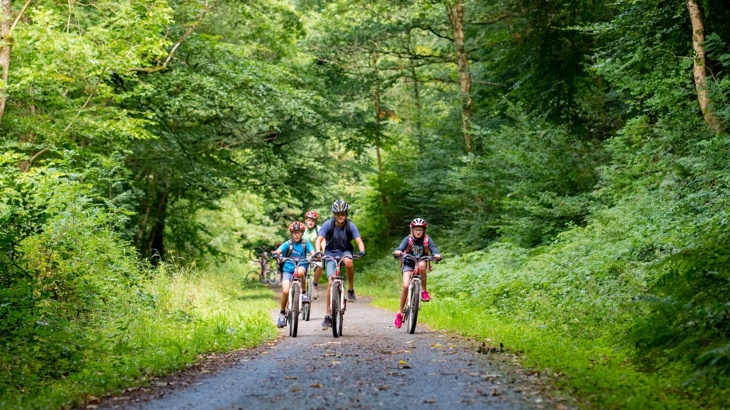 The Tarka Trail, National Cycle Network Route 3, Devon, England. Credit: J Bewley/photojB
The Camel Trail offers 12 miles of largely traffic-free cycling with spectacular views of moorland, woodland and estuary.
Camel Trail Cycle Hire is located approximately halfway along the trail, in the pretty former-wool-producing town of Wadebridge.
They offer a range of bikes including, hybrid, mountain, electric and children's, plus pet trailers, tagalongs and child seats.
At 30 miles, The Tarka Trail is one of the country's longest continuous traffic-free walking, wheeling and cycling paths.
Tarka Trail Cycle Hire are conveniently located beside Barnstaple railway station.
They offer a wide range of bikes alongside accessible cycles, including tandems, trikes and e-bikes, as well as trailers, tag-alongs and child seats.
The Strawberry Line offers 10.7 miles of mainly traffic-free cycling, past cider apple orchards, steep wooded valleys and the Cheddar reservoir.
Strawberry Line Cycles is a not-for-profit community hire service at Yatton railway station, at the northern end of the path.
Strawberry Line Cycles believe cycling is for everyone and so offer a range of traditional and adaptive bikes for hire.
This 82-mile route follows the historic Kennet and Avon Canal through spectacular scenery from Bath to Reading.
Towpath Trail Bike Hire can be found to the western side of the path in picturesque Bradford-on-Avon, Wiltshire.
Hire a standard or Bosch e-bike, with the option to add a trailer buggy. Hires come complete with bum bag, pump, lock and repair kit.
The Crab and Winkle Way is a charming 7.6-mile cycle ride between Canterbury and the harbour in Whitstable.
Kent Cycle Hire has hubs in both Canterbury and Whitstable, enabling collection and drop-off at either end of the Crab and Winkle Way.
To extended your journey, explore the Oyster Bay Trail between Whitstable and Reculver, and enjoy its panoramic coastal views.
Discover 17 brilliant beer gardens on the National Cycle Network.