Many reserves also run events for birdwatchers, so whether you're a novice or an expert, you'll be sure to have fun. 
Lochwinnoch is one of the last remaining wetlands left in west Scotland and the Lochwinnoch Loop Line takes you right to it. This wonderful place is perfect for families and there are two feeding stations on the reserve. Look out for whooper swans, wigeons and a wide variety of ducks during the winter months. In spring, you won't want to miss the elaborate displays of the great crested grebes.
The Exe Estuary Trail ride takes you on the western bank of the River Exe where you will find the Exe Estuary nature reserve. The reserve is made up of two marshes on opposite sides of the Exe river. One side of the estuary is Exminster Marshes and the other side is Bowling Green Marsh. In spring there are lapwings and redshanks to look out for and in winter there are thousands of waterbirds.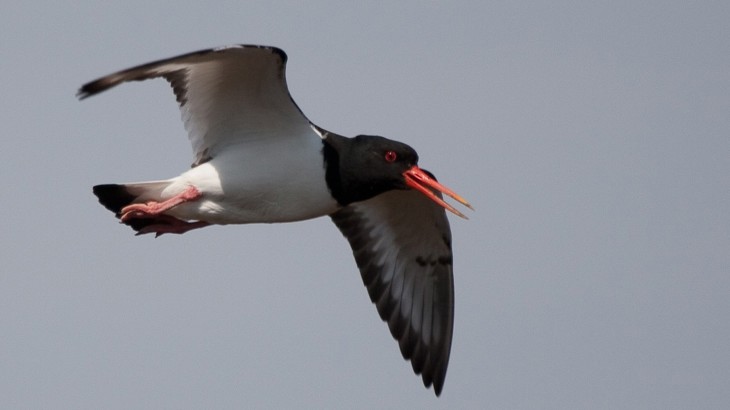 Oystercatcher snapped off Route 1 in Orkney
Snettisham, Hunstanton, Norfolk
The Cycle to the Wash route takes you from Kings Lynn out to the Snettisham Reserve where you just might be lucky enough to see tens of thousands of wading birds head to their feeding grounds as high tide water covers the mudflats of the Wash. At sunrise or sunset in winter there is the possibility of seeing thousands of pink-footed geese flying from their overnight roosts inland to feed. This route includes some road crossings - see the route page for details.
The Rainham Marshes route is flat and traffic-free, taking you around the marshes. Before 2000, the Rainham Marshes area was used as a military firing range, but since then the area has been transformed by the RSPB as a great place for nature and for people to visit. Now birds of prey and rare birds are regularly seen.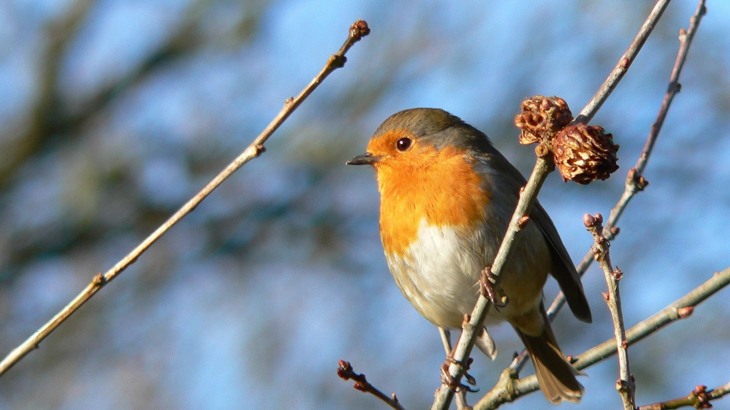 Robin spotted on National Route 256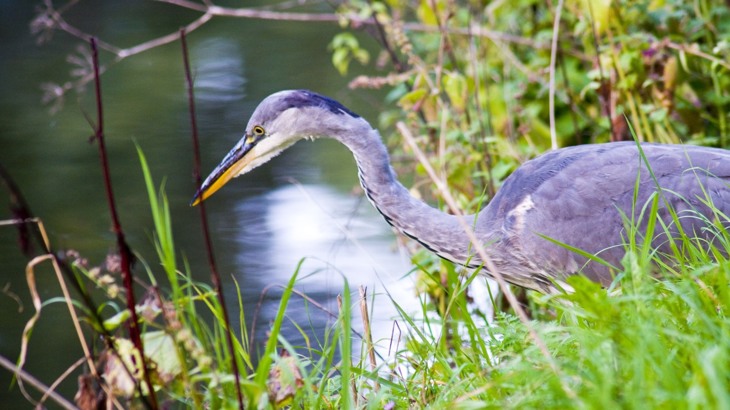 A heron near National Route 24
Langford Lowfields, nr. Newark-on-Trent, Nottinghamshire
National Route 64 runs along the reserve boundary and past the site entrance of Langford Lowfields. This reserve is still a working quarry, but the reserve trails at the north of the site have been opened for public access. It's a great place to watch starling murmurations in the winter.
Leighton Moss, Silverdale, Lancashire
A short detour off National Route 700 (part of the Bay Cycleway), via local country roads, takes you to the largest reedbed in north-west England, home to birds such as breeding bitterns, bearded tits and marsh harriers. Please note the Bay Cycleway has some sections on fast roads.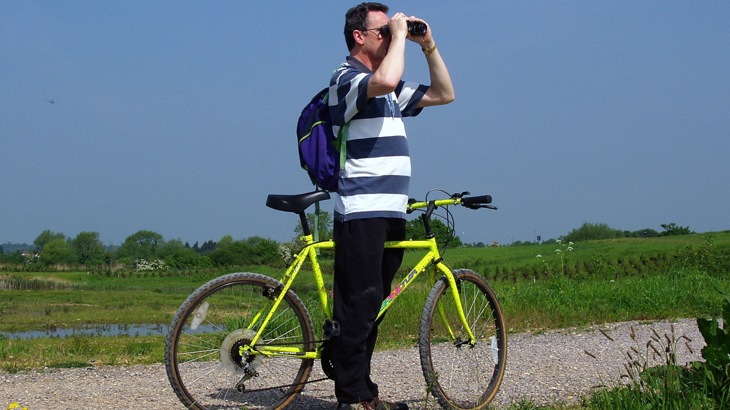 The route between Burgh by Sands and the Solway Coast takes you to Campfield Marsh reserve, which is made up of a mosaic of saltmarsh, peat bogs, farmland and wet grassland. What's more, it boasts 360-degree views of the Solway Plain.
National Cycle Route 42 travels through the Forest of Dean between Cinderford and Parkend, taking you past this great reserve which is a good place to spot British woodpeckers. There are two hides in woodland situations overlooking ponds.