Affordability, lack of awareness, poor infrastructure or facilities, difficulty in changing old habits, and a lack of skills or confidence are the main reasons why employees may not take on cycling to work. The following suggestions will help you address each of those barriers.
Building the case for an active commute
The benefits of being a cycle-friendly employer are well documented.
Simply put, a healthier workforce is a happier, more productive workforce.
Actively promoting healthier travel options in the workplace has been shown to reduce absenteeism by up to 20%. [1] 
And, a well-designed employee health promotion programme can increase employee job satisfaction between 10% and 25%. [2]
There are other benefits which are not immediately obvious. For example, helping to relieve traffic congestion, which 90% of businesses say is a problem. [3]
But, what do you do if your employees are reluctant to embrace active travel?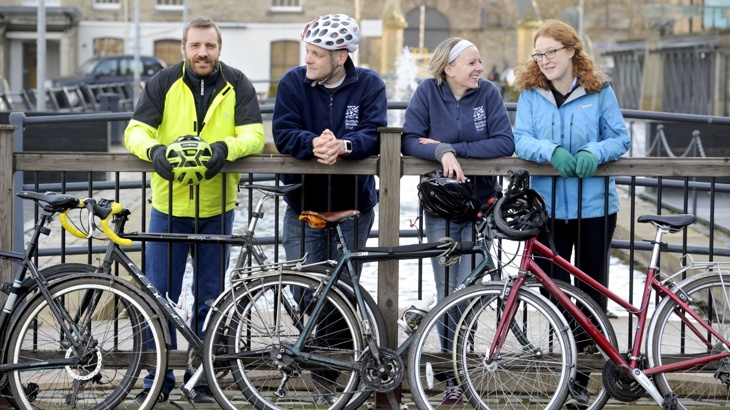 Why are some employees reluctant to cycle to work?
According to the Moment of Change Behavioural Insights Team's scoping study, for employees to take on cycling to work there are five objectives that must be met:
Affordability – Employees perceive cycling as good value for money and more economical than other transport options.
Awareness – Employees are aware of the benefits of cycling and familiar with the cycling initiatives and opportunities available to them.
Infrastructure and functionality – Individuals feel cycling is safe and have access to the equipment and infrastructure they need.
Habits and friction – Starting to cycle to work is not seen as overly effortful and it's easy to give it a try.
Skills and confidence – Employees feel they have the skills and confidence to try out cycling and to cycle regularly.
Let's go through each of these barriers and consider some suggestions to help employees embrace cycling to work.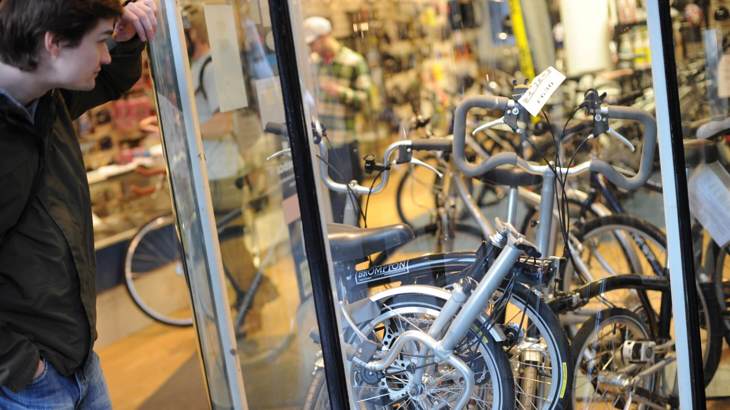 Affordability may be one of the reasons are not cycling to work.
Cycling to work: 5 ways to motivate employees
Every organisation is different, so what works for you depends on your workforce's challenges and circumstances.
1. Affordability – provide economic incentives:
Cycling to work instead of driving could save your employees over £3,000 every year. [4]
However, some employees may be discouraged or even excluded from cycling to work due to the initial expense compared to public transport.
Set up a Cycle to Work scheme. Your employees can benefit by purchasing cycles at a discount and reducing their National Insurance contributions, and you can as well.
Pay as you save loan scheme. Provide interest-free loans to employees who wish to buy a cycle, just as you would for public transport travel cards, to repay monthly at the cost of the forgone rail/bus/petrol mileage.
Run a cycling reward scheme to encourage cycle commuting, for example, extra annual leave, credits for an onsite café or bike gift vouchers.
Cut out the middleman. Buy good quality locks, lights and so on and sell on at trade prices. You could also buy refurbished cycles from charities or social enterprises and sell them at a discount price.
Offer short to medium-term bike loans to employees to allow them to try a cycling commute before investing in their own bike.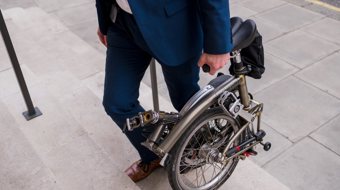 2. Awareness - make it easy with advice and information:
The key to raising awareness about the benefits of cycling is continuous engagement and communication.
Identify any issues that may prevent your staff from cycling to work by conducting a staff travel survey and a site audit.
Update your website and send regular updates about your active travel programme - what support is available, how it works and the benefits of cycling to work.
Include cycling to work awareness in the staff induction plan.
And don't forget to share your employees' success stories.
Provide content and resources that demonstrate you support cycling to work. You can create your own or use resources already available from cycling campaigns or organisations. 
Identify safe and convenient cycling routes to your office(s) and help your staff plan their trips. There are plenty of websites, apps and organisations that can help with the planning. Make sure inaccessible points are highlighted and consider multi-modal journeys for colleagues who live far from the office.
Run on-site cycling to work awareness events with information about the benefits and options available.
Empower staff who are experienced in cycling to become cycle champions by providing them with the support, training, resources and funding that enables them to promote cycling within the organisation. They can organise 'Dr Bike' or 'bike breakfasts' sessions and be the go-to people about bike maintenance issues.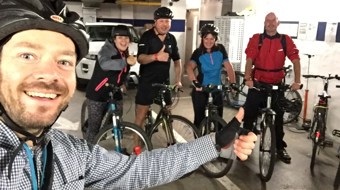 3. Infrastructure and functionality - improve your cycling infrastructure:
According to British Council for Offices research, 38% of those surveyed said that an increased provision and better quality facilities at the office would encourage them to cycle to work.
Improve what's already available. Providing suitable cycling facilities doesn't need to be expensive. Many workplaces already have some racks, shelves or lockers that just need to be repurposed for cycling. A well-aired room to dry wet clothes in is also necessary.
Provide safe and secure cycle storage. The bike storage facilities installed at your workplace can make all the difference too. Here are some of the ways you can improve your bike storage facilities.
Create a cycle facility hub. If you have limited space or are a small business you could join neighbouring workplaces and share cycling commuter facilities, like parking and showers.
Consider installing a bike repair station or an alternative set of tools and spares for fixing simple issues like punctures.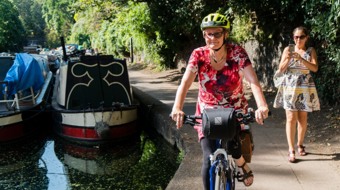 4. Habits and friction - get people involved and make it fun:
It takes time for new habits to settle in. It is likely that employees taking up a cycling commute will be tempted to return to their cars at some point.
Incentives and motivation are essential for changing employees' long-term commute habits.
Use gamification and competitiveness to encourage people to cycle to work. Enrol in Active Travel Challenges where staff compete with each other or other businesses to log the highest number of sustainable journeys to work and win prizes.
Discourage people from driving to work by making parking at work more difficult either by reducing the number of parking spaces and/or limiting which staff are allowed to park. You can also create parking rotas. Of course, you must ensure that staff with mobility issues (such as blue badge holders) are able to access the site in a way that works for them.
Be flexible. People who are new to commuting by bike are likely to encounter unforeseen challenges. Allow some flexibility with starting and finishing times to avoid peak traffic times and counteract possible delays.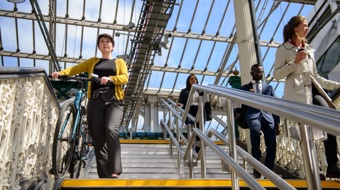 5. Skills and confidence
If your employees aren't confident in their abilities, no matter what infrastructure or incentives are available, they are unlikely to take up cycling to work.
There are a few things you can do to help them overcome their concerns.
Provide cycle confidence training. Local instructors or organisations like Bikeability can deliver bespoke training on a one-to-one or group basis.
Organise entry-level rides at lunchtime or after work for people new or returning to cycling. Through led rides and coaching, staff will be active and gain the confidence to ride independently in the future.
Add some basic information to your resources toolkit and run some cycle maintenance classes. Employees may be hesitant to take up cycling to work because they are concerned about maintaining and repairing their bicycles.
Get Dr Bike or a mobile cycle repair service to come to your site on a regular basis.
Encourage budding schemes. It is particularly effective for cycling newbies to receive peer-to-peer support from those more experienced at cycling.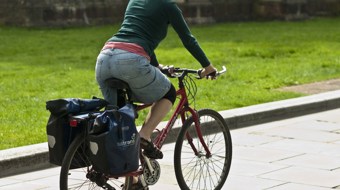 Make cycling to work accessible to everyone
Becoming a cycle-friendly employer is a great way to retain and attract new talent.
It is important for employees to work for a company that demonstrates corporate social responsibility and cares for their wellbeing.
But in order to engage employees who are reluctant to cycle to work, the organisation's commitment to active travel must be genuine and inclusive.
Everyone in your organisation, including clients, visitors, and suppliers, should know that your organisation promotes active travel.
It is important to use inclusive language and images in your communications, to include modified and non-standard cycles in your loan and float schemes, and to identify cycling champions who are representative and inclusive of all people cycling.
Want to work with us?
Get in touch with our workplace team to find out how we can help you.