If you want to try riding your bike for more of the everyday journeys, you may have wondered how to tackle the weekly shopping trip. With a few modifications to your bike and by tweaking your shopping habits, shopping by bike can be easily done.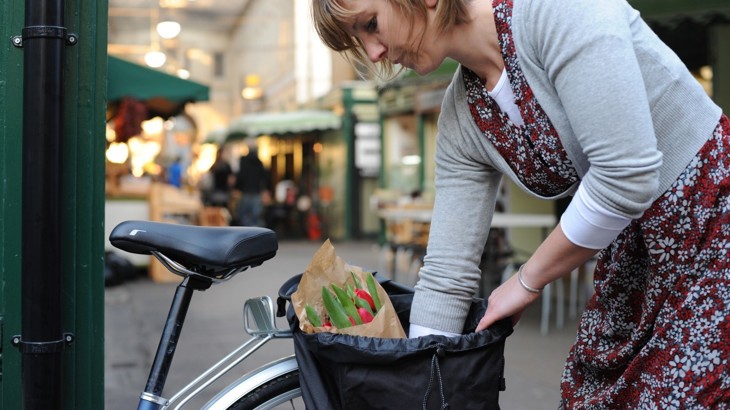 Safety first
Do not hang shopping bags on the handlebars: the load will affect the steering and may get in the way of the brakes or front wheel, causing you to crash.
The swinging bag banging on your knees will also get annoying and you may find the contents arrive squashed.
Rucksacks
The easiest way to carry shopping is with a rucksack.
Although a bit limiting in terms of how much you can fit in, a rucksack is fine for a quick run to the shop and one carrier bag worth of shopping.
However, carrying that heavy weight on your shoulders can be uncomfortable and can make your back hot and sweaty.
Baskets
Fitting a basket to the front or rear of your bike, combined with a rucksack can give you that extra much-needed carrying power.
Whether you opt for a classic wicker version or a mesh wire one, there's something to suit every bike if you look around.
Make sure your basket is securely fitted and use bungee cords to strap things down.
Panniers, racks and bags for bikes
Panniers are essentially bags for your bike. They attach either side of the rear wheel using a pannier rack.
There is a large variety of panniers available to suit all needs and tastes.
The most practical is a waterproof pair. Ortlieb's panniers are famously sturdy and come with a five year warranty.
Choosing something practical doesn't mean you need to compromise on style though. There are some great designs available.
Before you make a choice, look at the capacity (measured in litres) to work out what you will need.
If your bike did not come with a pannier rack fitted, check the back of the frame for bolt fixings (road bikes and mountain bikes, sadly, probably won't have them) where you can fit a rack.
You can get them from most bike shops, which comes with the added bonus that they will be able to fit them for you.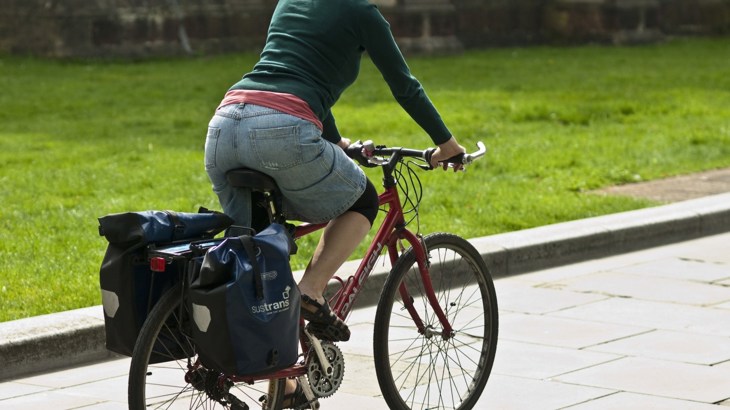 Panniers are a great addition to your bike
Trailers
For serious family shopping or those larger items, you probably need a trailer.
You could carry a shopping trolley's worth with a trailer, but remember you do need to pedal back home.
Trailers come in a plethora of shapes, sizes and wheel configurations, so look around before you buy.
Shopping tips
Now you've got the transportation covered, we've got some tips on shopping.
Where you shop
When shopping by bike, you don't have to worry about car parking spaces.
This means you can shop locally or in town, giving you more choice and helping support independent businesses.
Multi-tasking
Whether you are buying from several local shops or have a few errands to run, it is so much easier by bike, as you can park your bike right outside where you need to be. 
What you buy
Think carefully about what goes in your shopping basket, and try and calculate exactly how much you will need, avoiding waste.
Look out for bulky packaging taking up unnecessary room.
How often you shop
Shopping less and more often means you only have to carry supplies for two to three days in advance.
This enables you to buy fresh and makes shopping faster, especially at the checkout.
Having your meals planned and sticking to a shopping list helps you avoid those impulse buys and stay on budget too.
If you find it difficult to do all your shopping with a bike, you can order heavy items such as juice cartons and tinned food in bulk every few weeks and have them delivered.