Bicycle storage can be a real issue for those who live in congested places and in accommodation with little space. However, with racks and wall hooks, there are many ways to store your bike whatever space you have available. Here are some of the best bike storage solutions.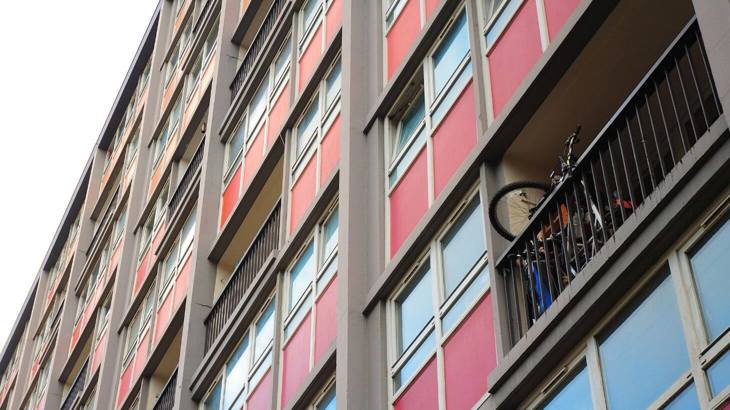 There are many clever ways to store your bike even when you have minimal space.
Wall-mounted bike rack
A bike wall mount is a fantastic option for those of you who want to store a bike inside, but are worried about space.
They also turn your bike into a nice, practical piece of wall art and can be a great vertical bike storage solution.
What to look out for
Certain racks won't necessarily fit every type of frame.
If you live in rented accommodation, you will need to check with your landlord that you are able to drill a hole in the wall to secure the rack.
A garage bike rack might work well if you have any spare space in your garage.
Price
Racks can be picked up fairly cheaply, but there is also the option for more expensive and higher quality racks. Prices range from £20 - £100+.
  
Free-standing bike racks
These allow you to keep your bike inside without having to attach anything to the wall or rest dirty tyres on the floor. 
Bike rack styles
Free-standing racks come in a variety of different materials and styles. They can typically hold two bikes at a time.
You can either get a stand that clamps between the floor and the ceiling or a 'bike tree' model that uses a tripod for stability.
Price
Depending on the style of indoor bike rack you choose, prices range from £60 - £200.
With the floor to ceiling options being at the higher end of the budget. 
  
Bike hanger hooks
By gripping onto the front wheel of the bike and allowing the back wheel to rest on the wall, bike hangers offer a minimalist solution to your storage problems.
Bicycle hooks are arguably the most subtle bike storage solution when they're not in use.
They are also suitable for any frame. 
What to look out for
If you live in rented accommodation, you'll need to check with your landlord that you can drill a hole in the wall to secure the rack.
Bike hooks do leave the bike sticking out into the room. They're best used in corners where they won't stick out too much and get in the way.
Price
Due to their minimalist style, the price of bike hooks start below £10.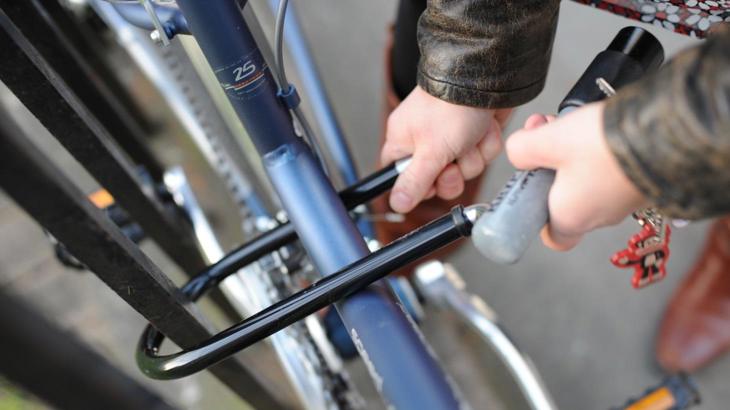 If you go for a storage solution outside your home, don't forget to invest in a decent lock for your much-loved cycle.
  
Bike covers
If you're leaving your bike locked up in adverse weather conditions, a bike cover is a perfect way to protect it.
They can easily be packed away when you are on the move.
What to look out for
While a bike cover may protect your bike from adverse weather conditions, they won't protect it from theft.
They should not be seen as an added security measure for your much-loved bicycle.
Price
At around £20-£30 a pop, a bike cover should be on the list for both recreational and serious cyclists.

Bike sheds
Safe, secure and (hopefully) waterproof, the classic bike shed is the stalwart of outdoor bike storage solutions.
Bike shelters do not have to take up too much room, with metal, box style options readily available.
However, you do need to have some outdoor space in order to house a shed, so they are not an option for everyone. 
Price 
Sheds for bikes can range drastically in price so do your research.
Make sure that the garden bike storage option you're buying is both secure and has enough space for your needs and budget.
  
Pallets
If you're feeling a little bit crafty, why not do a bit of DIY and transform an unused pallet into some bike storage?
Pallets are often available on websites such as Freecycle.
They offer an inexpensive and inventive way to transform a bit of discarded wood into something a lot more useful.
If you're thinking about taking on the task, there is an abundance of tutorials and step-by-step articles that can be found online.
Just search for 'how to make a bike stand from unwanted pallets'.